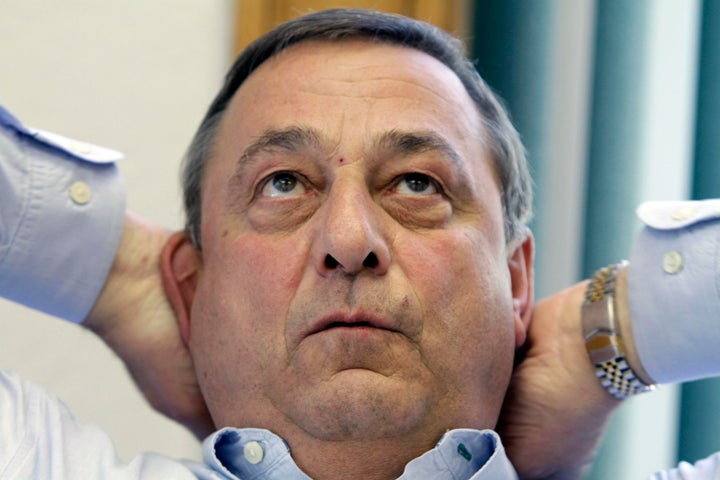 WASHINGTON -- Just days after gaining national attention for pulling down a labor mural from a state agency, Gov. Paul LePage (R-Maine) appears to be rethinking the battle he started with the unions.
Last week, LePage ordered a mural taken down from the lobby of the Department of Labor, arguing that it was hostile to businesses and showed just one side of the state's history.
"Were the bosses in the mural?" said LePage. "Were the employers in the mural? ... I think it's inappropriate for [the mural] to be in the Department of Labor when everyone comes in, employers and employees, and they're confronted by one side of the question."
The response from the labor community was swift. Maine AFL-CIO President Don Berry immediately issued a statement saying, "Paul LePage cannot erase our history, and he will not silence the voice of the working class in Maine."
LePage stopped by the GOP caucus meeting on Thursday morning and told legislators that he was surprised at the uproar, several people familiar with events told The Huffington Post.
"He certainly regretted that it happened," said state Rep. Leslie Fossel (R), who chairs the Moderate Caucus and attended the meeting. He added that LePage revealed he wished he had waited to take it up in the summer, rather than the middle of the legislative session.
"It was a distraction that they did not need, and it just got away from them," Fossel said.
The governor's comments stopped short of an apology though, and Fossel said LePage made it clear that he believes the culture in Maine's government agencies need to be changed.
"That change in culture reflects not just changing positions or changing budgets, but gets into symbolic things too," added Fossel.
A request for comment from LePage's office was not immediately returned.
Popular in the Community