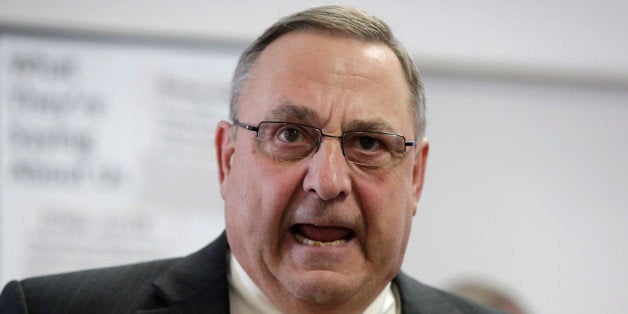 WASHINGTON -- Maine Gov. Paul LePage (R) said Tuesday that he wants to "find a way" to provide health insurance to the state's 70,000 uninsured, even though he vetoed legislation in April that would have done just that -- and at no cost to the state.
During a gubernatorial debate, LePage said he vetoed the Medicaid expansion bill because it would have covered people with incomes at 400 percent of the federal poverty level. The bill would have accepted millions of dollars in federal funds for the state's MaineCare program under the Affordable Care Act, which LePage has criticized. The federal government would have paid for the entire cost of the Medicaid expansion until 2017, at which point it would lower its coverage to 90 percent.
"I do agree, there are people under the federal poverty level," LePage said. "They need to be able to go to the exchanges. The federal exchanges will allow anyone from 100 percent on up to 400 percent to qualify for large subsidies. We need to maximize that aspect of it. Take those that do not qualify and then find a way to get them insurance."
LePage's comments were confusing, though, because the exchanges are part of the Affordable Care Act. The debate moderator pointed out that health care options available to low-income residents outside of the president's health care law may have unaffordable deductibles. LePage blamed that on the Affordable Care Act.
"That's ACA. I didn't put that in," he said.
When the moderator clarified he was talking about private health care options outside of the Affordable Care Act, LePage blamed that on the Affordable Care Act, too.
"Yeah, well that's ACA. That's what I'm saying," LePage said. "The ACA has changed the entire system."
LePage's Democratic challenger, Rep. Michael Michaud, said as governor he would send a bill to the state legislature on his first day in office that would take advantage of the federal Medicaid dollars.
"I'll be submitting legislation to the legislature that will cover the 70,000 Mainers who were denied access under the Affordable Care Act, and of which 3,000 were veterans," Michaud said. "Not only because it's the morally right thing to do, but the state will save over $600 million over a 10-year time frame."
Eliot Cutler, the independent candidate in the race, said he, too, would expand Medicaid and accept the federal funds.
"Every single person in the state of Maine, every man woman and child, ought to have, needs to have, access to primary and secondary care. They need a medical home," said Cutler. "Because if they get sick, it costs all of us money."
Michaud is leading LePage in the campaign by just over a percentage point, according to HuffPollster.
What's happening in your district? The Huffington Post wants to know about all the campaign ads, mailers, robocalls, candidate appearances and other interesting campaign news happening by you. Email any tips, videos, audio files or photos to openreporting@huffingtonpost.com.
Calling all HuffPost superfans!
Sign up for membership to become a founding member and help shape HuffPost's next chapter
BEFORE YOU GO
PHOTO GALLERY
United States Governors