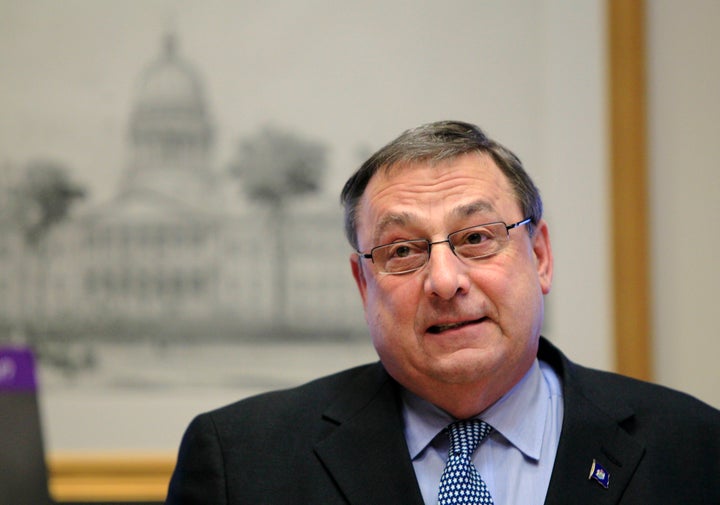 But who complained? Over at ThinkProgress, Alex Seitz-Wald reports that it all seems to have been instigated by a single anonymous letter, in which a "secret admirer" urges LePage to "TEAR DOWN THIS MURAL" because it reminded him/her of "communist North Korea where they use these murals to brainwash the masses." (Really? Is that North Korea's game changing secret?)
Here's an important clarification, however. Lots of early reports, including Seitz-Wald's initial post, said that this missive came in the form of a fax transmission. LePage's office now says that it was "a letter, not a fax." If true, there's no reason to be concerned about the fact that there wasn't a fax transmittal timestamp on the released document. However, this point from Seitz-Wald still stands: "But more importantly, why is LePage making policy decisions based on a single [letter] from an anonymous 'Secret Admirer'?"
It's a good question! Fortunately, it's one that we can test. LePage's office address is #1 State Hall Station, Augusta, Maine, 04333. So send him your letters! Demand that he flood the streets of Bangor with delicious chowder! Insist that the Whoopie Pie should not be Maine's state dessert. Order him to send the Maine Army National Guard to annex New Brunswick. If LePage stays true to form, pretty soon Maine will be up to its waist in bonkersauce.
(For best results, sign your letters, "Love, the Koch Brothers," obviously.)
[Would you like to follow me on Twitter? Because why not? Also, please send tips to tv@huffingtonpost.com -- learn more about our media monitoring project here.]
Popular in the Community