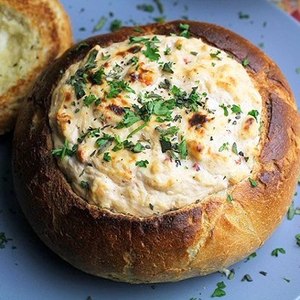 Regardless of what team you're rooting for, I have a wonderful and absolutely delicious recipe to satisfy all Super Bowl fans.
This lobster dip will satisfy the "bowl" aspect of this time honored championship game.
Simply follow the recipe below, hollow out a medium-sized round shaped sourdough bread or a favorite round shaped bread of your choice, and fill it liberally with the delicious lobster dip.


With this recipe you will have scored a touch down for your guests!
Makes about 4 1/2 cups. (Serves 4-6)
(2) 1.5 pound live Maine lobsters
16 ounces cream cheese, softened
2 shallots, minced
1 clove garlic, minced
1 tablespoon horseradish
1 tablespoon Worcestershire sauce
1/8 teaspoon cayenne
1 teaspoon hot sauce
Salt and pepper, to taste
In a large stock pot, bring an inch of salted tap water to a boil.
Add lobster and steam, covered, until shells are deep red, about 10 minutes.
If pot boils over, leave lid off a crack to allow some steam to escape.
Let cool, then crack shells and pick lobster meat, including tails, claws, and knuckles.
Tear or chop lobster meat into small pieces, and set aside.
In a small bowl, combine cream cheese, shallots, garlic, horseradish, Worcestershire, cayenne, hot sauce, salt, and pepper. Add lobster meat, and mix well to combine. Transfer to a glass baking dish, and put in the refrigerator to chill for at least two hours.

Preheat oven to 375 degrees.
Cook, uncovered, about 25 minutes, or until lobster dip is hot and bubbly
.
Serve with bread, crackers, or vegetables.
This is absolutely delicious and worth every bit of effort. Let the game begin!
Popular in the Community