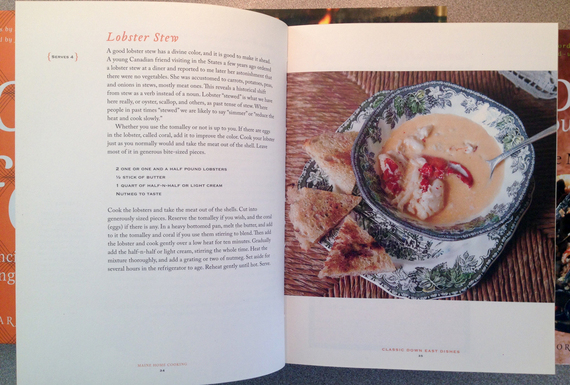 Maine Lobster Stew
A good lobster stew has a divine color, and it is good to make it ahead. A young Canadian friend visiting in the States a few years ago ordered a lobster stew at a diner and reported to me later her astonishment that there were no vegetables. She was accustomed to carrots, potatoes, peas, and onions in stews, mostly meat ones. This reveals a historical shift from stew as a verb instead of a noun. Lobster "stewed" is what we have here really, or oyster, scallop, and others, as past tense of stew. Where people in past times "stewed" we are likely to say "simmer" or "reduce the heat and cook slowly."
Whether you use the tomalley or not is up to you. If there are eggs in the lobster, called coral, add it to improve the color. Cook your lobster just as you normally would and take the meat out of the shell. Leave most of it in generous bite-sized pieces.
2 one or one and a half pound lobsters
1/2 stick of butter
1 quart of half-n-half or light cream
Nutmeg to taste
Cook the lobsters and take the meat out of the shells. Cut into generously sized pieces. Reserve the tomalley if you wish, and the coral (eggs) if there is any. In a heavy bottomed pan, melt the butter, and add to it the tomalley and coral if you use them, stirring to blend. Then add the lobster and cook gently over a low heat for ten minutes. Gradually add the half-n-half or light cream, stirring the whole time. Heat the mixture thoroughly, and add a grating or two of nutmeg. Set aside for several hours in the refrigerator to age. Reheat gently until hot. Serve.