Mark Eves wants to be the next governor of Maine, but in May he did something unusual for a candidate actively seeking office: He told voters who his second choice would be.
Betsy Sweet, the fellow Democrat Eaves said was his second choice, returned the favor and said Eaves would be her second choice.
Politicians in primary races often endorse their former opponents after they end their campaigns, but the comments from Eves and Sweet have a much deeper significance ahead of Maine's June 12 primaries. For the first time, people across the state won't just choose one person to go on and represent them in the general election, but will get to rank the candidates in their preferred order.
Maine will be the first place to use the system, called ranked-choice voting, in statewide races this June (it's already used in some local elections). The system kicks in for contests that have three or more candidates. Here's how it works:
Voters rank the candidates in their party's primary in order of preference.

If no candidate gets an outright majority, the candidate who got the fewest first-place votes is eliminated.

The second-place votes of those who supported the eliminated candidate then get distributed to the remaining candidates.

The process continues until one candidate gets more than 50 percent of the first-place votes and is declared the winner.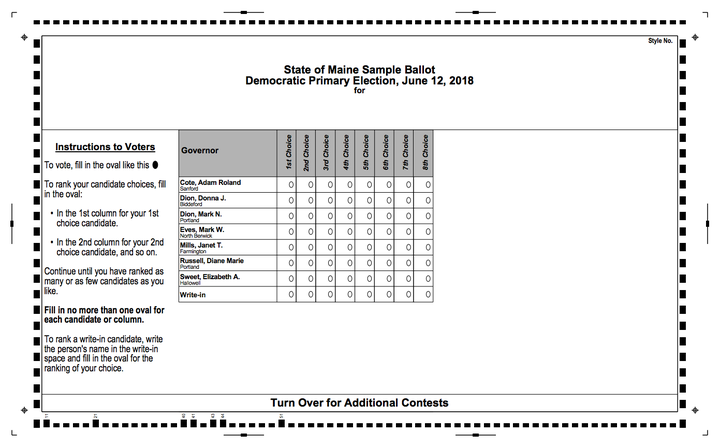 Supporters of the new system say that giving voters more choices encourages politicians to appeal to a broader swath of the electorate, reducing extremism and polarization. They also say it makes races more competitive and gives voters more of a voice because they can choose the candidate they want ― even if that candidate doesn't have much support ― without worrying that their ballot will be wasted.
Detractors say the system is confusing and potentially unconstitutional.
The system is particularly appealing in Maine, a state with a strong tradition of independent candidates who can affect the outcomes of races and lead to a winner receiving less than a majority of votes. Gov. Paul LePage (R) won in 2010 with just 38.2 percent of the vote and was re-elected in 2014 with 48.2 percent. As of March, the number of voters unenrolled in a party in Maine outnumbered those in a political party. In nine of the state's 11 gubernatorial races, the winner has gotten less than 50 percent of the vote.
Eves, a former speaker of the Maine House of Representatives, says the new way of voting hasn't changed much about the way he's campaigning, but when he meets a voter whose mind is already made up in favor of someone else, he asks to be considered as a second choice.
"What I like about is you're still in the game," Eves said in an interview. "You're still earning people's votes. It might not be their first vote, but those second votes are going to be extraordinarily critical, so you still have any opportunity to persuade somebody to be [their] second-choice vote."
"What I like about is you're still in the game. You're still earning people's votes. It might not be their first vote, but those second votes are going to be extraordinarily critical."
The seven Democrats and four Republicans vying to be the nominees of their respective parties have still exchanged plenty of political attacks. But candidates have to be more calculating and weigh the effectiveness of a counterattack that would potentially lose them the second-place votes of an opponent's supporters.
Monica Castellanos, a spokeswoman for Adam Cote, another Democratic candidate for governor, said ranked-choice voting hadn't really affected campaign strategy, because it's unclear what impact it will have on the electorate.
"I think we just don't know. We have nothing to compare it to," she said.
Not everyone is a fan of ranked-choice voting.
While Democrats have embraced the new system, Republicans have opposed it. They say it's confusing, and point to a provision in the Maine Constitution that says candidates for office only have to be elected by a plurality, not a majority.
Maine's Supreme Judicial Court issued an advisory opinion in 2017 that, based on that constitutional provision, ranked-choice voting could not be used in general elections for state offices. Despite that opinion, the court issued a separate order this year instructing the state to use it in its primary elections.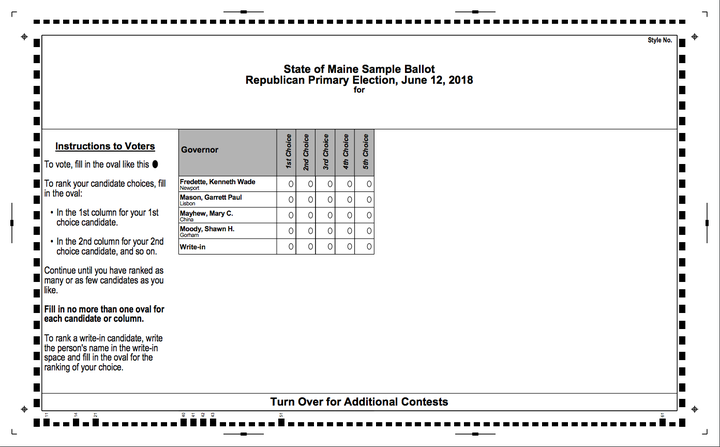 Republicans have fought hard to block the new system in court, saying Democrats are pushing the measure to ensure that a conservative governor can't get elected to office. And even Democrats in other states have opposed a ranked-choice system. California Gov. Jerry Brown (D) blocked its wider use, saying ranked-choice voting is "overly complicated and confusing" and "deprives voters of genuinely informed choice."
"I think you outright win these things. With ranked choice, you could be No. 2 and win. I don't think that makes sense in an office where any degree of strength is required," Sen. Dianne Feinstein (D-Calif.) told HuffPost.
None of the Republicans running for governor in Maine responded to HuffPost's requests for comment. Garrett Mason, the state Senate's majority leader and a Republican candidate for governor, told PBS in May that ranked-choice voting was illegal.
"The word plurality is very specific in Maine's constitution. It means first past the post, whoever has the most votes wins, and that was deliberate and on purpose. I took an oath to uphold the constitution and the constitution is clear on this matter. It's illegal," Mason said.
"This was a way to make sure that Paul LePage never got elected again, or someone like Paul LePage never got elected again," he added. "It's mean-spirited, it is partisan."
Will Maine try ranked-choice voting again?
Even as Maine becomes the first state to use ranked-choice voting statewide, it's unclear whether it will continue to do so after the June election. When Maine voters approved a referendum to use ranked-choice voting in 2016, lawmakers voted to delay implementing it until 2021, citing concerns that it conflicted with the state's constitution. But the law also said that if the state failed to amend the constitution by 2021 to accommodate ranked-choice voting, implementing the new system would be postponed indefinitely. Republicans sought to block using the system in the June 12 primary, but were rebuffed in both federal and state court.
Organizers were able to gather enough signatures to place a second referendum on the June ballot ― a "people's veto" that would block the legislature's move to delay implementing ranked-choice voting in other future elections.
The timing means that on June 12, Mainers will vote using the ranked-choice system while also voting on whether to keep using it. If the "people's veto" passes, the system would be used in all primary elections with more than two candidates as well as in federal general elections. But absent a constitutional amendment, the system will not be used for general elections of state offices, because of the provision in the Maine Constitution that state races need to be decided by a plurality.
The unique timing also means ranked-choice voting advocates are engaged in a campaign to simultaneously teach people across Maine how ranked-choice voting works while also making a case to keep it. The Committee for Ranked Choice Voting and groups like the League of Women Voters have launched television advertisements and conducted mock elections on voters' favorite beers and pizzas to show them how the system works.
Kyle Bailey, campaign manager for the Committee for Ranked Choice Voting, told HuffPost he hopes the attention surrounding the new system will encourage people to rethink the way they elect candidates.
"I don't think most people are familiar with the election system they have because it's probably been used for 50, 100, 150 years," Bailey said. "I think there's an opportunity with what's happening in Maine to tell the story of 'There are different ways to go about electing our politicians.'"
Even though ranked-choice voting is new, John Brautigam, a senior policy and legal adviser to the Maine chapter of the League of Women Voters, said he thinks it will increase trust in the electoral process amid heightened concerns about hacking and integrity.
"It will be a general boost to the whole faith in the democratic process," Brautigam said. "People will look at voting in a new way and they will look at campaigns in a new way that sort of goes beyond the tribalism ...They'll expect more out of candidates and they'll expect more out of voters."