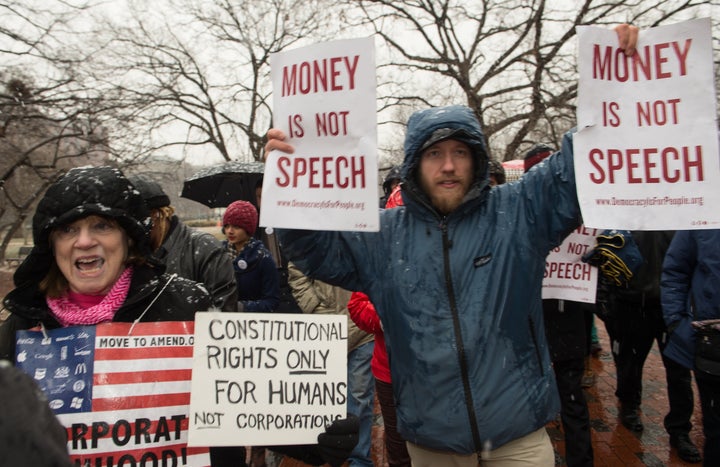 WASHINGTON -- Maine voters backed a ballot initiative on Tuesday to update the state's 19-year-old system of publicly financing campaigns. Fifty-five percent of voters supported the initiative, and 45 percent opposed it.
The newly enacted initiative will fix problems with the public financing system that were created by the Supreme Court's 2010 Citizens United and 2011 Arizona Free Enterprise decisions and have led to a dramatic decrease in the use of public funds for campaigns.
Citizens United opened the door to unlimited election spending by corporations, unions and, following a related lower court ruling, individuals so long as it remained independent of candidates. Arizona Free Enterprise prohibited states from providing an additional lump sum to publicly funded candidates when an independent spender or self-financed candidate puts large amounts into the race.
"Maine voters went to the polls and sent a clear message that the time has come for bold solutions to raise the voices of everyday people in politics," David Donnelly, president and CEO of Every Voice, said in a statement. "With Washington, D.C. mired in gridlock and a presidential race focused on who can befriend the most billionaires, voters are taking matters into their own hands. States and cities across the nation will work to replicate this success."
Andrew Bossie, executive director of Maine Citizens for Clean Elections, the lead organizer behind the initiative, said in a statement that voters "sent a message loud and clear."
"We want transparency. We want a government accountable to everyday people. And, we want a strong public financing Clean Election law that puts voters in control of our democracy – not wealthy special interests and high paid lobbyists. With tonight's victory – that's exactly what we will get," Bossie said.
Candidates participating in the state's public financing system will now be able to receive additional public funds when an independent group like a super PAC spends big in their election. The initiative will also increase transparency of independent spending by requiring groups to disclose their donors, including their top three donors on all advertising. Penalties for violations will also increase.
Maine's support for the reform ballot initiative comes amid widespread disgust with the rising influence of big money in politics. Voters from both parties are opposed to the role big money plays in the electoral process.
The success in Maine is part of a strategy by many campaign finance reform groups to seek to enact new public financing reforms and strengthen those that exist at the state and municipal levels.
Support HuffPost
The Stakes Have Never Been Higher
Popular in the Community