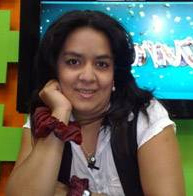 Several nights ago, Mega News Nocturno, Spanish language Mega TV's nightly newscast, (where I fully disclose my wife works), reported a shocking story that stopped me in my tracks. On Monday, March 1st, Honduran reporter Karol Cabrera, host of various TV and radio news and commentary programs, was shot at close range numerous times by assassins who succeeded in murdering her driving companion and fellow journalist Joseph Ochoa. Amazingly, the whole event was recorded because Cabrera had been calling into a live radio show at the time.
The audio is bone chilling as the sounds of over 30 gunshots are heard while Cabrera's gasps and pleas for help are broadcast for all to hear.
According to reports, Ms. Cabrera had been claiming for some time to be the victim of numerous threats because of her comments against the leftist ex-president Manuel Zelaya who was forcefully removed from office in 2009. She is a supporter of Roberto Micheletti, the former national council president who was given control after the coup. On December 15th of 2009, Ms. Cabrera's 16 yr old pregnant daughter was murdered on the very same street the reporter was shot. Luckily, the unborn child survived.
What's even more incredible is that this type of violence against journalists has become all too common in Honduras. Reporters without Borders states that three journalists were murdered in 2009, and two others were kidnapped and tortured just this January after an arson attack on a community radio station.
Hearing this story, I quickly turned to the other networks to see their angle. I was deeply disappointed by the the complete lack of coverage of this tragic story in any of the American mainstream media channels.
Reporter's deaths are usually big news, and as we saw with the deaths of Daniel Pearl and David Bloom who were both killed in war zones, the media takes special care to tell stories of their fellow fallen.
So why didn't the attempted assassination of a reporter, captured in graphic detail, with a back story of murder and harassment not even make the international sections? Searching for "Karol Cabrera" on the web pages of The New York Times, MSNBC, CNN, Foxnews, and The Huffington Post returned no articles written by staff or the Associated Press. Regardless of Ms. Cabrera's political stance, the attempted silencing of her voice by violent means is unconscionable, and it is equally reprehensible that the American main stream media seems uninterested.
Filling the information gap has been American Spanish language and Latino media. See below as the anchor Fernando Del Rincon interviews the reporter via phone as she recovers in the hospital just two days after the shooting. Here she states that she will have to flee the country to save her life. You can also hear the recorded audio of the assassination attempt:
While Journalism advocacy sites like Reporters without Borders and Committee to Protect Journalists have written about this incident, it is not enough. Main stream media needs to step up to the plate and expose these injustices. When journalists of any country are murdered or harassed into silence, it is a threat to freedom and democracy everywhere.
Support HuffPost
The Stakes Have Never Been Higher
Related
Popular in the Community