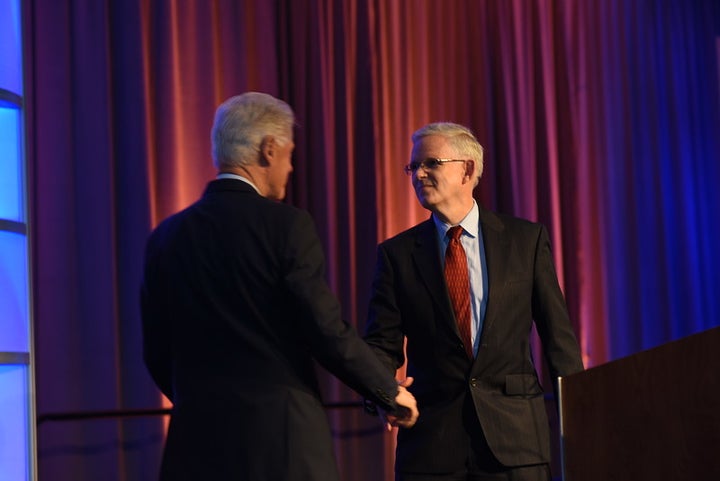 Thank you to everyone who joined us at InterAction Forum 2017. It is inspiring to come together as a community to reflect on and reaffirm the values and principles that tie us together and motivate us to change the lives of vulnerable and marginalized people.
One of the important conversations that continued during Forum was the question of how we, as a US-based NGO community, can appropriately stand up for what we believe in and work on around the world. As we continue to defend the parts of the US budget that support international development, humanitarian assistance, and the promotion of democratic values, we cannot disregard the moral underpinnings behind what we do. There is a strong case to be made that we need to preserve the foreign aid budget due to its diverse contributions to national security and a more stable and safer world. Others point to the benefits from foreign aid to our country's economy and the opening of new markets for American businesses. These are both practical justifications that work well in Congress. However, without principles, foreign assistance loses its connection to American values of freedom, justice and the idea that anyone, anywhere, should be able to live and work with dignity and up to their full potential.
The moral case in support of foreign aid is an overlay that must remain in place across all budget investments. The United States has by no means a perfect record abroad, but when the American people through NGOs, the U.S. Agency for International Development, or other government agencies, have reached out to the world with a helping hand because assistance is what has been needed, they have and continue to improve innumerable lives.
Without overarching principles to guide us, or a framework like the Sustainable Development Goals, the shifting objectives of national security or economic needs may harm U.S. foreign assistance, with its programs that transform and save millions of lives. When we act in a manner inspired by principles or ideals, our country succeeds in saving lives and creating a more stable world. Prominent initiatives such as the Marshall Plan, PEPFAR, and the Global Food Security Act, were undertaken because they were the right thing to do. Over time, they also contributed to our security, economy and public image. Effective foreign assistance must represent our better selves, and yes, it does advance our own well-being and keeps us safe.
Related
Popular in the Community