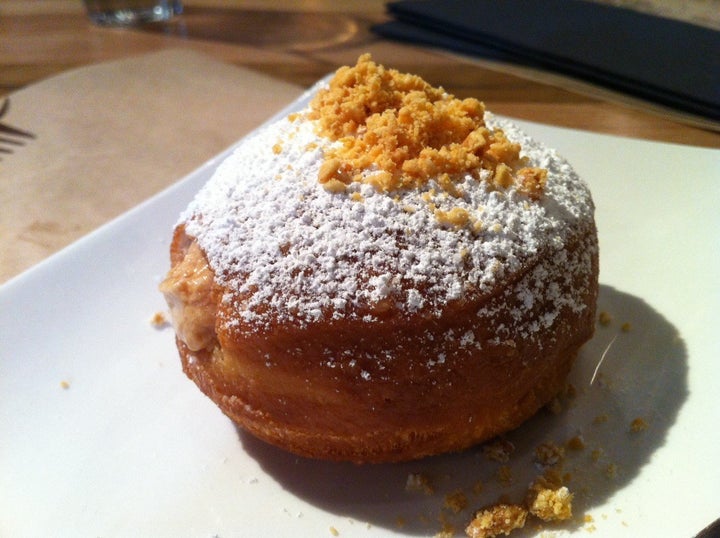 Pacific Palisades is a populous, popular, fairly affluent neighborhood in Western Los Angeles. Home to many celebrities (Hanks, Spielberg, etc.), it has been inexplicably deficient in one thing for many years, a really decent restaurant. Residents had to go to Malibu, Brentwood, Westwood and further for a good meal, for this village only had small, insufficient eateries and delis. Years ago there was a fine little French bakery run by two friends of mine from Paris, and I would go there once a week for my pastries, but à la tarte closed and I only traveled through Pacific Palisades on my way to Malibu. All of that promised to change when world-class Chef Alain Giraud announced he would be opening his own restaurant in the village, but it took almost two years to tortuously work his way through the permit process and construction difficulties to finally open the doors. When he did so last summer, I went early on with Jennifer and Royce Diener, and loved the food but felt the noise level was unacceptably high. Last week I returned for a cocktail party for the restaurant's attorney, Merv Hecht, and noted that they had installed very efficient noise-absorbing panels on the walls and the sound level was acceptably low. The charcuterie was fabulous and I realized that a full-scale review was now called for.
MAISON GIRAUD (1032 Swarthmore Avenue, Pacific Palisades (310) 459-7561, go west on Sunset to the village and make a right on that avenue. Street parking, but there is always space on adjacent streets and a free lot in the rear) is a wonder! A smart, sophisticated, casually elegant restaurant with authentic, superb three-star quality food at affordable prices. It is a friendly, buzzy place with efficient service and a chef/owner who is almost always on the premises and actually cooking in the kitchen. Adjacent is a wonderful bakery with to-die-for croissants and savories, while on the other side the chef's wife, Catherine (whom he met at Citrus and married in 1990), has opened the Lavender Blue gift ship with amusing, affordable gifts and fabrics.
Born in Paris in 1959 to a restaurant family, Alain served his apprenticeship at various establishments before going to top Michelin spots Hotel Crillon and Grand Vefour for several years. I met him when he arrived in L.A. in 1988 and worked with Chef Michel Richard at the latter's Citrus. Moving on to Loew's Santa Monica Beach Hotel, Giraud opened the Provencal-style eatery, Lavande, there in 1998. But he really made his mark when he created Bastide, and he garnered four stars for the restaurant from the Los Angels Times in 2002. Bon Appetit named him "Chef of the Year" in 2003. He moved on to his own catering operation for several years before joining with two partners to open Anisette Brasserie in 2008 in Santa Monica, which we gave a rave review in our Jay Weston's Restaurant Newsletter. When that closed unexpectedly in 2010, he announced Maison Giraud. "California is very close to France's countryside of Provence in many ways, and I think it is the perfect place to create Provencal-style food that is light and creative, with a sunny accent."
Which is exactly what he has done here in the Palisades. Last night at dinner with publicity whiz Caroline Graham, we went through much of the menu and I revisited some of the dishes which I had enjoyed on my two previous visits. I must note that Giraud is one of a hundred local chefs who have joined forces to fight the forthcoming ban on foie gras, which takes place in California on July 1, and I fervently hope they succeed. (Sorry, Wolfgang Puck, this is where we disagree.) So I enjoyed a scintillating order of Sautéed Foie Gras ($18) with turnips, fava beans and blood orange. Then, to cap the protest, I had another taste of his Duck Terrine ($10), homemade duck and foie gras terrine served with house-made country bread and whole-grain mustard.
At the Hecht cocktail evening, I had made a greedy fool of myself eating the Charcuterie ($5 each item), fennel saucisson, sopressata (Italian salami), and prosciutto di parma from Italy. Last night an amuse bouche of "white gazpacho" soup had stimulated our taste buds, and on several visits I tasted the Soup au Pistou ($8), made with Farmer's Market vegetables. By the way, on Sundays the local farmer's market is held on Swarthmore right outside its doors. Chilled Jumbo Prawns ($13) are served with a citrus aioli, and his famous crispy Tomato & Basil Flat Tart ($12) from Nice is far superior to the average pizza. For a special treat, order the Egg & Caviar ($18), a hollowed-out egg shell with egg custard, savory Chantilly, and local caviar, with brioche toast. Yum. And since I am a fan of well-cooked scallops, Alain's Seared Scallops ($14) are far superior to most, served quite rare inside yet caramelized on the outside, with a leek fondue, petit pois and pistachio sauce.
Each week the restaurant offers a different dish served in a "cocotte." Once or twice a month, usually on a Thursday and Friday, Alain will offer up a 'special' of his famous Bouillabaisse ($26) made with local fish and seafood. We have written extensively on Bastille Days of this Provencal fish soup from Marseille, and his version is as good as any you will find on this side of the Atlantic. His take on it offers up red snapper, sea bass, monkfish, and prawns with mussels. Always served with an aromatic, garlicky aioli. I asked about his stock and he told me that it is made from leeks, fennel, tomatoes and fresh herbs. While I was enjoying my bouillabaisse last evening, Caroline was savoring her main course of Loup de Mer 'Barigoule' ($26), the oh-so-fresh fish served with baby artichokes, basil pistou, and tomato confit. A neighbor was enjoying a Seared Atlantic Salmon ($25) with its red pepper sauce.
The Beef Tenderloin Au Poivre ($32) is served perfectly rare, as I love it, with haricot verts, potato confit, and its peppery sauce. On a previous visit I scarfed up the Mushroom Risotto ($18), made from Arborio rice, aged Parmesan, various mushrooms and lots of micro herbs. Chicken 'Catherine' ($22) is named for his wife, a pan-roasted breast with lemon and garlic, vegetable Nicoise, in natural pan juices. The Lamb Filet ($28) is from Colorado, served with Spring onions, fava beans, fennel Panisse, in a black olive sauce. I have yet to have the "Cocotte", which is a classic French comfort dish served in its own 'cocotte'. Sounds to me like a version of couscous.
At a benefit for the Los Angels Chamber Society on Saturday, Jennifer Diener came over to me to tell me about the fabulous asparagus ice cream which she had at Maison Giraud the previous evening, so of course I had to sample a dish of it created by Alain and pastry chef Noubar Yessayan. It was... merely interesting, served with a white chocolate hazelnut crisp. (I had to tell Caroline the hoary saying that 'eating white chocolate is like kissing your sister.' I don't think she was amused.) I was salivating over the classic Chocolate Souffle which emerged in all its glory from the kitchen. Served with creme anglais and real whipped cream, it was not too sweet, a heavenly finish to an exquisite meal. I won't go into detail about the deep, interesting boutique wine list, both French and California -- with Laetitia Pinot Noir on the list) except to recommend that you place yourself in the very capable (and attractive) hands of the general manager, a delightful, charming woman named Breanne Fuller, who actually had worked across the street at a la tarte when I was going there. I asked her the names of some of the many celebrities who frequent the restaurant and she smilingly demurred, then told me that the French Minister of Tourism, Frederick Lefebvre, was recently there. The restaurant opens for breakfast Monday through Friday at 7:30 a.m., Saturday and Sunday at 8 a.m., and serves a Saturday and Sunday brunch. It stays open to 10 p.m. on weekends.
Maison Giraud is reason enough to move to the Pacific Palisades. And if you don't do that, or live there, it offers a wonderful reason to take more than an occasional drive west on Sunset for a thoroughly delightful dinner experience in Provence.
To subscribe to Jay Weston's Restaurant Newsletter ($70 for 12 monthly issues) email him at jayweston@sbcglobal.net.
REAL LIFE. REAL NEWS. REAL VOICES.
Help us tell more of the stories that matter from voices that too often remain unheard.