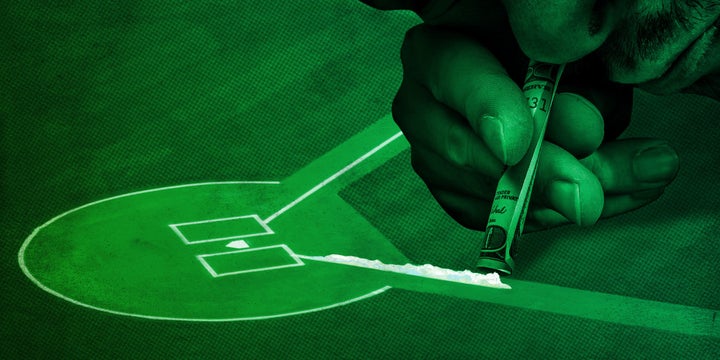 A rookie infielder arrived in the big leagues several years ago, and some of his teammates decided to take him out to a nightclub after a game. Three veteran players ― one of whom is a current MLB All-Star and two of whom played a combined 23 years in the league ― joined him in a cab, and one pulled out a baggie of cocaine. They all did a few bumps, and when they got to the club, began cutting up lines and snorting them on the table.
The player, who told me this story under the condition that no one in it be named, ended up with three organizations before retiring last year. During his career, he said, he used cocaine "a handful" of times and marijuana frequently. "Of the 400 days of [big league] service time I had, I probably smoked on 150 of them," he told me. "A lot of guys would wake up at 9 a.m. and smoke, but I never wanted to do anything mind-altering until after the game."
The above anecdote is far from rare: Current and former players tell me that as many as 25 percent of MLB players are cocaine users. At least one player has seen his career decline amid longstanding concern from his team about his use of the drug.
In the nine years I spent as a reporter in Major League clubhouses (I covered the Phillies for the Philadelphia Inquirer and the Mets for the New York Daily News) the whispers about players' illegal drug use were rampant, although drowned out in public by the debate over steroids and other performance-enhancing drugs. I always felt that this was a serious issue, but ― for understandable reasons ― could never get anyone to speak publicly about it.
Then, cocaine factored into the deaths of two high-profile players, pitchers Tommy Hanson, 29, and Jose Fernandez, 24. Fernandez was a charismatic star for the Miami Marlins; when you interviewed him, you couldn't help but walk away charmed and dazzled, and convinced that his unbridled enthusiasm represented the future of the game. His death last year hit baseball hard, and the fact that he was drunk and had cocaine in his system when he crashed his speedboat, killing himself and two others, seemed to get lost amid all the tributes.
Perhaps that was appropriate at the time, as teammates and fans mourned. But I always felt irresponsible for hearing about the use of coke in baseball and never being able to nail it down. Fernandez's death practically begged for the issue to be dealt with. And interviews with current and former players now confirm that we were all indeed ignoring a real story.
"I think baseball has had a [drug] problem for its entire life," one active player told me this week. "Take into account our age and fame and money, and the number [of users] goes up fast."
While many in the public might assume that baseball tests for recreational drugs, that is not generally the case. MLB's Joint Drug Agreement bans so-called "drugs of abuse" like marijuana, cocaine, opiates and ecstasy, but does not test for them without "reasonable cause." Spokespeople for MLB and the Players Association declined to comment on how many players are tested, citing confidentiality.
Without random testing, it is impossible to quantify use, and estimates vary. I asked four players, two active and two recently retired, to estimate cocaine and marijuana use in the league. Three of the players offered educated guesses that ranged from 5 percent to 25 percent for cocaine, and 25 percent to 75 percent for marijuana. A fourth player, this one a current star for a contending team, offered a more modest estimate, saying that "one or two guys" on his ballclub used either cocaine or marijuana.
Even the players whose estimates were on the lower end presented a scenario in which the drugs were more widespread in baseball than elsewhere in the country. According to the National Institute on Drug Abuse, 0.6 percent of Americans aged 12 or older were cocaine users as of 2014. A Gallup poll last year reported that 13 percent of adults in the U.S. are marijuana users (a number that nearly doubled over a three-year period, as recreational use became legal or decriminalized in one state and city after another).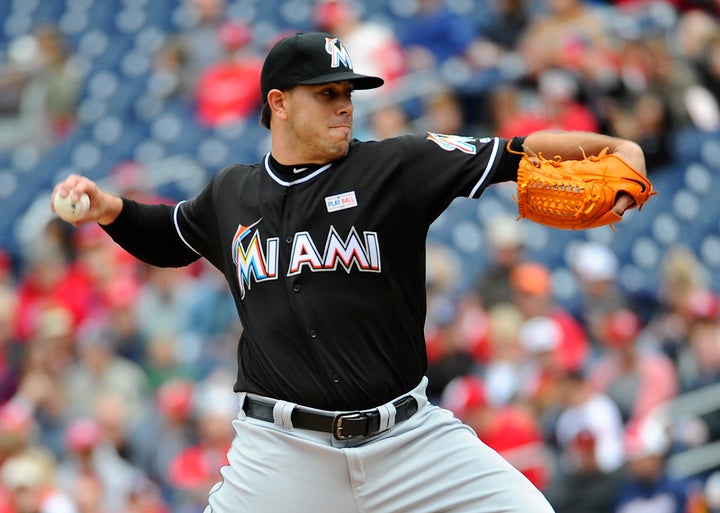 MLB officials push back on the notion that the league has a growing problem with illegal drugs, and point to a four-person treatment board, which includes two addiction psychologists, that designs individualized testing and treatment programs for those in need. A source also said that random tests for drugs of abuse in the minor leagues, where they are allowed, come back positive approximately 0.5 percent of the time (although players tell me that it is common to celebrate promotions to the big leagues by indulging in coke and pot).
The league has a fair point about the aspect of a "growing problem." I think the issue is more persistent in nature; it's just that in prior eras, cocaine use received more publicity. In the 1980s, All-Stars such as Steve Howe and Dwight Gooden were among many who saw their careers derailed by the drug. That decade also brought the 1985 Pittsburgh drug trial, when seven ballplayers testified about their illicit use.
Since then, we have tended to think more about steroids as the problematic drug in baseball. But as one former MLB official put it, "There is so much focus on [performance-enhancing drugs], and for me, having a crack or cocaine addiction is worse than using [testosterone-replacement therapy] Androgel."
"Guys need some help coping and blowing off steam."
Ballplayers are naturally at risk to develop those addictions. Big-league life is more challenging than it might seem, despite the generous pay. Many players are an injury or slump away from losing their jobs, and often worn down by the physical grind of a 162-game schedule and the mental toll of answering to reporters, fans and social media followers.
"Baseball is stressful," one player told me. "Guys need some help coping and blowing off steam."
But it's a slippery slope from blowing off steam to real danger ― and there is no doubt that there are players today who are seriously flirting with that line. If they ― and MLB ― don't address the problem, the next tragedy or scandal could come any time.
Related
Popular in the Community