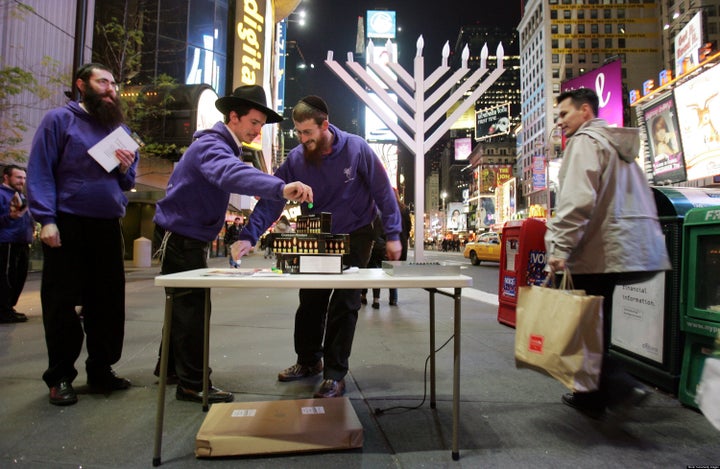 By Lisa Rose
Religion News Service
HIGHLAND PARK, N.J. -- He jokingly calls himself "the Spintuation" and he's pumped to dominate the dreidel in an extreme Hanukkah competition.
Mike Pfeffer has trained for days, prepping to twirl the traditional holiday toy against more than 100 opponents in a Brooklyn tournament called Major League Dreidel.
"It's a schlep, but I'm going all in," said Pfeffer, 28, of Highland Park, N.J. "If I'm naming myself `the Spintuation,' I need to represent Jersey. I'm not going to let my state down."
Pfeffer and his competitors will face off in an over-the-top version of the traditional Hanukkah topspinning game where opponents battle to see who can spin a wooden dreidel the longest. Dozens of spinners -- with nicknames like Spinny the Poo, Oscar de la Menorah and Jewbacca -- compete for bragging rights and a year's supply of traditional chocolate
coins known as gelt.
This year's tournament will be held Dec. 9 at the Knitting Factory in Brooklyn, one day after Hanukkah has ended. The Jewish Festival of Lights began on Wednesday evening.
"We want to extend the dreidel season," said Eric Pavony, the league's founder. "We are behind the idea that spinning the dreidel can happen at any point throughout the year."
Pavony started the Major League Dreidel -- or MLD -- series four years ago. It has grown from an informal family gathering into a cult phenomenon with a global fan base. Pavony said it all started late one Hanukkah night after his family's annual dinner party.
He explains, "I'm sitting there and I looked at a dreidel and it looks at me as if to say, `Spin me.' I started playing around with different ways to hold it, different ways to spin it and I noticed that my spins were getting better. I challenged my dad and some folks at the table to a spin-off. We broke out the timer and before we knew it, people were chanting and fist-pumping."
A year later, Pavony organized a marathon dreidel night with 32 participants at an East Village bar. Social networking and the Internet has enabled the league to grow exponentially over the past three Hanukkahs.
Pavony, a Brooklyn-based bar owner and graphic designer, reinvented the game for adults with added challenges.
Dreaming up a clever name is half the dreidel battle, according to Pavony. He calls himself "Knishioner."
"People who don't know who you are apt to get behind you if you have a witty name," Pavony said. "People embrace their names and come in costume. Spinny the Poo paints his whole body orange. Oscar de la Menorah comes in boxing attire."
Last year, a newbie named the Gentile Giant clinched the chocolate loot with a spin time of 16.5 seconds. The record is 17.88 seconds, set in 2007. Each year, the winner gets hoisted in a chair, Bar Mitzvah-style, and blasted with a heavy-metal rendition of "Hava
Nagila."
This year, Mike "Spintuation" Pfeffer -- a nickname borrowed from the "Jersey Shore" reality TV show's well-toned cast member who calls himself "The Situation" -- is squaring off against Jewish and non-Jewish rivals, including Debbie Does Dreidels, Spincent van Gogh and the ever-popular Yom Kippur Some Sugar on Me.
"I'm trying to figure out some degree of rotational inertia," said Pfeffer, an information technology technician. "My wife is a physicist, and she told me she wasn't sure if it's an issue with fluid dynamics or probability. She then told me to back off and let her get back to work."
Historically, the winner's circle has been occupied by diehard dreidel spinners from Manhattan and Brooklyn. Pfeffer is a rookie hoping to grab the gelt and bring bragging rights home to the Garden State.
"I want to defeat all the New York hipsters," Pfeffer said. "I can say, `Hey, look at this, Jersey bested you. How about that?'"
Related
Popular in the Community