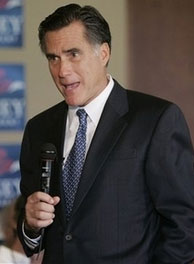 On the campaign trail, Republican Mitt Romney has been harshly critical of Venezuelan President Hugo Chavez. But that hasn't stopped his campaign from taking donations from lobbyists who receive millions of dollars from a Venezuelan government-linked oil company.
Thursday night, supporters of the former Massachusetts Governor hosted 'Rallies for Romney' all over the country. The Washington, DC-event was hosted at Dutko Worldwide, a lobbying firm whose chairman, Ronald Kaufman, is a major Romney advisor. Dutko's president, Craig Pattee, is also a national finance co-chair for the campaign. Furthermore, Dutko employees have donated at least $15,400 to Romney's campaign, according to Federal Election Commission records.
The firm is the only registered federal lobbyist for Citgo, a US-based subsidiary of the Venezuelan government-owned Petroleos de Venezuela, according to the Senate Office of Public Records. Citgo has paid Dutko more than $3 million in fees since 1998.
While Citgo has long operated as a refiner and seller of gasoline in the United States, the elevation of President Hugo Chavez has brought the company increased scrutiny. With Chavez accused of pursuing an anti-American foreign policy, and potentially destabilizing neighbors in South America, critics of his presidency have suggested that Citgo is now being used as a political tool of the Venezuelan government. These allegations mounted as Chavez offered discounted fuel supplies for the poor in many American cities through Citgo.
On the campaign trail, Romney has offered harsh criticisms of Chavez's Venezuela.
"I said at the outset that the threat in Latin America is unprecedented...because the Castros have a second tyrant and he has great wealth, from oil." Romney declared in a March speech in Miami. "We must stand just as firm against caudillos like Hugo Chavez, tutored by Fidel Castro. Chavez and Castro are brothers in blood, intent on personal gratification at the expense of their people."
The Huffington Post contacted the Romney campaign on Thursday for comment, but did not receive a reply. Dutko Worldwide also did not respond to an inquiry.
Romney is not the only candidate in the Republican field who has been accused of having links to Venezuela while also criticizing Chavez's government. Bracewell and Giuliani, the law firm that ex-New York Mayor Rudy Giuliani joined in 1995, is a registered lobbyist for Citgo in Texas. The firm argues that Giuliani was not directly involved in the lobbying activities in question, according to a March report at CNN.
Popular in the Community