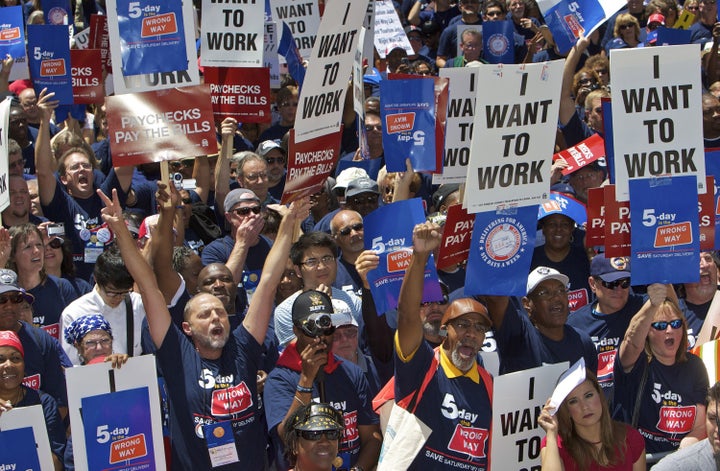 In yet another sign of thawing between the two rival factions of the labor movement, leaders of the AFL-CIO and the Service Employees International Union have agreed to pool their resources between now and the November elections.
On Tuesday evening, the Wall Street Journal reported that the two labor organizations would combine forces to spend $88 million in a coordinated election effort. That figure is actually a low-ball estimate. Union sources tell the Huffington Post that total amount is likely to be closer to $100 million, with $44 million in commitments from the SEIU and $53 million commitments from AFL-CIO. The total includes funds that have already been spent during the 2010 cycle, but both unions have said that they are prepared to increase their expenditures if needed.
Perhaps more newsworthy than the dollar amount, however, is the strategic cooperation between the two groups. Since it's dramatic split from the AFL-CIO in 2005, the SEIU has, by and large, tried to chart out a unique, more aggressive electoral philosophy. Under the stewardship of former header Andy Stern, the organization poured heavy resources into electing Democrats through bold and occasionally controversial projects. Its work with the AFL-CIO was restricted, predominantly, to basic communication about campaign priorities.
With Stern's resignation, some of the friction between the two groups dissipated. His replacement, Mary Kay Henry picked up conversations with AFL-CIO President Richard Trumka, who had made reunification an organizational priority (in September 2009, he brought back into the fold the 265,000-member hotel and restaurant employees union Unite Here; this past month it was the Laborers' International Union Laborers' International Union). And through a variety of conversations, the two agreed that much closer coordination would serve both of their interests.
As one union official said, in the closing months in 2010, the political directors of each organization -- AFL-CIO's Karen Ackerman and SEIU's Jon Youngdahl -- will be "tied at the hip."
Indeed, another element missing from the Journal's report is that the United Food and Commercial Workers -- another former AFL-CIO member -- will be cooperating with the Labor 2010 program. Whether they will bring additional resources to the table, however, was not immediately known.

Popular in the Community