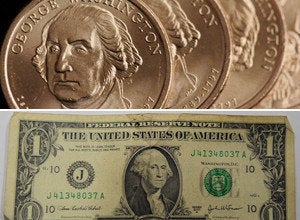 Given the choice, Americans still prefer crisp bills to shiny coins.
A lawmaker recently introduced legislation to abandon the paper dollar bill and replace it with a dollar coin, but it looks like most Americans are happy with their currency the way it is.
And to many, it's not just fun and games. The majority of those polled felt strongly enough about the issue they said it would influence how they voted.
The legislation that Schweikert calls the Currency Optimization, Innovation and National Savings, or COINS Act, is largely based on a March 2011 report from the Government Accountability Office that found the switch to a dollar coin would save around $5.5 billion over the course of 30 years,The Hill reports, roughly the lifespan of a single coin. Comparatively, a paper bill lasts only two or three years.
For the average American, though, the resistance to dollar coins may be for simpler reasons. Of those surveyed, 77 percent said the paper dollar is more convenient, and 86 percent said it's more widely accepted, while three quarters of those polled said they don't want a dollar coin or find it unnecessary.
Still, the legislation does have some supporters, including a recently-formed group known as the Dollar Coin Alliance the Los Angeles Times reports. According to The Hill, the group along with other supporters of the COINS act contend that people will grow accustomed to the coin once there is no paper alternative.
Calling all HuffPost superfans!
Sign up for membership to become a founding member and help shape HuffPost's next chapter
BEFORE YOU GO