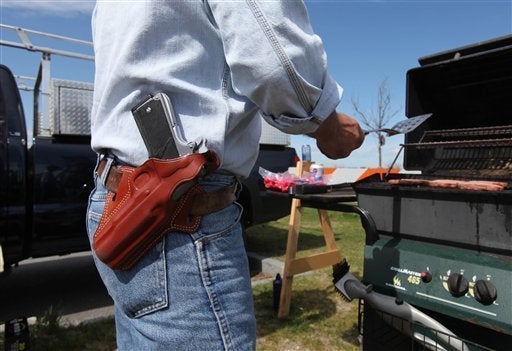 A majority of Americans are opposed to open carry laws that allow Americans to visibly carry loaded guns out in public, a new poll finds.
According to a poll released by the Brady Campaign to Prevent Gun Violence Wednesday, 52 percent of respondents were against "people in general" openly possessing loaded firearms in public places. 44 percent were in favor. Additionally, 50 percent said they felt "less safe" knowing that non-law enforcement officials were allowed to carry guns in public, while 38 percent felt "more safe."
Furthermore, 51 percent of those surveyed said they would be less likely to vote for a candidate who makes it easier for people to carry loaded guns in public, while only 27 percent said they would be more likely to support such a candidate.
"Politicians who are doing the bidding of the gun lobby, and businesses who worry about offending gun rights extremists, should look at this data and be aware that there is potentially a large price to pay with voters and customers alike," Paul Helmke, President of the Brady Center said in a statement released with the poll. "Having more guns in public places not only puts more people at risk, it clearly makes people feel less safe."
U.S. Senators Susan Collins of Maine and Lindsay Graham of South Carolina drew the ire of critics earlier this month, when they refused to hear a measure that would have given the government increased powers to block the purchase of firearms by suspects on the terror watch list over concern that it would have resulted in a deterioration of the Second Amendment right to bear arms. In the wake of the stalled debate, the Brady Campaign encouraged President Obama to step up his support for the more stringent restrictions.
The Brady Campaign has also been engaged in battle against pro-gun businesses, mounting a "Keep Guns Out" of Starbucks campaign that started in February. The initiative appears to be supported by the recent poll, which shows 56 percent of respondents supporting the enactment of a strict "no guns" policy at certain establishments.
The poll, conducted by Lake Research Partners, a Democratic firm, sampled 600 registered voters nationwide and has a margin of error of 4 percent.
Popular in the Community