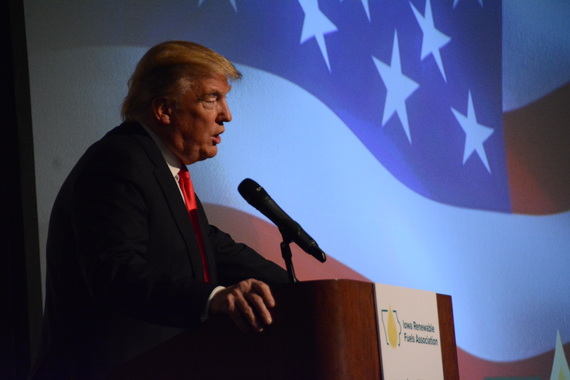 Republican presidential candidate Donald Trump expressed his desire to maintain the Renewable Fuel Standard Jan. 19, 2016 at the 10th annual Iowa Renewable Fuels Summit in Altoona, Iowa.
Renewable fuels and the controversial standards surrounding them are repeat hot topics of debate during the Iowa caucuses, and the current crop of presidential candidates are not cowering away from the issue.
Republican presidential candidate Donald Trump said Tuesday at the 10th annual Iowa Renewable Fuels conference that he supports the notion to maintain the standard, a declaration that must have boded well with many citizens of a state with 41 corn ethanol plants in attendance.
"As president, I will encourage congress to be cautious in attempting to charge and change any part of the (Renewable Fuel Standard)," Trump said at the summit, closely accompanied by his script. "Energy independence is a requirement for America to become great again."
Three other candidates attended the summit as well -- former Sen. Rick Santorum, who won the Iowa caucuses in 2012, former business executive Carly Fiorina and former governor of Arkansas Mike Huckabee.
Studies have shown that while the use of ethanol does limit the need for fossil fuels and reduces greenhouse gas emissions caused by petroleum-based fuels, there are other environmental concerns that may outweigh these benefits. According to an investigation by the Associated Press in 2013, the use of corn for ethanol has caused the cost of corn to skyrocket, which has prompted farmers to grow more. This boom in corn growth has caused nutrients to be stripped from once-fertile soil, chemicals from overused fertilizer to run into drinking water and dormant amounts of carbon dioxide to be released from freshly dug soil.
This makes farmers' jobs much harder. So why are the majority of current presidential candidates supporting it?
Monty Shaw, the communications director for the Iowa Renewable Fuels Association, responded to the criticism.
"It frustrates me that some of the more out there environmental groups take this position in spite of facts based on credible studies," he said.
"I don't think there are environmental negatives."
Mike Stice, the dean of the University of Oklahoma's Mewbourne College of Earth and Energy, said ethanol has a bit of a public relations issue.
"(The) standpoint of what the positives and negatives are is irrelevant," he said. "It's what the public thinks."
Furthermore, from a public standpoint, the economic value of ethanol is dipping as a result of falling oil prices, which currently sit at about $28 per barrel.
"The initial economic motivation is gone (for ethanol)," Stice said. "You couldn't justify building a new facility, but when you look at these as margin businesses, you can still make money with the existing capital that has been deployed."
"Would I recommend a new, large-scale ethanol plant be built tomorrow? No. I don't think you can have the economics to pay out the capital."
Along with the economy, young adults don't support ethanol entirely either, as data from multiple polls show millennials' desire to preserve the environment, a goal that ethanol production makes harder. An exclusive poll for MSNBC conducted in 2014 said an overwhelming amount of millennials support preserving the environment. However, another poll, conducted by USA Today less than two weeks ago, said 80 percent of the millennials surveyed want to see a switch to renewable energy by 2030.
It's tough to have it both ways.
"I'm a big fan of renewable energy, (but) my understanding is that ethanol maybe isn't the best direction to go," said Jonathan Shears, a 20-year-old political science student at Elon University in North Carolina. "And I know that's unpopular to say in Iowa."
"The candidate who wins will be a candidate who supports the RFS, it's as simple as that," said Steve Bleyl, the Executive Vice President of Ethanol Marketing at Green Plains Inc., at a roundtable discussion at the summit. "If they don't support the RFS, they shouldn't win the state of Iowa."
Written and reported with Page Jones and Shea Smith.
Calling all HuffPost superfans!
Sign up for membership to become a founding member and help shape HuffPost's next chapter