You don't have to be J.K. Rowling to put anti-gay hatemongers in their place.
Makaila Ragan, a 16-year-old from the 5,000-person town of Tillamook, Oregon, noticed two street preachers aggressively protesting last Tuesday. When the men landed on a street corner outside her mother's office carrying signs reading "Homo sex is sin!" and "Repent or Perish," she decided they had gone too far. The high schooler grabbed a piece of paper, wrote "I <3 Gays" in block letters, and went outside to stand right next to them.
"I was so irritated because I see them all around town and all they ever do is make people feel like crap about themselves," Ragan told the Tillamook County Pioneer.
Story continues below.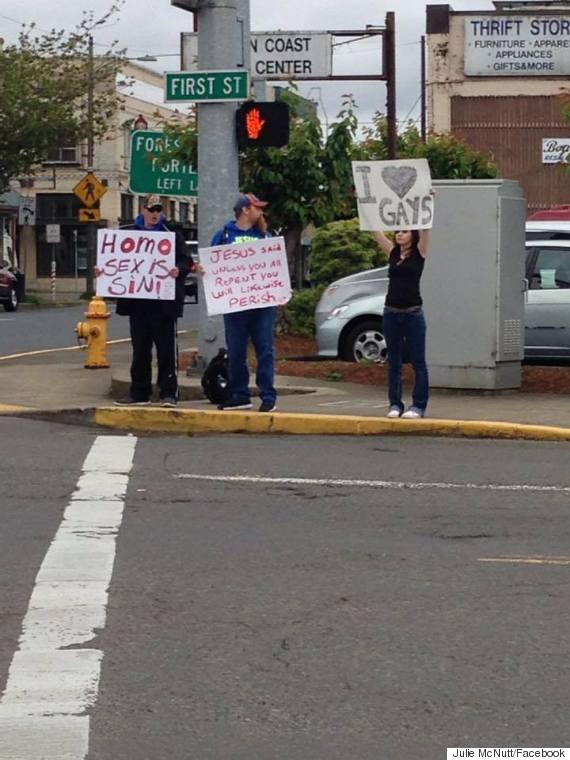 The two men, one of whom the County Pioneer identified as Allen Pucket, took offense to the teenager criticizing the signs.
"They were calling me names, and asking my mom questions, like, 'How many times did you have to get an abortion before you were able to have your daughter?' and saying, 'You're going to burn in hell right along with your daughter,'" Ragan told the newspaper.
But she didn't waver, and a photo of her -- and dozens of like-minded locals who joined in with signs of their own -- hit Facebook and went viral in the town.
Julie McNutt, a resident of the town, was inspired by Ragan and started the group Tillamook For Love to carry on the teen's message. As of the time of publication, about 2,500 people have joined the Facebook group, which members have been using to post the locations of the street preachers so they can turn out to counter-protest.
"The reaction has been overwhelmingly positive," McNutt told The Huffington Post. "I think it's important for young people, especially in the community who may not be out or who are possibly questioning their sexuality to not feel like that is what people here feel, and to not be afraid to be who they are."
Tillamook is well-known for its cheese, and often attracts tourists. McNutt said it's important for people to realize these two men have "rogue" mentalities, and for the community to stand together and send a message of love.
She said the group has already gotten support from many in the town, and its members plan to participate in the Tillamook June Dairy Parade next month.
McNutt said that even a few weeks ago, she would have assumed the general politics of the town skewed more conservative, but that the outpouring of love she's seen recently is palpable.
"I think that may have changed now," she said.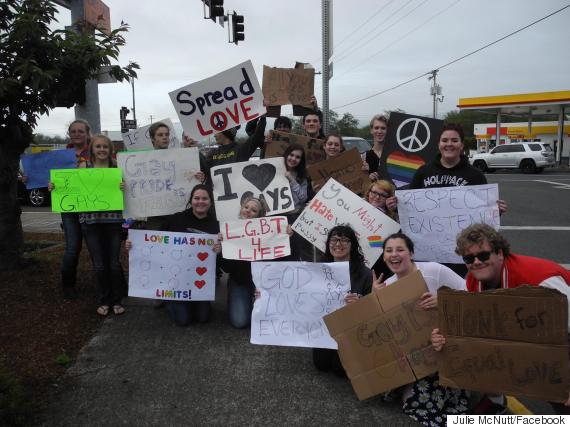 Calling all HuffPost superfans!
Sign up for membership to become a founding member and help shape HuffPost's next chapter
BEFORE YOU GO
PHOTO GALLERY
Westboro Protests HuffPost