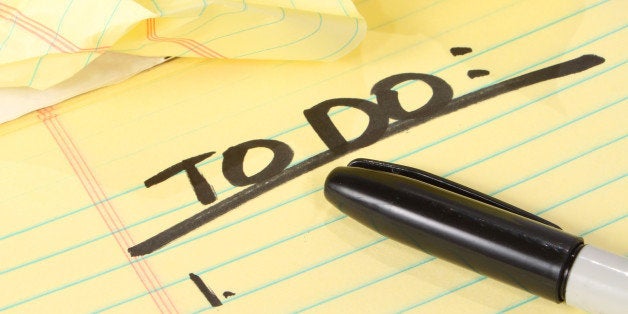 So, Halloween is over and we will be finding candy wrappers hidden in our kids rooms for weeks to come. But before the holidays are here and you're scrambling to finish cookies, last-minute gifts and decorating, take a simple bit of advice that my friend is famous for: MAKE A LIST. Simple words, but they are the key to organization. My friend Mary has long carried a notebook in her purse, even in this day of technology and iThis and iThats!
There's something about that list on paper and the ability to scratch items off one by one when accomplished that keeps us on task better that any electronic device has been able to. We will add and delete from "the list" all day as we run errands and have more things thrown at us that need to be picked up, dropped off or bought. Sometimes, we have a variety of lists going at once, such as things we need for the week, Christmas lists, stuff to pack for a trip, things that need to be bought for school and so on. When you complete the entire list, you will feel a sense of accomplishment ripping out that page that you don't get in other ways.
Sometimes, my friend will not destroy her lists when complete, but let them accrue so then when her husband says what the heck do you do all week? she can bust out the handy dandy notebook and bammmm, THIS is what we did all week! As any married women knows, some men have a tendency to think that there is a fairy who delivers toothpaste and toilet paper to the house. Or picks up prescriptions and dry cleaning. They have no real idea how much time these mindless errands take. Bust out the list, I say!
If you go to the grocery store with a list and you don't stray from it, you can save a considerable amount of money! And by having a pre-made list, you can also take advantage of money saving tools like Targets cartwheel and other coupon apps. Try it get yourself a little notebook that will fit in your purse and start jotting some lists on different pages of the book. Start simple groceries for week. Then, try Christmas cookies and then that will spawn another list of ingredients you will need to make those cookies. Then, of course, it's not too soon to start your Christmas shopping list. You will soon see how this tiny way of organizing will keep your schedule running smooth and help you remember things that we often forget. Organization is the key to a more relaxed lifestyle. And really, who doesn't want to benefit from that?