Did you know that in the United States, 1 in 5 children goes to bed hungry? Shocking right!? When school is out, hunger is in. Families with children who receive free or reduced-cost breakfasts and lunches at school now need to find a way to replace those meals during the summer. They turn to their local food pantry for assistance. Compounding the problem, is a decline during the summer months in donations to the food banks. Local food banks struggle to keep shelves stocked. We need to take action now.
What can one person do? It is as simple as a click of a button or making a move. First, go online and donate to your local food bank. Every little bit helps! It only costs $1 to provide four meals to a hungry child. Next, bring non-perishable food directly to your local food bank's door.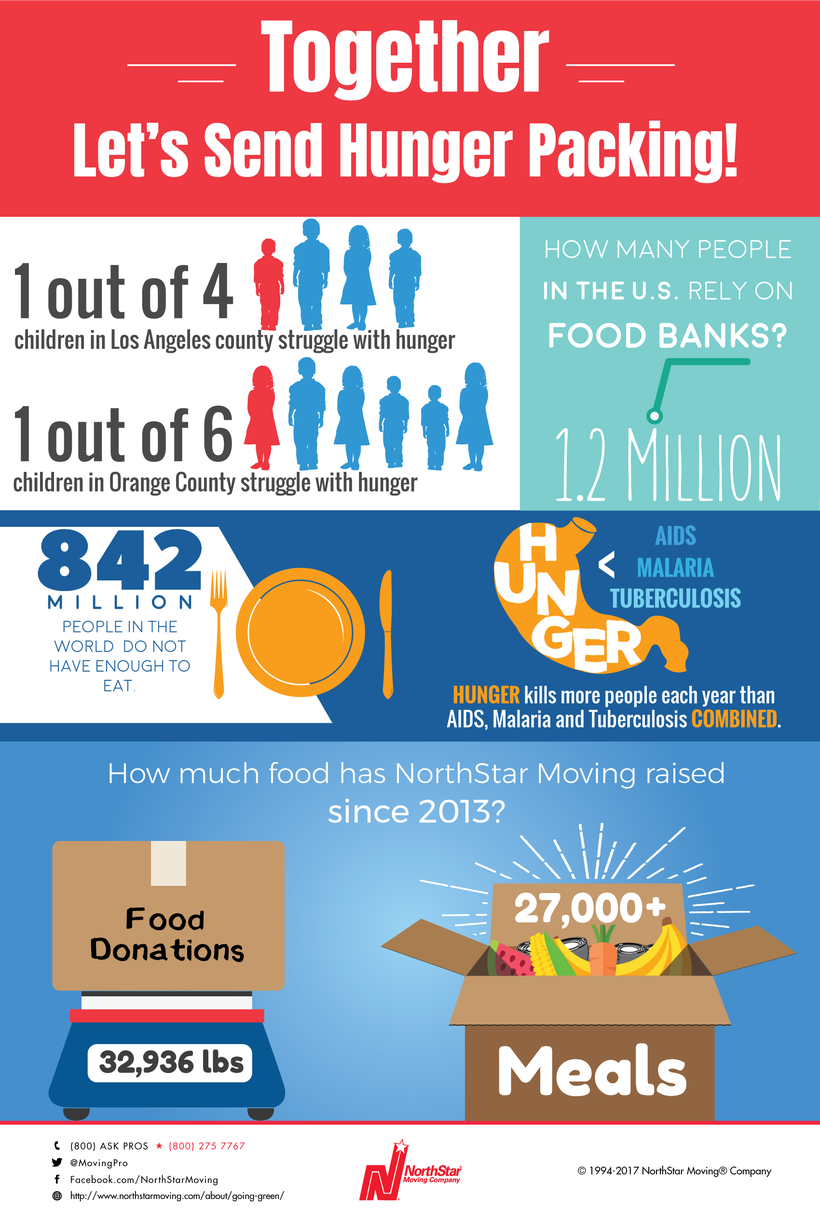 If you are one of the 40 million Americans moving this summer, it is the perfect opportunity to help feed hungry kids. While you are packing up all of your belongings, you can also be opening up your cupboards and giving. The act of giving while you move will actually make your move easier. As you pack up your kitchen, don't throw away those unexpired canned and dried goods, donate them! Save yourself some heavy lifting and shelf place in the new place. Sounds easy right? It gets better, you don't even have to take the food down to your local food bank yourself!
Visit www.MoveForHunger.org, a non-profit organization that will connect you with a local moving company that will deliver your non-perishable food donations to your local food bank for you. Check out their Find A Mover tool and feel good about working with a moving company that gives back. It's free and one less thing to pack.
Wondering if your food bank wants your three pound bottle of mustard? Here are the top items that they need:
· Canned Vegetables & Fruits
· Peanut/Nut Butters & Jelly/Jams
Now that you have donated a box full of food to provide meals for hungry families, feeling the urge to help even more? Start your own food drive. It's a great summer project for your kids too, get them in the habit of giving. Simply ask local businesses, schools and libraries to put out your colorfully decorated food drive donation boxes and use your social networks to get the word out. If I can do it for five years in a row with the "Let's Send Hunger Packing" food drive, you can too. In fact, we have raised a total of 32,936 pounds of food, equaling approximately 27,000 meals! It only takes 1.2lbs of food to provide a meal to an individual in need, so it doesn't matter how big your food drive is, every little bit helps. Together, we really can send hunger packing!
Calling all HuffPost superfans!
Sign up for membership to become a founding member and help shape HuffPost's next chapter
This post was published on the now-closed HuffPost Contributor platform. Contributors control their own work and posted freely to our site. If you need to flag this entry as abusive,
send us an email
.