Indiana 6-year-old Levi Mayhew suffers from a rare and fatal genetic disorder on the Zellweger spectrum. According to a spokesperson from the Make-A-Wish Foundation, Levi is too sick to travel, so when he became eligible for his wish, he did something extra special with it.
Levi donated his Make-A-Wish trip to 10-year-old Emma Broyer, his closest school friend who has been one of his biggest cheerleaders throughout his medical challenges. Emma gives him encouraging letters and gifts and asks her friends to do the same, The Reporter-Times reports.
Levi's mom Rebecca Drake told WTHR that even in her son's toughest moments, Emma never fails to make him smile. "Just having Emma say 'Hi' to Levi made a world of difference. It opened two hearts at once," she said.
To show his gratitude, Levi wished for Emma to take a special trip to Florida, "to visit the theme parks and see the ocean." For the little Indiana girl who'd never been on a plane, the surprise vacation was truly the trip of a lifetime.
When Emma and her family went to Florida, they brought along a "Flat Levi" figure, which they included on all of their adventures. At their welcome home party, they gave Levi a scrapbook of photos from "Emma and Levi's trip."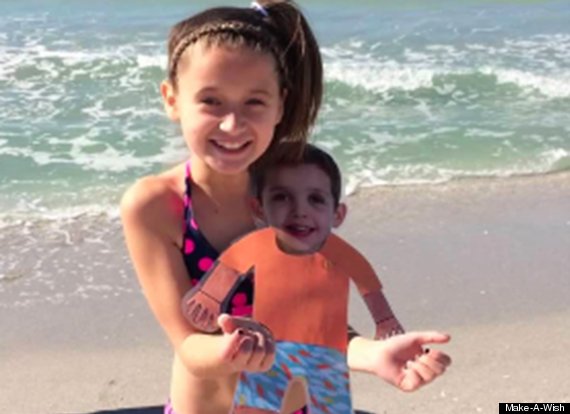 "It felt so good to give back to this little girl. Emma had given so much to us without even realizing it. It's a very warm feeling to know that another child loves and cares so much for your child, especially while facing the challenges stacked against us. It's so innocent and pure. If Angels really do walk the earth, Emma is one. She's Levi's angel. This story proves that the 'power of one' is astounding."
For more photos of Emma's Florida adventures with "Flat Levi," keep scrolling.