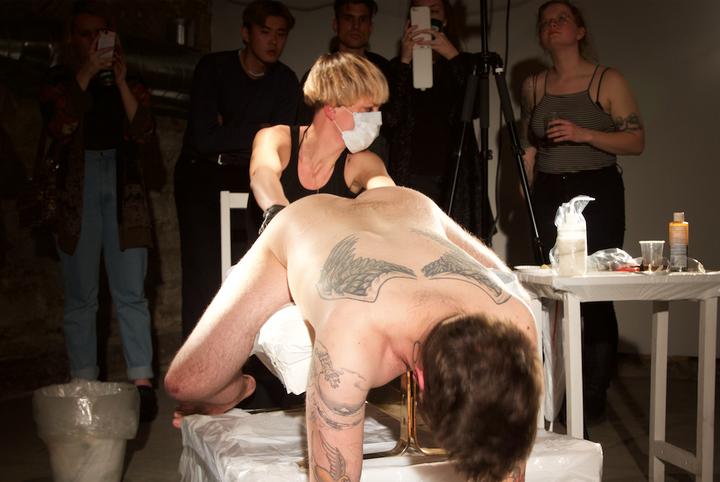 Queer performance artist Abel Azcona has taken his critique of Donald Trump to the next level: by tattooing the words of the president's campaign slogan, "Make America Great Again," in a circle around his anus.
The tattooing of the phrase occurred in the Defibrillator Gallery in Chicago amongst a crowd of eager onlookers earlier this week. Azcona, who has engaged in more than 500 performance projects and over 100 individual exhibitions around the world, told The Huffington Post that he considers the bold statement to be a queer, political act.
"I always worked my body as a weapon and a political tool," Azcona said. "For more than 12 years I have been performing political and social performances and exhibitions that have led me to jail, detention or death threats. I believe in the empowerment of the body and of the pain. The anus is a pleasure zone for many people, and an area of sin for others. I think demystifying what the anus is, and writing a fascist political motto like that in my anus, is a clearly critical and subversive action."
Azcona went on to say that anyone who faces marginalization or discrimination at the hands of the Trump administration has a responsibility to speak out in whatever way that they see fit.
"I believe that all of us who consider ourselves different should never be silent," Azcona continued. "We must attack. We must use our body as a weapon of empowerment. We are faggots, women, Mexicans, blacks and different. And we are brave. Art is the greatest critical, social and political weapon I know."
What a painfully powerful statement! Head here to learn more about Azcona.