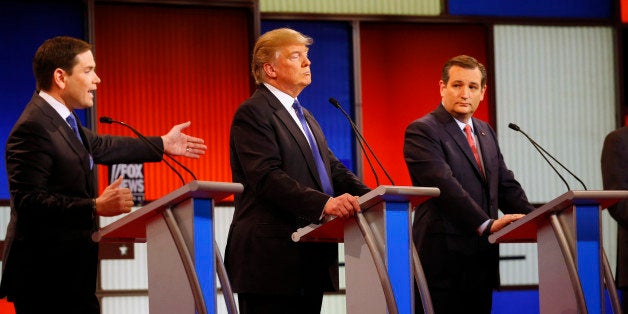 Once more, specificity eluded Donald Trump during a Republican debate.
While the GOP front-runner has offered scant details on policy, his vision of the American society that he wishes to create as president is quite clear. Trump's worldview and rhetoric is so steeped in a desire to bring about parts of America's past that the word "Again" in his slogan is redundant.
Trump is reviving an atmosphere of intolerance, suspicion, fear, hatred and anger, taking America down a route we have been before.
Much the same way that the "200 percent" Americans of Charles Lindbergh, Father Charles Coughlin, Henry Ford, the Christian Front and the America First Committee powered American anti-Semitism from the 1920s to the 1940s, Trump's campaign has helped fuel a rise of Islamophobia.
Trump has called for mosques to be spied on or closed altogether, saying, "We're going to have no choice." He has been ambiguous as to whether he supports a plan for American Muslims to be registered and monitored. And his "Statement on Preventing Muslim Immigration" that calls "for a total and complete shutdown of Muslims entering the United States" has proudly been displayed on his campaign website since December.
The issue of anti-Muslim bigotry in America certainly did not start with the candidacy of Donald Trump. He is just the latest in a long line of Americans who have stroked the fears of millions and offered a scapegoat.
Seven hundred people, including members of the American Patriots Inc. and American Nationalist Party, rallied in New York for three hours of political speeches in May 1939. The rally had a "definite anti-Semitic tinge" as a state senator's keynote address was interrupted "a dozen times by cries" from the crowd to "throw the Jews out of Christian America," according to a New York Times report.
A retired U.S. Army major general testified before Congress "that a Jewish-led communist revolution was about to overwhelm the country," the Times reported in June 1939. Before a crowd of 7,500 Iowans in 1941, Lindbergh declared Jewish influence in media to be "their greatest danger to this country."
Is this the "Again" that Trump promises for America?
Exit polls in New Hampshire, South Carolina, and five southern Super Tuesday sates showed at least 60 percent of GOP voters support his ban on Muslim immigrants. Trump's cultural resurrection is taking a firm hold among Republican voters.
The rise in anti-Semitism then and the rise of Islamophobia now is the result of allowing bigotry to pass itself off as reasoned policy suggestions.
While discussing religious liberty during Thursday's debate, no question was put forward about Trump's policy on banning Muslim immigration or the closing of American Mosques. Either the issue does not concern the moderators or the premise of Trump's plan is seen as acceptable and the solution justifiable.
A letter in "protest against anti-Semitic propaganda in the United States" was signed by presidents Woodrow Wilson and William Howard Taft along with 117 "other widely known men and women of Christian faith," the Times reported in January 1921.
"We believe it should not be left to men and women of Jewish faith to fight this evil, but that it is in a very special sense the duty of citizens who are not Jews by ancestry or faith" to urge others "to strike at this un-American and un-Christian agitation," the letter says.
"The spirit behind" anti-Semitism "is one against which we must continually guard. There is no place in this country for deliberately propagated race prejudices and hatred," a Times editorial said in support of the letter.
Something is wrong when we are unable to rid our culture of this type of intolerance. Something is wrong when anti-Muslim rhetoric is allowed to masquerade as a front-runner's counter-terrorism strategy.
"We do not believe that anti-Semitism will ever gain ground in this country so long as the masses of our people are true to the great tradition on which this Republic was founded," said a 1941 editorial in the Times.
I feel compelled to speak up for Muslim Americans because as a Jewish American I have a duty to honor the memory of those who spoke for me.
Again, it is up to the "masses of our people" to reject religious bigotry.
Calling all HuffPost superfans!
Sign up for membership to become a founding member and help shape HuffPost's next chapter