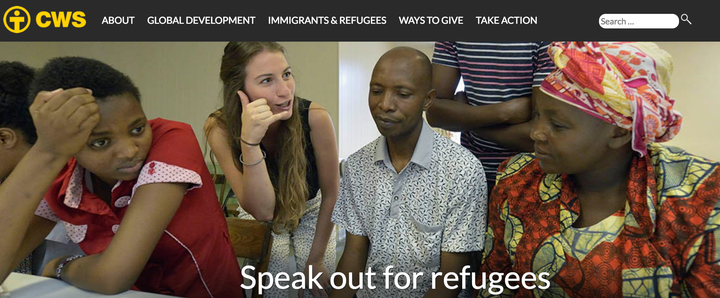 New numbers
Compare that number with the 65 million people (plus) forced to flee their homes—the largest number of refugees in recorded history.
If these numbers matter to you, maybe if they trouble you, you may feel powerless to do anything. To some extent you are.
One voice
Not entirely, however. You have a voice. You can exercise it today. Because today the U.S. House Judiciary Committee holds an oversight hearing on the U.S. refugee resettlement program. This isn't the end of the story; it's the beginning, or at least a stop along the way.
Call a few members of the House Judiciary Committee. Today.
Each and every time, an intelligent aid answered the phone, spoke respectfully with me, took my message, and promised to communicate it to the representative. With one I even chatted briefly about the world series; turns out he grew up across the street from Southern Methodist University, where I teach. I stood at my office window and looked across Hillcrest Avenue to Highland Park, where he grew up, and talked comfortably with the aid of a Republican representative from Texas. Go figure.
So use your voice. Speak out about what matters to you. That, in itself, is an opportunity worth taking.
And possibly influencing your representatives is a chance worth taking.
The necessary numbers
How to call? Great question.
Here are the phone numbers of members of the House Judiciary Committee. Take your pick.
Chairman Bob Goodlatte (R-VA-06): 202-225-5431 @RepGoodlatte
Rep. Jim Sensenbrenner, Jr. (R-WI-05): 202-225-5101 @JimPressOffice
Rep. Lamar Smith (R-TX-21): 202-225-4236 @LamarSmithTX21
Rep. Steve Chabot (R-OH-01): 202-225-2216 @RepSteveChabot
Rep. Darrell Issa (R-CA-49): 202-225-3906 @DarrellIssa
Rep. Steve King (R-IA-04): 202-225-4426 @SteveKingIA
Rep. Trent Franks (R-AZ-08): 202-225-4576 @RepTrentFranks
Rep. Louie Gohmert (R-TX-01): 202-225-3035 @replouiegohmert
Rep. Jim Jordan (R-OH-04): 202-225-2676 @Jim_Jordan
Rep. Ted Poe (R-TX-02): 202-225-6565 @TedPoe
Rep. Jason Chaffetz (R-UT-03): 202-225-7751 @jasoninthehouse
Rep. Tom Marino (R-PA-10): 202-225-3731 @RepTomMarino
Rep. Trey Gowdy (R-SC-04): 202-225-6030 @TGowdySC
Rep. Raúl Labrador (R-ID-01): 202-225-6611 @Raul_Labrador
Rep. Blake Farenthold (R-TX-27): 202-225-7742 @farenthold
Rep. Doug Collins (R-GA-09): 202-225-9893 @RepDougCollins
Rep. Ron DeSantis (R-FL-06): 202-225-2706 @RepDeSantis
Rep. Ken Buck (R-CO-04): 202-225-4676 @RepKenBuck
Rep. John Ratcliffe (R-TX-04): 202-225-6673 @RepRatcliffe
Rep. Martha Roby (R-AL-02): 202-225-2901 @RepMarthaRoby
Rep. Matt Gaetz (R-FL-01): 202-225-4136 @MattGaetz
Rep. Mike Johnson (R-LA-04): 202-225-2777 @RepMikeJohnson
Rep. Andy Biggs (R-AZ-05): 202-225-2635 @RepAndyBiggsAZ
Ranking Member John Conyers, Jr. (D-MI-13): 202-225-5126 @RepJohnConyers
Rep. Jerry Nadler (D-NY-10): 202-225-5635 @RepJerryNadler
Rep. Zoe Lofgren (D-CA-19): 202-225-3072 @RepZoeLofgren
Rep. Sheila Jackson Lee (D-TX-18): 202-225-3816 @JacksonLeeTX18
Rep. Steve Cohen (D-TN-09): 202-225-3265 @RepCohen
Rep. Hank Johnson, Jr. (D-GA-04): 202-225-1605 @RepHankJohnson
Rep. Ted Deutch (D-FL-22): 202-225-3001 @RepTedDeutch
Rep. Luis Gutierrez (D-IL-04): 202-225-8203 @RepGutierrez
Rep. Karen Bass (D-CA-37): 202-225-7084 @RepKarenBass
Rep. Cedric Richmond (D-LA-02): 202-225-6636 @RepRichmond
Rep. Hakeem Jeffries (D-NY-08): 202-225-5936 @RepJeffries
Rep. David Cicilline (D-RI-01): 202-225-4911 @RepCicilline
Rep. Eric Swalwell (D-CA-15): 202-225-5065 @RepSwalwell
Rep. Ted Lieu (D-CA-33): 202-225-3976 @RepTedLieu
Rep. Jamie Raskin (D-MD-08): 202-225-5341 @RepRaskin
Rep. Pramila Jayapal (D-WA-07): 202-225-3106 @RepJayapal
Rep. Brad Schneider (D-IL-10): 202-225-4835 @RepSchneider
You can also tweet House Judiciary Committee Members, whose Twitter handles are in the list above. Use hashtags like #refugees. If you want the number higher than 45,000, use #Welcome75k and #RefugeesWelcome.
These calls and tweets are the work of a moment. So raise your voice, if only for a moment.
______________________________________________________________________________________________________________
Photo from Church World Service.