How many times in our lives are we lucky to be asked to write 250 words about one big idea in education that's worth publishing in a Harvard University Magazine? A month ago, the Ed. Magazine editor Lory Hough, sent me a friendly email asking for "one big idea about improving schools, students, and teachers." The Harvard Graduate School of Education magazine team, put together a playful cover story for their Fall 2013 issue. As the Ed. editorial team states,
"There's no shortage of opinions out there on what won't work. We wanted to know, what could work. ...We asked people to tell us one tangible education idea they had that was worth spreading. Some writers are connected to the Ed School, others aren't. ... A few ideas are slight twists on thoughts we've heard before; others are quirky and curious. All, we hope, will get you thinking (p. 22)."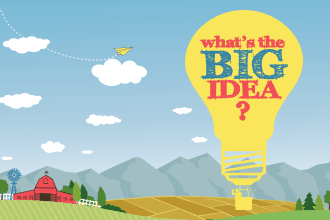 Today I received the magazine in the mail! It was thrilling and fun to read all 30 "big ideas" by friends and colleagues, distinguished education thinkers and change makers, such as Geoffrey Canada, Anant Agarwal, Arthur Levine, Chris Dede, Lamar Alexander, Wendy Kopp, John Merrow, Karen Brennan, Cookie Monster (and yours truly). The showcase of ideas for education reform are diverse and awesome: Embrace Failure, Abandon the Clock, Bye Bye Homework, Understand LGBT Students by Walking in Their Shoes, Give Students Salad Bars, Use Kiosks to Teach Street Kids, Expand Augmented Reality, Offer Comedy Classes -- to mention some...
I always like receiving and reading my Ed. magazine. It includes clever, well written articles on relevant education topics, and it's engaging. I therefore thought it would be a good thing to quote it (and honor my alma mater @HGSE) on my Huffington Post Blog in the context of this inspiring piece during the back-to-school period. Here's an excerpt, my short essay, about one tangible education idea, involving technology and global innovation, that has become my life's mission:
"Coding is the new literacy. All individuals must be literate in computer systems to engage in building a better society. Everything we do is tied to using computer systems--from reading the news and purchasing groceries, to communicating with family, teaching and learning, and activating community. How are America's schools preparing youth for digital citizenship? Unfortunately, it remains focused on the 3Rs (reading, writing, arithmetic), while the ability to read, write, and manipulate code is quickly becoming more relevant.

Why? Coding breaks barriers of geography, enabling collaboration, creative storytelling, knowledge representation and innovation, as well as leveraging the diverse expertise of people in multiple places to solve the world's most pressing problems, independent of linguistic or cultural differences. This is why every student in every school should be required to learn to read and write code.

Some schools teach coding through supplemental programs or advanced computing classes, but this should not be a perk for some students in affluent zip codes; it must be available to everyone, starting young, despite geography or socioeconomic status. The only way to do this is through a national shift in K-12 curriculum. As with reading and mathematics, exposure to coding from an early age will yield deeper fluency -- whether we become programmers, or simply use computer/software systems as a means of leisure, learning, creative expression, or work. We all learn how to write as a pathway to prosperity, but we do not all become novelists or journalists. These days it is the same with coding. If we do not commit nationally to creating a pipeline of creative coders who can read, write and think creatively with this language, we compromise the future of our youth and our nation.


Dr. Idit Harel Caperton, HGSE Ed.M.'84 and C.A.S.'85, MIT Media Lab Ph.D.'88, is an award-winning author and ed-tech inventor, social entrepreneur, and education disruptor; former research scientist and lecturer at the MIT Media Lab, Internet pioneer and founder of MaMaMedia Inc.; currently the president and CEO of World Wide Workshop and Globaloria. She is best known for advocating, since the '80s, for teaching every child computer programming and for her vision and publications about building tech-infused, global education systems.
See: What's the Big Idea? Ed. The Magazine of Harvard Graduate School of Education, Fall, 2013 (pp. 22-31).
I personally hope you'll take the time to click and read all 30 big ideas, post your comments, and steer the discussion; as well as search and learn more about each of the contributors in order to be educated about their great work in education theory, change leadership, and education reform. Join the conversation that Ed. started. Enjoy.
(Illustration by Angelina Berardi, appears in the online version of this Ed. cover story).
Related
Popular in the Community