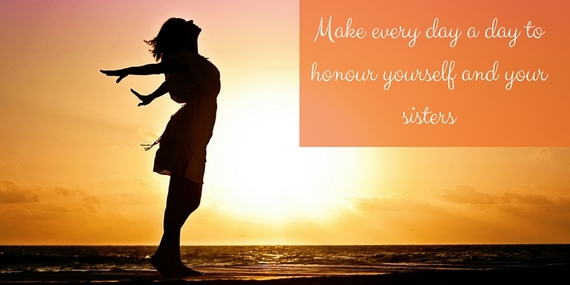 Recently we celebrated International Women's Day. A day to join with your sisters to celebrate how far we have come and what we have achieved. More importantly to continue to highlight the need for greater awareness into gender parity and the divine feminine. I celebrated with a meditation circle run by my yoga teacher and I shared some of my thoughts.
Your voice carries a lot of power and so today and every day it is important to share your inspirational message, in some way.
In some countries International Women's Day is about women in the working world, mainly corporate and often around leadership issues, equality and diversity and in others countries it is a celebration of women.
It's 2016 and by now, you would think that we wouldn't need to keep reminding the world that women need to be heard. However, we do.
What I like is that every year, this is a day to celebrate how much has been achieved by women for women. It is also a day to remind everyone to keep up the pressure. This year's International Women's Day message was #pledgeforpartity; that is women want more gender parity.
Women want equality, diversity, respect and for our voices and message to be heard. All around the world, we want our sisters to live well. We desire and demand to live in a world where everyone regardless of many discriminating factors live in love, peace and harmony. I may not see that in my lifetime, but none the less, I want with all of my heart for every living being and Mother Earth to be respected, loved and cared for. I am sure you do too?
Regardless of this one day, there are many things we can do for each other, but before we do that; love, respect, and honour starts within.
Make every day, a day to honour yourself
We know that to be the change we want to see in the world is often easier said than done. Life is rarely easy and sometimes our 'stuff' lingers longer that we would like. However, here are a few things that you can try:-
Write yourself a love letter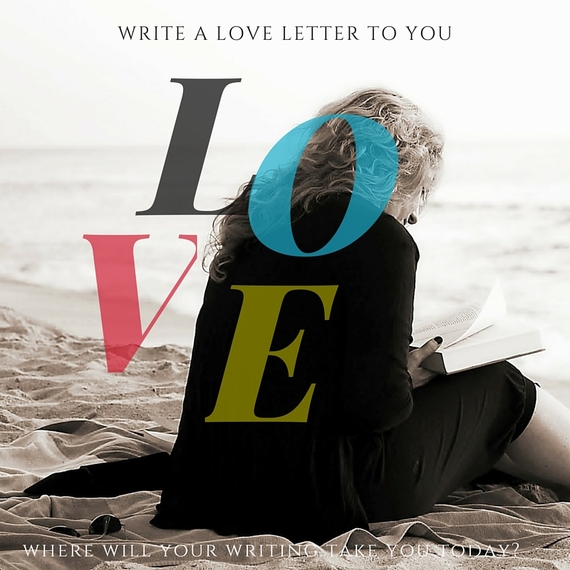 Write a letter from your heart to your soul and body. Explain in simple terms why you love you. Put pen to paper and trust that what is meant to be written will emerge.
Write a letter and wave goodbye to all that does not serve you and be open to new opportunities
One of the more fun things that I do when I am feeling down is to write a letter about what I'd like to come into my life. I am mindful of how I write it because the mind is a powerful thing. So for example, if you have had a tough time with a past relationship, consider what good things have come from it; I certainly say thank you to three relationships for allowing me to live the life I do today. Say thank you and then ask how is it possible for me too, for example, have a beautiful relationship, where we are equal and I am loved and respected for who I am? Your words, your way. Then when you have written what you need to in a positive way, burn your letter. As you watch the flames flicker, give thanks and send love to the past.
Do something to honour your body
Make and eat something delicious and nutritious and do it mindfully. I adore my Nutribullet and making gorgeous smoothies. I also have regular massages and if you can make some time in your diary to feel the healing touch of another. Even if you can't get to see a masseur, run a luscious bath, put on some meditation music, light some candles, choose a calming oil, smother your face with avocado and drift off.
Replace a 'not so good' food with something yummy and healthy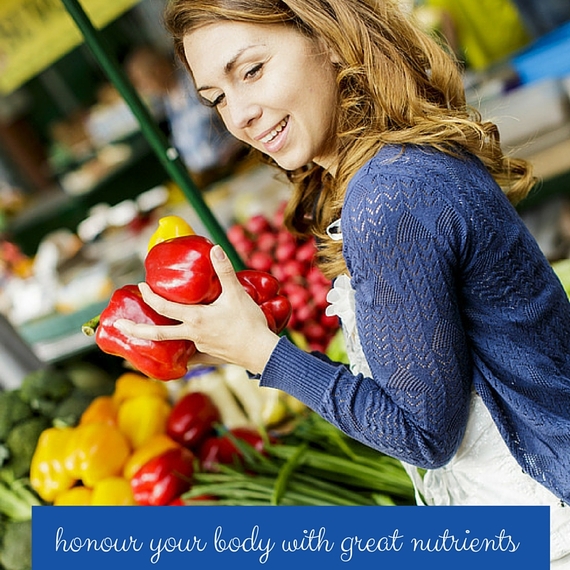 If you currently reward yourself with something high fat or full of processed sugar, consider swapping it out for something healthier. This doesn't mean eating a carrot, although you could make some delicious homemade hummus; one of my favourites. Another idea might be to dip some of your favourite fruit in raw chocolate - oh yes!!!
Practice self-healing
You don't have to be a 'trained' healer to do this; anyone can heal. Close your eyes and take some deep relaxing breaths. Place one hand at your heart and one under your breasts (solar plexus). Open your heart to healing and be open to what comes. Focus on drawing in energy to create inner peace, balance and harmony. Another idea could be to massage your tummy - the womb of your femininity. Use some lovely oils, maybe something like neroli to encourage creativity.
Rescue a dog or three

As a mum to three rescues, I would say this wouldn't I? I feel blessed to have them as a part of my life. Not a day goes by where they don't make me laugh. With dogs, I can't make any excuses for not getting out as they need to run around and sniff. The benefits include getting a lung full of fresh air and some exercise, I am experiencing Mother Nature, and getting an opportunity to reflect.
Do something creative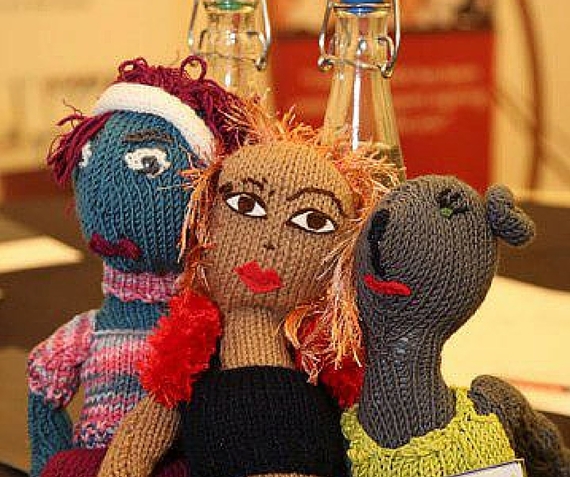 Write a blog or a book, paint a picture or make something. I write most days, but for relaxation, I knit strange dolls. Currently, I am making a wall hanging from bits of wood picked up while walking and wool. What about a bit of adult colouring in? Creativity opens you up to opportunities.
Wear something that makes you feel feminine
Given where I live up in the hills, I usually wear something practical as I need to get out and walk my dogs. When I get the chance, I like to choose a different more feminine outfit and ignore how my walking shoes might look... What could you put on that makes you feel great?
Buy flowers and brighten up your home and/or work space
Place your flowers in a gorgeous vase where you can see them throughout the day. As you look at them, remind yourself of your inner beauty. If you don't want to buy cut flowers what could you collect from nature? Around me is loads of lavender and rosemary - bliss.
Don't wait for someone to buy you flowers, buy them for yourself
Say thank you
Say thank you for who you are, whether physical or spiritual.
Make today and every day a day to support a sister
Giving back is a wonderful way to feel great as you do good. It doesn't have to be costly or take too much of your time. Try some of these:-
Offer a complimentary mentoring session
You have incredible knowledge, skills and experience, who might benefit from a Skype call or a cuppa with you? That hour could change both of your lives.
Sponsor a sister
Make a small monthly donation to someone who is less fortunate than you.
Give a gift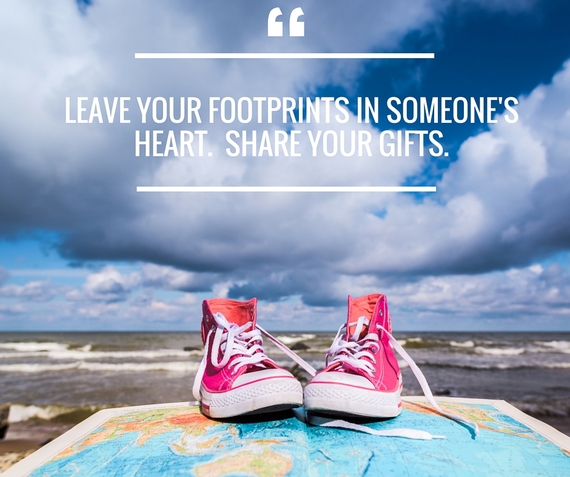 Leave your footprints in someone's heart. Create your legacy today. If you have a book or an online course, consider giving a gift to another woman. I often give coupons to my courses away, which I hope will inspire someone to write a book.
Create a sister circle
I belong to a lovely circle of women, who meet twice a month online to share. What could you do?
Challenge unconscious bias amongst your male family and friends
Open the conversation with your 'brothers' and fellow humans and ask them what they think and how they can help to create balance and harmony. Consider how you can work together to educate the males that you come into contact with. Go gently ladies!
Be more flexible with your working day
If you are self-employed, consider how you can flex your day. As an early riser, I often write early, then head out for a walk and do whatever I want to, ensuring that I get done what needs to be actioned. I am mindful that clients may need to talk on the weekend or evenings, which is often the case with writing a book. If that is the case, I make space, providing I have the energy and no other commitments. Being flexible means that you can achieve so much more. Try it. It may feel strange if you are not long into self-employment.
Slip some money into someone's pocket
I am not suggesting that you creep stealth like and unpick someone's pocket, but you could leave a some cash (doesn't have to be much) with a note in the ladies toilet for some unsuspecting sister. Tell her to have a cuppa on you.
Say thank you to a woman leader
Is there a woman who you consider to be a leader? Tell her what an awesome job she is doing.
Say thank you
Thank someone for something that they have done for you.
Whoever you are reading this, from wherever, celebrate being you and give thanks to the women in your life.
Calling all HuffPost superfans!
Sign up for membership to become a founding member and help shape HuffPost's next chapter