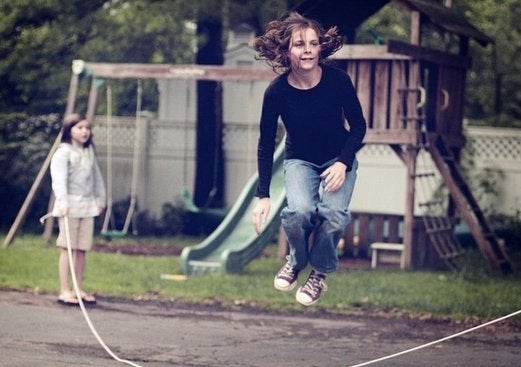 There's a big difference between "I have to go to the gym" and "I want to go to the gym." First of all, we hear the former much more than the latter. It's a testament to the fact that, for many Americans, exercise feels like a necessary evil. With sprinting drills called suicides and a cardio machine nicknamed the "dreadmill," it's clear we aren't enjoying our sweat time.
But viewing exercise through this negative lens is keeping us from being as active as we should -- and maybe even want to -- be. Forty percent of women say they would exercise more if it felt more like play than a chore, according to a recent survey from the American Cancer Society (ACS).
The ACS surveyed more than 1,000 American adults online in March and found that women are also 10 percent less likely than men to make time for physical activities they actually enjoy. To encourage women to find the fun in fitness, the ACS's Choose You movement has launched the 100,000 Acts of Play Challenge for the month of May.
Choose You is sending street teams to New York, L.A. and Washington D.C. equipped with some classic toys, like Skip-It and hula hoops, to invite people to spontaneously play. Women are encouraged to log their acts of play online, with the goal of reaching 100,000 before the month ends.
"Most women don't do physical activity because it's necessarily fun for them," Alpa V. Patel, Ph.D., strategic director of an ongoing cancer prevention study at the ACS tells The Huffington Post. "They want to improve how they look or because it might make them feel better after, but we're hoping this initiative will actually help find a way to make it fun."
Perhaps a little fun will be just the right nudge. "We all need a little inspiration sometimes to incorporate physical activity into our lives, and one of the easiest ways is by doing something that feels less like working out and more like fun," Colleen Doyle, R.D., director of nutrition and physical activity at the American Cancer Society said in a press release.
The ACS doesn't expect to convince women that running on a treadmill is thrilling. Instead, "it's really about finding that thing that makes you feel good, that in many ways is cathartic to you," says Patel. "We know a lot about the physical benefits of exercising, but I think there's something to doing something you enjoy."
Women also aren't finding as much time for exercise as men, whether they find it fun or not, according to a recent study in the journal Preventive Medicine. Men are nearly twice as active as women, the study found, putting women at higher risk for health problems associated with a sedentary lifestyle like high cholesterol, excess belly fat and high blood pressure.
Patel can relate. "Being a woman who is trying to balance profession and personal life, it ends up being one more thing I have to add to the plate rather than being something that I do because it is truly enjoyable." For her, it's running. "I started out not ever thinking I would like to run," she says. But, after slowly building up from a quarter of a mile, she now completes half-marathons and other races, she says. "That's what clears my head."
But you don't have to love half-marathons to reap the benefits of a little extra movement. "Intentional activity" should be at least 10 minutes, she says, but that can mean 10 minutes in the morning, 10 minutes during a lunch break in the afternoon and 10 minutes in the evening. "[It's about] going out there, trying different things, finding out what you like, then doing what you like," Patel says.
Not sure what you like? We've compiled a list of some of our favorite ways to get active that feel more like recess than hitting the gym. (The ACS suggests some other fun ways to play here.) Click through the slideshow below, then tell us what you think is the most fun way to work out in the comments.