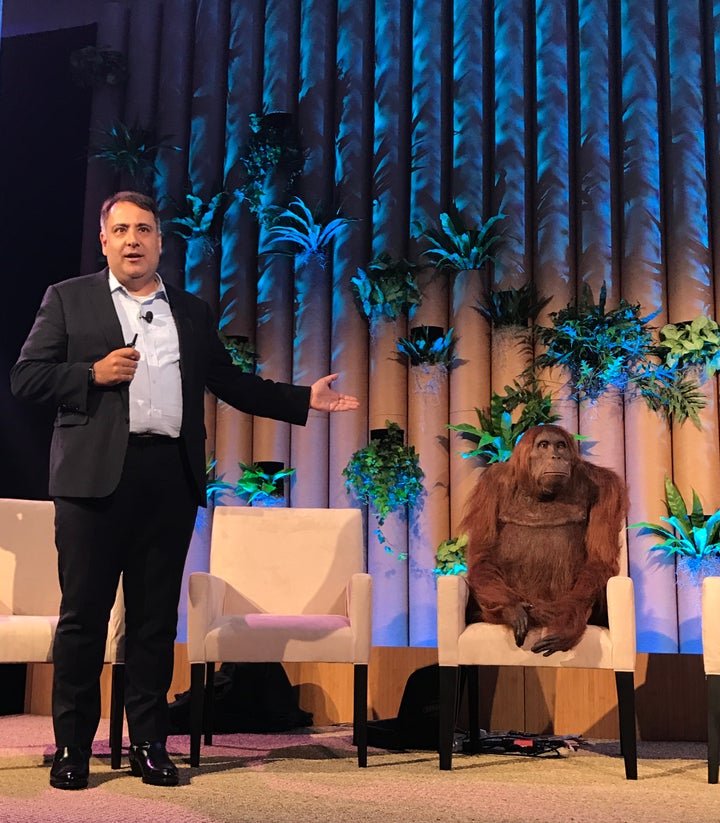 As ecological change and degradation accelerate around the planet, efforts to conserve biodiversity and sustain natural systems are facing never-before-seen challenges like climate change and rapid population growth. As a result, we are in the middle of a sixth mass extinction event on our planet wherein every major clade of species is in decline. All of this is driven by a single species: humans. Ultimately, these extinctions will have an impact on our own survival.
To stem the tide, Conservation X Labs (CXL) works with conservationists, engineers, entrepreneurs, designers, and technologists to harness exponential technologies, open innovation, and entrepreneurship to dramatically improve the efficacy, cost, scale and sustainability of conservation efforts to end human-induced extinction. One such way is through the seeding of competitions designed to tackle global environmental problems with new tech-enabled solutions that harness the democratization of science and technology.
Over the course of this year's Earth Day Weekend, CXL partnered with the Smithsonian Institution to host the Make for the Planet Challenge during the inaugural Earth Optimism Summit. Earth Optimism was an unprecedented gathering of thought leaders, scientists, environmentalists, artists, civic leaders, and international media to change the focus of global conservation science from problem-centered to solution-oriented.
From a national call for competitors, CXL selected 16 teams to compete in Make for the Planet and create hardware and/or software solutions to specific conservation challenges. The challenges were pitched by leading scientists from the U.S. government, conservation organizations, and the Smithsonian Institution. Over the course of an intense 48 hours, these teams worked onsite to develop and build innovative approaches to environmental challenges ranging in diversity from overfishing and inefficiencies in our seafood system to the detection of invasive species, and tracking and understanding the movement of small mammals. All teams produced their solutions within a pop-up Makerspace available onsite. Of the 16 teams, four advanced to the finals with two teams chosen for a $2,500 prize to seed their prototype solutions. The final panel of judges – Olafur Ragnar Grimsson, former president of Iceland; Brad Ack, senior vice president of Oceans at the World Wildlife Fund; Nancy Knowlton, sant chair for marine science at the Smithsonian Museum of Natural History; and Steven Van Roekel, former chief information officer of the United States under the Obama Administration – was unanimous in its agreement on the two winning teams: BioDEVersity from Accenture and PAW2017 from Duke University.
Leveraging analytics and tremendous experience in sustainability strategies, co-winner BioDEVersity developed an interactive dining app called Menu Trawl to drive sustainability changes in the seafood and restaurant industries. Their solution combined two publicly available datasets – restaurant menus and seafood buying guides – to show consumers what percentage of a restaurant's menu is certifiably sustainable, thus enabling consumers to compare seafood between restaurants as well as individual dishes. They applied this solution to Washington, D.C. and produced a working prototype using real data from over 40 seafood restaurants and their over 7,000 menu items.
Their co-winner, PAW2017, took a different route. Hailing from Duke University's Conservation Tech, the first university-based club devoted to conservation technologies, PAW2017 tackled terrestrial species invasion and ecosystem degradation by designing "Maralga," a device that would capture excess algae floating on the ocean surface that cause coral reefs to bleach and die. This overabundance of algae results from overfishing in local areas as well as invasive species of algae floating from neighboring islands and countries. As designed, "Maralga" will collect, churn, and ferment algae into a useable slurry that can be processed into biofuels and livestock feed.
Though BioDEVersity and PAW2017 rose to the top, their final competitors were just as ingenious and daring. The finalists included projects that would track small mammals through forest ecosystems using specialized pheromone sensors affixed to predator animals (Duke University's Green Eggs and Sam Team) as well as ingestible sensors – Smart Seeds – that can identify the entry points and movement of foreign pathogens and diseases transmittable between animals and humans (Team Terramedics). For more on the teams and their projects, check out our Facebook Page.
Make for the Planet highlighted that there is hope for conservation. From leveraging open data and smart-tech to improve consumer fish choices to sustainable and non-disruptive devices that can improve coral reef health by removing excess or invasive algae, Make for the Planet uncovered boundless intersections between emerging technologies and conservation. The Makeathon's competitors made it their mission to create solutions that address key drivers of extinction, could apply in other location, and are scalable – which is precisely what conservation needs.
But sourcing innovation is not enough. Unlike other competitions and prizes, CXL will continue to work with the Makeathoners on their innovations. In the coming month, CXL will unveil its Digital Makerspace where these Make for the Planet competitors will add their solutions to six conservation technology projects that CXL has already been collaboratively developing and testing. Our goal is to not only ideate innovation, but also to connect expertise across sectors to build, iterate, test, and scale solutions for real change.
Conservation requires multidisciplinary solutions and a focus on the revolutionary over the evolutionary. The challenges we are facing are too big not to. Some of the innovations on the Digital Makerspace platform do exactly that. Innovators on our platform are accelerating ingenuity, like using lasers to identify frogs infected with the chytrid, disrupting the illegal ivory trade using NIR spectroscopy, and developing new ways to identify species using DNA in the field to combat timber and wildlife trafficking.
In the end, we hope to transform the field of conservation science from one which laments and describes the passing of species to one of future-facing solvers equipped with expertise as diverse as the problems we're tackling. We want to look for the exponential solutions that match the scale and immensity of the problems we are facing. The Digital Makerspace will work to identify and guide pioneering solutions with a targeted focus and a global impact. At Conservation X Labs, we believe that much as humanity has created these problems, we have the ability to address them.
Popular in the Community