I have stacks and stacks of decorating magazines dating back to the 1970s -- piled on wooden shelves in my garage. Ideas endlessly gleaned from them dance around in my jumbled brain.
Why?
Do I follow, embrace and implement the newest of trends? Nope.
Do I passionately adopt innovative changes in materials and technology? Nope.
Am I wildly fascinated by the stylish way of the super wealthy? Nope.
I continue both to subscribe and save my monthly home decorating magazines for one simple reason: I am always looking for ways to creatively express my sense of self through my home, while making the atmosphere as inviting to family, friends and neighbors as possible.
I'm not going for the "WOW -- it looks like 'Architectural Digest' in here."
I'm going for the "WHEW -- it feels so comfortable, so enticing and so playful in here."
I'm sharing some things I've learned along the way:

1. Personalize your front foyer. It's the first impression. Against the adamant advice of a decorator I know well, I hung all the photos of my hometown that my late father had previously had hanging in his real estate office for decades. And I placed in a prominent place the street sign from the house where I was born. Walking through my front door, it screams "home."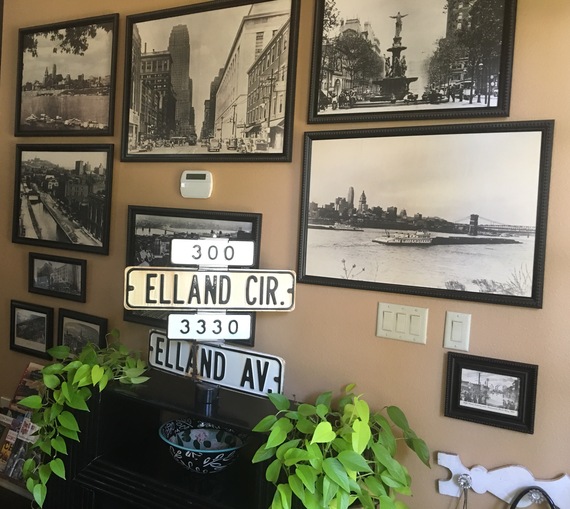 2. Keep things close to the heart close by. Army letters my dad wrote his sister during his European tour as a ball turret gunner in WWII are tied with a satin ribbon and rest on a credenza in plain sight. My kids' artwork -- framed and matted -- hangs wherever space permits. My mom's hand painted mini canvases -- dancing with flowers -- rest on easels in unexpected nooks and crannies.
3. Transform the mundane. A utilitarian floor-to-ceiling column in my front hall? Won't be just for structural support for long. I'm making it the first stop for visitors to our home -- encouraging them all to sign and date the pillar. (My husband shakes his head in dismay.)
4. Surround yourself with sunny thoughts. A collection of happy quips and quotes encircle the pantry doorway and affirmations propelling me forward are posted on mini blackboards throughout the house. When guests come, I erase the affirmations and post notes of welcome.
5. Spread the warmth. Masses of candles. An abundance of greenery. Shelves of books. And rollicking color: coral, yellow, sea foam green and sky blue. On the other hand, black walls rock too. And so does blackboard paint -- which can become an exuberant palette for expressing a day's specialness or just the appreciation of a day's ordinariness.

6. Crank Up. Display what you love, toss what you don't and visit your Salvation Army regularly -- to donate and browse. I found it to be a great source of containers to give as gifts -- filled with candy, a plant or a favorite paperback book.
7. Embrace limited luxe touches. If budget constraints prevent your buying a new couch, set out a generous sized bowl of Godiva chocolates. And watch the expansiveness of spirit and camaraderie flourish.
8. Multi-purpose and use what you've got. While raising my five sons, the dining room was the only pristine room in my otherwise messy house. My boys are gone and now all of the rooms are orderly and neat. Why let a large table in a conveniently located place in my house lay fallow? Mine now contains whatever project or two I am working on at the time. And the state of my glass top dining room table never fails as a conversation starter. Friends frequently ask, "Ok, what's on your dining room table this week?" (This week, it's my knitted pouches.)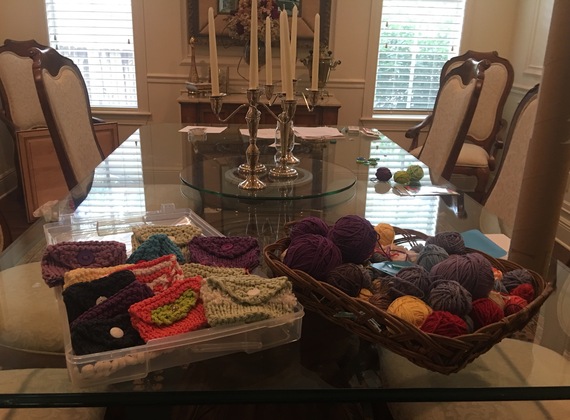 So, as a woman past midlife -- whose heart is full, but whose back seat is now empty -- what's my definition of style? It's Comfort. It's Ease. And it's a Personal Touch.
Just like The Hokey Pokey, "That's What It's All About."

Iris is available to speak on a variety of topics, focusing on self-help, self-improvement and self-empowerment. For more information, contact her at irisruthpastor@gmail.com
If you want more information about Iris's forthcoming book Tales of a Bulimic Baby Boomer, or to sign up for her weekly newsletter, visit www.irisruthpastor.com or follow her on Twitter @IrisRuthPastor.
PHOTO GALLERY
Milestones Through the Years
Calling all HuffPost superfans!
Sign up for membership to become a founding member and help shape HuffPost's next chapter