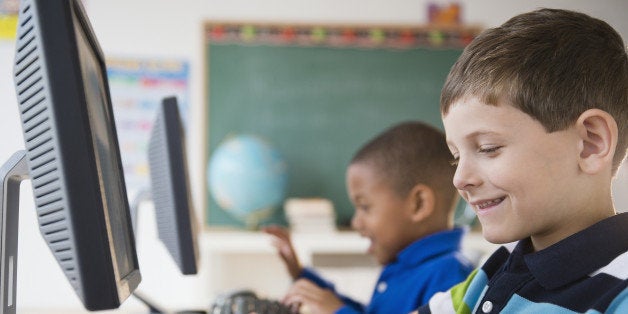 With dozens of studies proving its benefits for young minds and the grim reality that we are far behind other nations in a key competitive skill, you would think that politicians would be falling all over themselves to support language education in our schools. However, increasingly more policies are popping up at the state and federal levels that would put language education further out of reach for more students.
While teachers are the most important factor in students' success, policy matters in public education. Two recent developments in education policy are troubling and contrast what students need and parents want with how many elected leaders undervalue language learning.
A movement in some states that is gaining traction nationally would allow for students to meet world language course requirements by taking computer programming courses. Advocates for this policy change say they want to boost the number of students interested in computer science careers. As the leader of an education technology company focused on language learning, I have a vested interest in the development of a more technically competent and globally aware cohort of graduates. Both are important skills for today's global marketplace.
But I fear that this policy would not only further erode language education in our schools, while having a scant effect on the future high-tech workforce. By forcing students to select either language courses or programming creates a Hobson's choice that will limit their futures. In a global economy, learning a foreign language is more critical than ever -- and right now we don't have enough bilingual speakers to keep up with other nations.
Rather than being a "luxury item" on the school menu, language learning is a must-have. The importance of language is recognized in the many rigorous state and national standards that align with the research-proven strength of a strong second language acquisition program, specifically its value as a building block in English language learning. The national standards for language learning align with the key English Language Arts standards of the Common Core, specifically those addressing reading, listening and speaking English. We have witnessed this with many of our partner schools, as teachers and administrators have reported that students participating in world language programs are also strengthening English language proficiency and gaining confidence in other core subjects.
The coding for language proposal also takes an unserious approach to integrating an important STEM skill into the classroom. Just like learning French is much more than just memorizing vocabulary, learning software architecture is more than just memorizing some code. Computer programming should be layered into math and science courses, not just offered as a one-off gimmick to show the public that you understand why coding is cool.
Those still pushing this wrongheaded policy should take a look at Kentucky. The Bluegrass State is a national leader in pushing for language education, so when this proposal started percolating there last year, it became a real concern in the language community. It was heartening that the Kentucky legislature rejected the coding for language bill and now leaders are working to integrate computer programming into the STEM curriculum.
Despite this positive development in Kentucky, there are other worrying signs from the Nation's Capital. The key Senate education committee recently released a renewal of the Elementary and Secondary Education Act that essentially ignores language education altogether. It contains no incentives for states or districts to provide high-quality world languages programs and actually drops the Foreign Language Assistance program, which has helped close the achievement gap for non-native English speakers -- the fastest growing demographic in our schools.
Still, some progressive states and school districts are taking the initiative to meet the demand in our economy for more globally competent, linguistically skilled students. Delaware Governor Jack Markell has made language education a priority of his administration with a statewide program designed to make all Delaware students proficient in a language. New Jersey has also recently boosted access to language programs for its schools. States like Utah, Michigan and Florida have made high-quality language programs available through strong digital education initiatives. Under the progressive leadership of Superintendent Dallas Dance, all of the students in Baltimore County Public Schools' 110 elementary schools will be taking Spanish courses within the next few years as part of a comprehensive program now being piloted in 10 elementary schools.
This Vermont Public Radio story shows that successful language programs can be achieved at even the smallest of schools, in this case Coventry Village School, which is home to fewer than 100 K-8 students just miles from the Canadian border. Coventry students have never had access to language learning at school because the costs of creating and maintaining a traditional program were too high for the school's budget. So it created a French program using culturally authentic digital courses and by training its own teachers--all without language education backgrounds -- on how to lead the class in French instruction.
Coventry's principal, Matthew Baughman, reports that the new French program has changed the learning culture at the school and also connected it to the Francophone community of northern Vermont and neighboring Quebec -- a connection that had been fraying with fewer residents learning French in the home.
The lessons from Coventry show that high-quality language education is within every school's reach. But new technologies and resourceful school districts will only get us so far. We need policymakers to prioritize language education so that America's students -- and our entire economy -- can reach their full potential.
Calling all HuffPost superfans!
Sign up for membership to become a founding member and help shape HuffPost's next chapter