Students may be enjoying a short vacation from the classroom this winter holiday season, but their parents and grandparents should consider using the break as an opportunity to give gifts that will provide students with exposure to science, technology, engineering and math (STEM) in ways that are fun and engaging.
For decades, the most popular gifts have often included sporting equipment, gaming systems and games, doll houses, and a "toy of the year." While these gifts provide hours of entertainment, they offer little in the way of meaningful education. In the last several years, however, we've seen a tremendous increase in the number of toys and games that double as learning opportunities.
Today, instead of parents buying their child a pre-assembled Nerf gun, children can build their own "space blaster" with the VEX Robotics Snap Shot. Along the way, they'll learn about mechanical engineering. The same company's Zip Flyer teaches robotics and aerodynamics.
While parents enjoy monthly subscription boxes from companies like Blue Apron, their kids may enjoy a subscription to something like Tron Club or Creation Crate, which deliver a new project each month geared toward electronics and circuitry.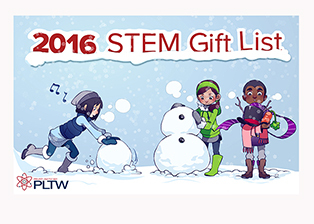 From inventor kits and 3D printers to programmable robots and coding projects that teach young people how to write their own apps, there are countless gift options that will excite and entertain kids of all ages. Here is a recent list published by my organization, Project Lead The Way.
More importantly, age-appropriate exposure to STEM and related fields can help kids discover a passion for these subjects by seeing how relatable, fun and interesting they can be. For students who find it hard to connect with textbooks and math formulas, hands-on experience shows them these subjects aren't "too difficult." On the contrary, enjoying these subjects through toys and games will fuel their passion and perhaps inspire them to pursue a career in one of those fields.
Inspiring more students to pursue careers in STEM fields is important when you look at the state of jobs and education in the United States. Virtually every industry needs workers who can fill jobs in fields that require STEM skills. The U.S. Bureau of Labor Statistics predicts there will be more than 9 million STEM-related jobs by 2022, making it the fastest growing field.
Unfortunately, recent test results show that U.S. students aren't prepared to fill those jobs. The latest results from the Programme for International Student Assessment (PISA), released Dec. 6, found that 15-year-old students in the United States were "average" in science and "below average" in math when compared with their peers in 34 other countries in the Organisation for Economic Co-operation and Development.
The 2016 Nation's Report Card, officially called the National Assessment of Educational Progress, found that only 37 percent of high school seniors are ready for college-level math. Only 26 percent of 2016 high school graduates who were interested in STEM majors or careers were ready for first-year college courses in math and science, according to ACT, which administers a popular college admissions test.
Solving the challenge of preparing our students requires rethinking the way we approach education to better engage and equip students with the skills they need to pursue an education and career in fields where jobs are plentiful. Instead of passive learning, opportunities for real-world application and problem solving help students understand how subjects like computer science are used in nearly every industry and could make for interesting and rewarding careers.
While educators rethink how we approach classroom education to focus not just on content but on applied learning, parents, grandparents and other adults can play a role in exposing their children and teens to toys, games and activities that build their interest and skills in STEM subjects.
What better gift could a parent or grandparent give their child this holiday season than the gift of inspiration and education?
Vince M. Bertram is president and CEO of Project Lead The Way and the New York Times bestselling author of "One Nation Under Taught: Solving America's Science, Technology, Engineering and Math Crisis."
REAL LIFE. REAL NEWS. REAL VOICES.
Help us tell more of the stories that matter from voices that too often remain unheard.