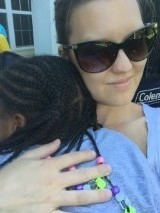 A friend of mine, someone I consider a Disney guru, has been helping us plan our next Disney World visit. She bestowed upon me that some believe that Disney characters who appear in the parks are given instructions to never let go first when a child embraces the characters.
Characters should follow the children's lead, meeting their needs and desires, and thus, making the Disney experience even more magical.
This came back to me the other day when my energetic and fierce middle daughter surprised me with a morning hug. She wrapped her arms tightly around my thighs, squeezing them. I bent down to her level and put my arms around her in return. I waited.
You see, it's usually my kids who do all the waiting. My three kids were born within four years of one another, so I'm sure you can imagine that chaos, tantrums, squeals, arguments, and wrestling rein in our home. As I exclaimed to my husband the other day: I feel like my living room is a parkour festival. As is my van, my bathroom, and pretty much anywhere we go.
I often tell my children to wait. I say things like, "In a minute!" and "Just a sec!" and "Hold on!" as I desperately attempt to complete the task at hand. This usually means filling a sippy cup of water, helping someone use the restroom, finding a missing and suddenly beloved toy, making a medical appointment, moving laundry from the washer to the dryer, soothing someone's hurt feelings, applying bandages to boo boos. I, like many moms, can easily grow frustrated when one task is interrupted with an urgent (well, urgent to a preschooler) demand to be met.
I do, most days, feel like I'm being pulled into a dozen different directions at once. There are not only the kids' needs and wants, but those of my husband, my friends, those I'm planning the classroom Halloween party with, my editors. Everyone wants a piece of me, but I only have so many pieces to give.
So I ask my little ones to wait. And often I fail at ever getting from point A (the asking) to point B (the task). I forget what they've asked of me, so they remind me, many times, at an increasingly volume, until I either get so frustrated I tell them "no" or do what they want immediately just to lower the noise level in my house. It's not a great cycle.
The rushing, the constant feeling of never being caught up, the uncertainty if I'm doing a good enough job, the desire to change but the lack of time to create a plan on how to do so, these things take a toll on a mama. I see moms like me everywhere, just trying to do our best each day while spending a lot of energy trying to keep our emotions in check. We really just want to put on our old college sweats, plop onto the couch, and alternatively take sips of a $7 latte and a glass of our favorite wine while reading the latest Sophie Kinsella novel.
But we don't. We press on, sometimes with renewed energy and commitment, and sometimes with the worst attitude, taking a harsh tone, and barking orders (that are inevitably not followed) at our children. Motherhood is interesting. Motherhood is demanding.
My daughter's hug the other day stopped me in my proverbial tracks. Weekday mornings, as most parents know, are completely crazy. Eat breakfast. Get dressed. Don't forget your lunch. Brush your teeth. Find a matching pair of socks. Sign permission slips. Go. Go. Go.
But I chose to stop. To breathe. And to make like a Disney character and not let go first. I gave her a real hug, not a quick side hug with two swift back pats (as if to say "there, there"), and then moving on to the next task. This hug refocused our attention and our hearts on what matters most: the moment. What happened five minutes ago (complaining about too much ketchup on the scrambled eggs) or what might happen before we are set to walk out the door (lost left shoe) are not as important as capturing a moment, even for a few seconds, and not letting go first.
The next time one of my children embraces me, I have a plan. My plan involves following the simple policy to not let go first. To savor the moment, to greet the affection, and to know that to that child, holding on can make all the difference.
Popular in the Community