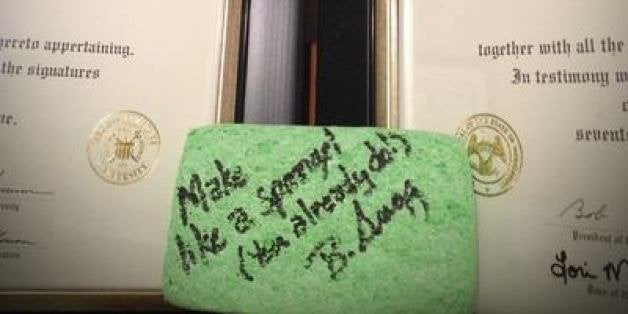 Isn't it strange how that one great teacher in every person's past is so important, so pivotal, and yet so easily forgotten in our grown-up lives?
I had one of those truly great teachers. Ms. Betty Sugg taught me three years of literature and creative writing, and still teaches at my high school, Presbyterian Christian School in Hattiesburg, Mississippi. She's a bit of a legend to a lot of people. She was a game changer in my life.
Ms. Sugg has the aura of an intellectual. I always had the feeling that she might have easily been a great writer or leader in any field, but somehow decided to stay in the same classroom for as many years as I have known her, patiently prying young brains with a methodical, calm, questioning style. Without a doubt, she was a master in her chosen profession. Her room was unlike any other. There was no lecturing, no boredom and nowhere to hide. We frequently sat in a circle and simply discussed the passages we had read for homework (and we had always read them, because she gave us quizzes to be sure, and they were hard!). Over those three years in her classes, I only remember her raising her voice once, simply to intone the name of a rowdy student, while I sat frozen in sheer terror. She was utterly in control, although never a tyrant. We respected her enough to know that the room simply belonged to her, and we were her guests.
Not every student, I am sure, yearned for her class. But the more I reminisce, the more classmates I remember who developed a love of literature (or at the very least, a grudging appreciation) due to her. That was what truly made her great: she drew students into literature even when they didn't come in eager to learn. Before I came to her classes I wasn't a fan of English; I thought of it largely as grammatical punishment. Ms. Sugg did not distill an English class into a grammar class, although she did not hesitate to be sure we knew it when we erred. Literature and writing were always at the forefront, and she made them understandable and enjoyable. She taught me to love English as a means of thinking deeply about the world rather than as a cruel set of linguistic rules.
Ms. Sugg has a saying: "Make like a sponge!" On one of the last days of our senior English course, a classmate brought in a pack of sponges. He asked her to autograph one for each of us. I think she was embarrassed, but I hope she felt honored. I still have mine. It says "Make like a sponge! (You already do) -B. Sugg." I kept it all through college, and I looked up and saw it sitting reassuringly on my desk on the day that I decided to change my major and become a teacher
Now that sponge sits between my college diplomas, and I get to teach literature every day -- and hopefully, be as much like Ms. Sugg as I can.
Last fall, a class of my own students at Pisgah High School, having unearthed that story, surprised me with a sponge day of my own. I was completely caught off-guard and had only wondered why they all seemed so impatient for class to begin. They all pulled their sponges out of their pockets in unison and watched me burst into tears as they asked me to sign them! The experience of doing the same thing for a new generation of students, knowing that Betty Sugg's influence on me has shaped me into the teacher I became and will hopefully allow me to shape others to find their dreams, was utterly surreal.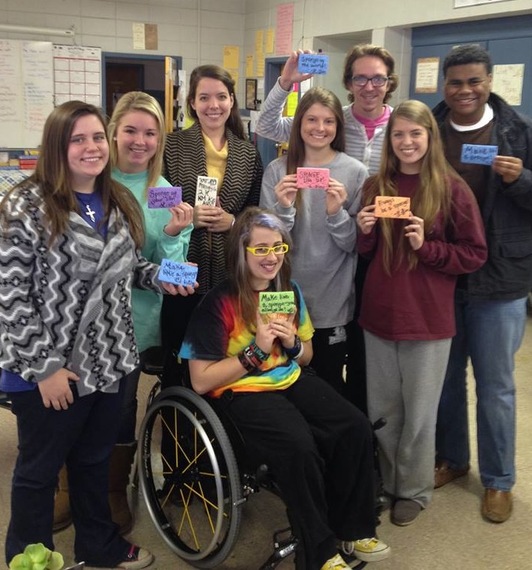 I still think of Ms. Sugg often (usually to ask myself what she would do in a difficult situation). I don't have to worry about forgetting her because her influence always guides me, but I worry all the time about whether she knows that she will not be forgotten. I don't think I could ever tell her enough how much she means to me and how she shaped my life.
The simple fact is that I would never have become a teacher if she hadn't shown me how to be a good one.
Thank you for the lessons, Ms. Sugg!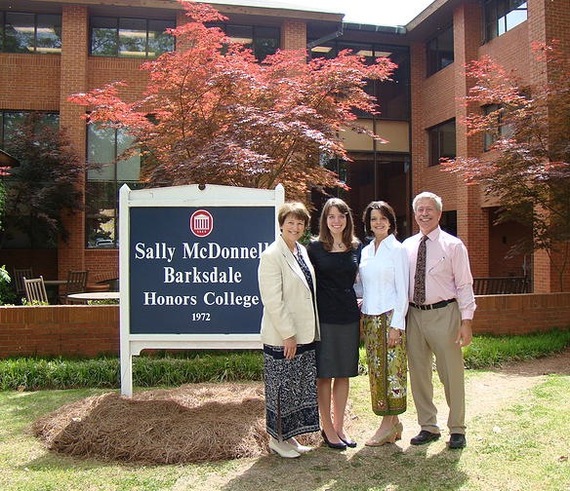 Ms. Sugg, on the left, made a four hour road trip with my parents to be the guest of honor at my honors college thesis defense in 2010--a very Suggish thing to do.
Become part of the conversation and tell us about your own favorite teacher using the hashtag #HPHeartsTeachers on Twitter and Facebook.
REAL LIFE. REAL NEWS. REAL VOICES.
Help us tell more of the stories that matter from voices that too often remain unheard.