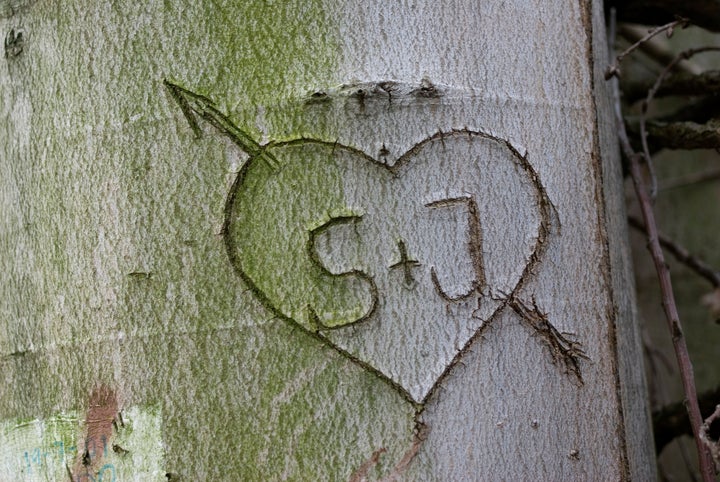 This appeared first in The New Paltz Times, The Woodstock Times, and The Poughkeepsie Times.
It's 1962. My brother, Bill, is 19 and his new girlfriend, Cheryl, is just 17. They decided to go for a drive in his new yellow Opel with the fuzzy dice hanging from the rear view mirror. They headed north from New York City towards New Paltz to take a hike in the Mohonk Preserve in the Shawngunk Mountains, a glacial ridge of sacred beauty filled with trails, wildlife and rock scrambles. Nestled in one corner of the mountains is a dirt path that leads up to the Mountain House, a historic hotel overlooking the Catskill Mountains. Behind it is a quarry lake so deep, the water so black, I imagine it as a nesting place for wishes, a portal to possibility, destiny, even magic, a holding space for lovers' memories.
It was their first summer together, and she can recall parking the car in a small lot and heading up a winding path toward the hotel. Sometimes they walked tandem over a narrow precipice, sometimes together holding hands.
At one point along the trail, Bill took out a pocket knife and carefully etched a heart with his and her initials into a tree.
Did he know then? Did she? That he wasn't just another boyfriend, that she wasn't another girlfriend? That it was a lifelong love and could be engraved into an oak trunk that would bear witness to that walk and to those feelings for 100 years?

---
It's 1965, the year Cheryl and Bill were engaged. Right before he proposed, he sat down with our mother, who looked at him with uncharacteristic seriousness and asked him, "Are you sure?" And he said with uncharacteristic certitude, "Yes."
It's 2012, and Bill died three years ago. About a month ago I went to find that tree and the hand-carved note he wrote into his future.
He and Cheryl were together for 47 years.
Initials. How many initials carved into trees are a testament to too little judgment and too much moonshine? How many are a testament to loves lost and hearts still aching? How many are able to draw us a picture of two people on a trail, walking a little slower, perhaps, but still holding hands?
We used to see more of those hearts and letters years back. They used to be on trees or on park benches, occasionally you could see one on a bus, carved into a seat or scrawled onto an ad. Over time, instead of carvings, we saw spray paint splattered onto rocks and concrete bridges: "CS and CJ," "I love Lane," "Joey loves Marcy."
Now, we see them rarely in any form. Instead of initials, you see graffiti celebrating the self or splattering rage. But it seems that fewer and fewer people are willing to make even the temporary commitment to paint. Carving initials into a tree that can last longer than we'd live? Never.
I asked Cheryl if she knew he was the one when she met him. "It wasn't for me, but it was for him," she laughed. "He talked about marriage from the beginning. He was open, honest. He poured out his whole life on our first date."
And that communication proved to be the bedrock for the duration. "I could talk to him about anything. And there was nothing he wouldn't do for me. I remember one time, it was snowing and he couldn't drive to see me. But he was determined. So he started walking from Yonkers. He called when he reached the Whitestone Bridge to Queens. He walked miles in the snow. My mother had to tell him to go home, not to dare cross the bridge in a storm."
Is that sort of love predictable? Chemical? Repeatable? Is it even noticeable? Can we tell the difference between lasting love and young lust? Is it a choice, a learned capacity, or a gift?

Schipani interviewed dozens of couples for an online article in Ladies' Home Journal. They were all married more than 20 years and reported themselves to be happy.
How did they do that? Each one had a different story. For Margaret C. it was about being satisfied with what was offered. For Russell S. a happy marriage was acceptance.
Cheryl thinks it may be generational. "A lot of the couples we grew up with are still married, but sometimes that meant keeping their heads in the sand. Our generation overlooked more than yours does. Yours says, 'I'm outa here.' And the women now, they have the jobs, the means to leave. It's easier today. When it's not that easy, you find ways to work it out. You make a conscious choice to not let a moment, a resentment, a fear take over the whole marriage."
From Ladies' Home Journal:
"If he helps around the house -- washes the dishes, cooks, vacuums -- and it's not quite up to your standards, don't complain. Be happy he is making an effort to help." -- Margaret C., married 45 years

"Accept that you can't change someone. You have to learn to live with whatever annoys you, and remember that you have as many faults as your spouse does." -- Russell S., married 40 years

"When she gets mad, I just shut up, and she gets tired of talking. After a while, it's over. In all our years being together, we have never had an argument!" -- James P., married 56 years
But all of these comments, while making good sense, are retrospections -- not prescriptions. They are simple observations on what they have done over the years, not recipes. And they certainly don't tell us how to know beforehand, if in fact there is a way to know. Although Bill showed little hesitation when he picked up his knife and started carving.
Do we find the tree or do we find something better? Part II to come.
For more by Judith Acosta, click here.
For more on conscious relationships, click here.