There are more than 85 million moms in the U.S. But you and I both know there is only one - our own. Since I was little, the closer we got to Mother's Day, the louder my Mom's "Don't buy me anything!" would get. (Sometimes this would change to "I would like one day when you and your brother don't argue.") I don't think she's alone in wanting nothing but a handmade card, but even so we spent $21.2 billion on Mother's Day last year - this is more than we spend on Valentine's Day. Mother's Day is the third largest retail holiday. That's how much we love you, Mom!
Two quick and easy bets for a lovely Mother's Day
Digital marketers have seemingly endless options for putting their product in front of Mother's Day shoppers, from social ads to display to content marketing. In the area of paid search, or pay-per-click, there are two key features that will help marketers get Mom's hug of approval.
1. Use shopping campaigns. This format of paid search ad is supported by both Bing Ads and Google Adwords - and is your opportunity to add photos of your product. With flowers topping the list of popular gifts for Mother's Day, you can imagine how a shopping ad with a photo grabs a shoppers attention over a text-only ad.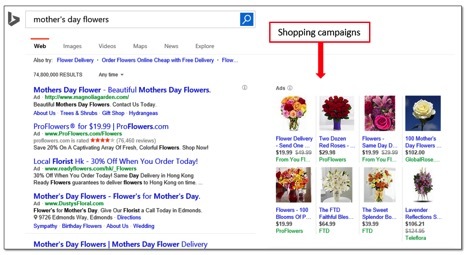 Tips for the best shopping ads
• Use high-resolution images, photographed on a white background. Clean photos with no clutter work best in this format.
• Show multiple styles or colors in different shopping ads. In this example, you'd have multiple shopping ads with different styles of Mother's Day bouquets, single flowers, different ribbon colors and vase options.
• Use as many relevant keywords in the product headline and description as possible. Your shopping ad will only show on relevant searches, so include all variations for Mother's Day you can think of.
2. Use sitelink extensions. Sitelink extensions are free and give you a way to help your shopper with a direct link to a page on your website that they're looking for.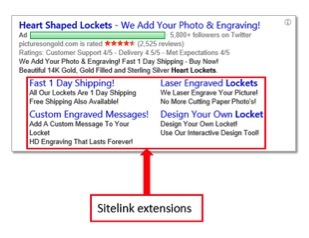 Recent research by the Bing Ads Data Scientists shows that the copy for sitelinks with the most potential for clicks are NOT being used by advertisers. Meaning, advertisers are creating custom titles for their sitelinks that aren't high-performing titles. This is a huge opportunity for advertisers.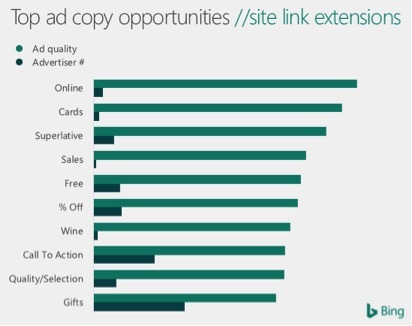 Looking at the chart above, we can see that a sitelink extension that includes the word "Online" has high ad quality (meaning that it's likely to get high clicks), but few advertisers are using it.
Other tips for strong sitelink extensions:
• Include sitelinks to specific products that you know are popular for Mother's Day: lockets, engraved jewelry, scarves, etc.
• Add a call extension, a kind of sitelink that puts your clickable phone number in your ad
• Include a location extension for local shoppers who are looking for your brick-and-mortar store
3. Bonus tip: Don't forget wives, daughters, sisters, friends, aunts, grandmothers, step-moms! Include these terms in your keywords, your ad copy and descriptions to capture shoppers looking for gifts for all the moms on their list.
This Mother's Day I've got reservations for brunch, I'm planning to order flowers online and I'll make her a card myself - and I might even not argue with my brother.
Calling all HuffPost superfans!
Sign up for membership to become a founding member and help shape HuffPost's next chapter