The choices we have around reading news have never been vaster. Thanks to an infinite number of blogs and the evolving cycle of 24-hour news, we are no longer restricted to news from just a few networks. Sites like Facebook are empowering people to cut through the clutter and discover the content most relevant to them. Readers are driving this social news movement, ensuring that news is accessible and open for discussion.
Integrating College Newspapers with News Feed

The social tools of Facebook would have been useful to me as an editor of my college newspaper in 2006 (Facebook Pages launched shortly thereafter in 2007). A Page would have given readers an additional channel to read and share stories, and send feedback to the staff. Now Facebook Pages provide school newspapers with the ability to have a presence in the personalized News Feed of their readers and benefit from viral distribution of content.
You can start reading your college newspaper, and news from other outlets, on Facebook in five steps:
Become a fan of your school newspaper's Facebook Page. If you aren't sure of the link, you can search for it in the search toolbar just as you would search for a friend. If your school newspaper doesn't have a Facebook Page yet, ask them to set one up. They can get started here.
Next, click the "Friends" link on the left side of your home page
Click "Create a List," name it "News," and start populating it with news Pages
To get back to this news filter, click the "Friends" link on your home page, and then your "News" filter
To add or remove Pages, click "Edit List"
Once your news channel is created, you can view it on Facebook, or your Facebook for iPhone app.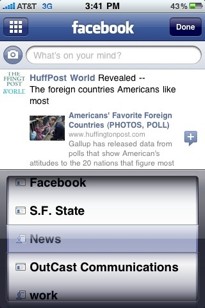 News and Your Identity Across the Web

The actions you and your friends take online help build your connected experience and identity. By sharing news on Facebook, we are all contributing to a virtuous cycle of sharing news that surfaces relevant content to the people around us.
With Facebook Connect, you can bring your real identity with you off of Facebook and connect with news everywhere. For example, you can sign in to The Huffington Post with your Facebook log in, view the recent activity of your friends, and share the news you're reading through a feed on The Huffington Post, as well as your News Feed on Facebook.
You are Driving the Next Wave of News, and It Will be Social

You can help power social news by sharing and commenting on news with your friends on Facebook and interacting with news organizations that use Facebook Connect or have Facebook Pages.
For more examples of how news organizations are using Facebook, become a fan of the News on Facebook Page.

Related
Popular in the Community