The day I received the results of my first PET scan during treatment still haunts me.
I was two cycles and three months into ABVD chemotherapy. I still worked full time -- sometimes more -- and I didn't just sit at a desk. On that particular beautiful October afternoon -- with video camera in one hand, tripod in the other, and a dorky photo equipment belt barely clinging to my butt-less waist -- I chased a high school cross-country runner from the starting line to the finish line. I must have been an amazing sight -- a distracted and grossly underweight 30-year-old with puffy skin and thinning hair, sweating through my skinny jeans and running full tilt across an open field in hot pursuit of the right frame, when I clearly should have been at home in hot pursuit of the right frame of mind. After all, I was awaiting the results of the biggest test of my life. I don't know what I was trying to prove, but I made it through the shoot.
I wasn't expecting the call that day. However, as I packed the video gear back into my car, the call came anyway. I answered and quickly ducked inside the car to talk. I held the tears back until she was off the line. After only two short cycles of chemotherapy, I was in remission!
In three whirlwind months, I traveled from the rock bottom of a stage II bulky diagnosis, to the mountaintop of a second chance at life. I had done it. I felt huge. I was bursting with gratitude and promises for the life I would lead. The disease that one-moment threatened my life was already little more than perspective. A little something I could always bring to the table -- like a war story. Now, all I had to do was finish my tour of duty. For me this meant riding out four more cycles of chemotherapy. I would finish with treatment just in time for the New Year.
It promised to be the best year of my life.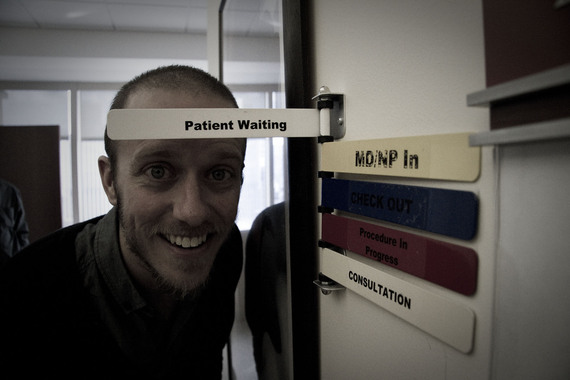 My mind raced with the possibilities. Maybe I wouldn't even require radiation. I certainly could no longer see them recommending a stem cell transplant. It was too good to be true. Aura and I, with only a year's delay, would finally be newlyweds. I might even still be fertile. We were free to start a family. I filled with pride at the thought of continuing to work without ever requiring disability. I would never have to feel like a charity case. Life's big decisions were mine to make once more. I would eat better, play harder, work smarter and love more. Never again would the significance of a moment pass me by. I was free...
It promised to be the best year of my life. It became the most horrific.
On January 17, 2012, Aura and I strolled confidently into my doctor's office to go over the results of my post-AVBD chemotherapy PET scan. I had completed the full course of chemotherapy and had only this formality to face. Our hearts were light. In my bag I carried a sharpie and a copy of the most recent Chicago magazine sporting the cover story, Chicago's Top Doctors. My doctor had been named one of the cities top blood cancer docs. Seeing that moving forward we wouldn't be spending much time together, I thought it would be oh so cute and funny to make my copy an autographed edition.
She did sign my magazine -- right after she told me my lymphoma had returned.
Little did I know my lymphoma would hang on through another chemotherapy, an immunotherapy, radiation and stem cell transplant. Little did I know that in 2013, I would be forced to veer off the beaten track in search of an experimental therapy to save my life. Little did I know that I would spend all of 2014 on large doses of immune suppressants recovering from an allogeneic stem cell transplant. Little did I know that little by little, Aura and I would be forced to take life's big decisions and put them on layaway. We clamped down. Cancer offers unimpeded access to what is really important, followed by the devastatingly frustrating experience of not being able to act on a majority of these revelations. Sure, cancer survivors aren't without opportunity. We can climb a mountain or kayak a river or make a wish, but we often can't commit to anything of substance. This reality takes its toll.
On certain days and in subtle ways, you resign yourself to cancer's presence. Instead of constantly conjuring positive thoughts about how you are going to kick cancer's ass, you begin to think that maybe your time would be better spent getting used to your cancer -- admitting that this is your reality for the foreseeable future. It's a survival mode that works something like an antidepressant -- smoothing out the peaks and valleys.
Cancer seeps into your everyday. It permeates every decision you make and every decision you delay. One of the greatest tricks of living in a long-term relationship with cancer is striking the healthy balance between staying focused, hopeful and positive, while also being realistic and ready to cope if things don't take a turn for the better. Taking good care of oneself can quickly slip into drudgery. It's like being stuck working for an incompetent manager who wields the power to never promote you. You lose imagination and desire. It's easy to say, if I can't be promoted what's the point?
Or... if cancer is beyond me, then this is all just one big hamster wheel.
We need a report card. A graduation. A promotion. A next step. The opportunity to move on and move beyond. In lieu of progress, we resign ourselves to small decisions.
I am on a large amount of immunosuppression to combat my Graft Versus Host Disease (GVHD). Earlier this year, I was well on my way to removing the suppression entirely. Then, a flare up here and a flare up there, and now I'm on more immunosuppression than when I began the year. It's easy to get down and constantly and pointlessly wonder what else could be done.
In August I went to the National Institutes of Health for a natural history study of GVHD. I met with a vast array of GVHD specialists (oncology, social work, optometry, dental, palliative, occupational and physical therapy, dermatology, and on and on). It was a fantastic experience. I learned a lot about GVHD. No big breakthroughs, but lots of little answers.
Far and away the best part of this clinical trial was the positivity I received from all the GVHD specialists. Without exception, upon examining me and talking with me, they would say, "Overall, you're doing great." Now, I know they see some of the worst post-allogeneic transplant cases, but I just don't care. It felt so good to see the smiles. To feel their confidence that I was on the right track. To leave each day feeling like everything was actually going to be okay.
Progress is a subtle thing. Sometimes it's only clear in retrospect. Or when someone else points it out.
In 2014, I went from not eating raw to making smoothies and salads. I went from having difficulty climbing stairs to running a 5k. I've gone from completely avoiding crowds to entering movie theaters, concerts and festivals. I've gone from constantly washing my hands to... constantly washing my hands, but this summer I put my hands deep in soil again. I walked barefoot again. I swam in the ocean again.
The threat of disease is constant because of ambiguous PET and CT Scans. My GVHD is still very real. But somewhere in the middle of summer, Aura and I began to realize just how many of life's big decisions we had not only postponed, but had completely stopped mentioning. Talking out this tunnel vision was a revelation. It felt like the right time to take the blinders off and enjoy a little peripheral vision. With much caution, we've decided to reopen a lot of buried conversations. We're trying to be honest about how much progress I have made and how quickly things could turn for the worse. We've found ourselves taking those first tentative steps back into a world of big decisions. We got the training wheels on, but we're riding. We now talk more readily about career. We talk about kids and timing and risks and rewards. We've talked about where we might want to live and why. We talk about how amazing it would be to turn our attention outward and get involved.
It's all very exciting, and absolutely, devastatingly frightening. We are to put it lightly... trepidatious. It's forced us to speak truthfully about our deepest fears and desires. It's forced us to dig out the emotional baggage and try to sort through it. That's some luggage that fills up real quick.
The day I received the results of my first PET scan still haunts me. I've felt so foolish for feeling so confident. I don't have that kind of certainty anymore, but I'm working hard to make sure my life goes on anyway. It feels good to look up and look around.
There's no going back on a big decision.
I'm pleased -- and nervous -- to announce that Aura and I will be closing on this lovely little home on October 1st. Feels like progress to me.