Spelling is an important skill. I have children who are amazing spellers and children who struggle with spelling.
Spelling has been such a challenge at our house, you may recall the time my child came home with another classmate's spelling test and tried to pass it off as his own, drawing me as "The Devil".
We have used this fun spelling study game to improve spelling scores, make homework less of a chore and keep spelling front and center through the summer break. It's easy to prepare and my children think it is great fun. The best part, it has improved everyone's spelling.
My children call it Post-It Note Spelling.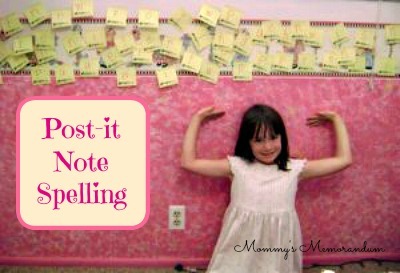 Take the weekly list of spelling words and write each letter of each word on a separate Post-It Note. Once you have every letter to each word, post on a wall. (Note: The super sticky Post-It Note work best.)
When it is time to practice spelling, I say the spelling word and then my children use the letters on the Post-It Note to spell the word.
One by one the letter are moved into rows to spell the spelling words on our list.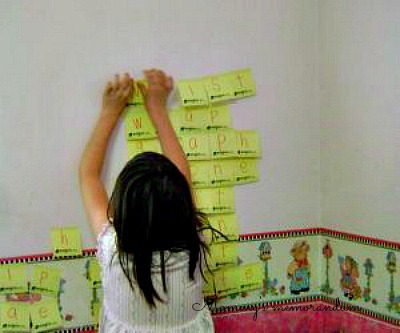 Blank Post-It Note can be used for spaces, my children leave blank spaces where they aren't sure of the letter.
Post-It Note Spelling has helped my children improve their spelling test scores and it's a great break from the kitchen table for homework.
We also enjoy creating new games, some of the games we have played with Post-It Note Spelling during the week:
1.) Create the words from the Spelling List
2.) Create a sentence using the spelling words.
3.) Make a crossword puzzle--see how many words can be connected
4.) Speed challenge...how fast can the spelling list be compiled? Can the time they do it faster than the time before?
5.) Fill in the spaces of the letters to find the mystery word.
6.) Unscramble the letters to create the spelling word.
7.) Can you spell faster than your sibling?
My children have even made a recording of the words, and practice on their own.
Break away from traditional spelling lists and make spelling fun with Post-It Note Spelling.