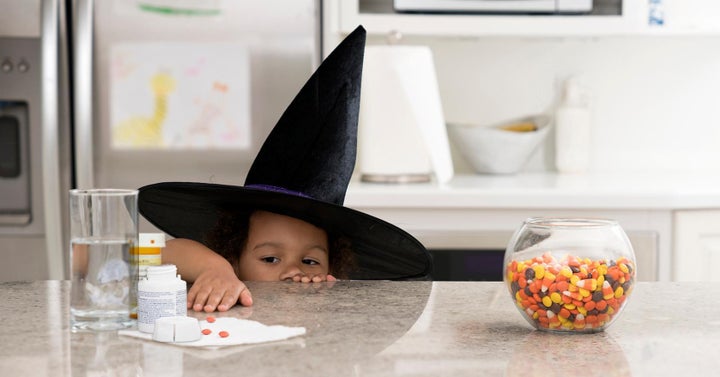 For young children, those first Halloweens can be so much fun — wearing costumes, staying up late, counting their haul of candy, and sneaking extra pieces when their parents aren't looking.
But one thing you don't want your children sneaking is a taste of your medications.
Confusing medicine with candies can make Halloween even scarier. To young children exploring their world, many pills can look just like jelly beans, fruit snacks, or other candies. Over-the-counter medicines, prescription medicines, vitamins and supplements can come in shapes, colors, and flavors similar to candy.
Children can get into liquid medicines, too; these can look like fruit juice or other sugary drinks. Some medicines even come in flavors that taste good to young children.
Every year, about 60,000 children (most commonly 1, 2, and 3 year-olds) visit the emergency room after eating or drinking medicine when adults aren't watching.
This Halloween, as you decorate the house with cobwebs and jack-o-lanterns, make sure to store all medicines up and away and out of sight of young children.
Key tips for keeping children safe this Halloween and year round:
1. Keep medicines up and away. Never leave medicines out on a table, counter-top, or bedside table where your children can reach them. Always re-lock the safety cap and put medicines up and away immediately after use. Remember that curious children act quickly. To them, the pills left on the counter for your next dose might look a lot like the candy from the trick-or-treating stash.
2. Teach your children. Talk to your children (even young children) about what medicine is and why you or another caregiver must be the one to give it to them.
3. Call it "medicine" (not candy). Never tell your children that medicine is candy, even if they don't like to take their medicine.
4. Don't assume your friends, family, and neighbors are storing medicine properly. Children are natural explorers. Visitors to your home might not realize the dangers of leaving medications in accessible places. Ask them not to leave medicines in open suitcases and to keep pocketbooks or other bags containing medicines out of reach and sight of young children. When you and your child are visiting a new place (on a play date, for example), scope it out before you let your child wander.
5. Be prepared. Save the Poison Help number in your phone: 800-222-1222. Call Poison Help right away if you think your child might have gotten into medicine, even if you aren't completely sure.
When kids confuse candy and medicines, Halloween can go from spooky to scary. This Halloween and always, help keep your children safe by following these simple tips and by sharing them with friends, family, and caregivers.
To learn more about safe medicine storage, visit UpandAway.org and join the conversation on social media by using #MedsUpAway.