Homemade Zuppa Toscana just like you find at the Olive Garden. An easy weeknight dinner to the rescue!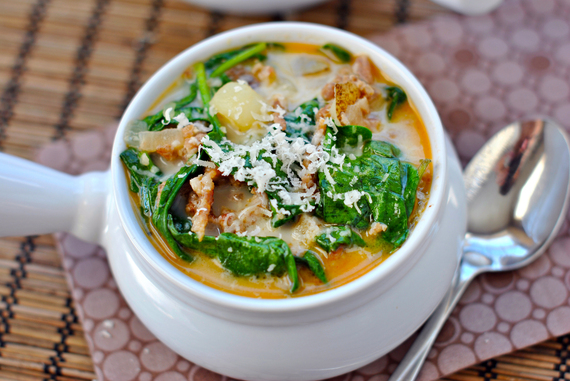 Does anyone else ever like to go to Olive Garden and only get the soup and breadsticks? Like seriously, after eating unlimited soup/salad/breadsticks who needs a big plate of lasagna? Zuppa Toscana Soup is my favorite soup from Olive Garden. I love the salty bacon and sausage with the creamy broth. Dip a breadstick in and call it a meal.
Recreating restaurant recipes is super easy too. Just Google your favorite recipe and literally hundreds of options are there for the taking!
A couple years ago I meant to make this soup. But instead I ended up with a Sweet Potato version, it was delicious! Today though, I've got more of a traditional version of the classic recipe.
With a little planning, you can have this soup ready in under thirty minutes! I don't know if you're a dinner planner, but I know so people like to prep their dinners before work. If that's YOU, then feel free to brown your sausage and bacon before leaving for work. Otherwise, brown them up right before making your soup.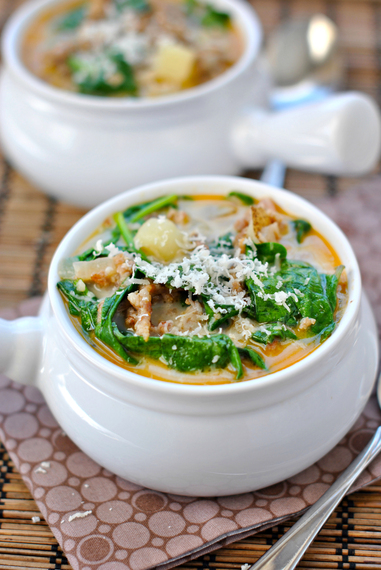 Once your meat is cooked and drained, sauté your garlic and onion in the oil. I usually reserve about a tablespoon of the bacon and sausage grease. However, if you're prepping this in advance, you can sauté your onion and garlic in a tablespoon of olive oil right before making your soup. It only needs to cook a couple minutes.
Add your beef broth, salt, pepper and potatoes (add back your sausage and bacon) and simmer this for about 20 minutes until your potatoes are soft. Add your fresh spinach, milk and parmesan cheese and heat until warm (about 5 minutes on medium high). And there you have it, a family friendly weeknight meal! Serve with some rolls or bread and a salad and you can pretend you're at Olive Garden! Don't forget to finish your meal though with a couple Andes mints, like they give you at Olive Garden!
We may not have that Olive Garden breadsticks recipe (yet!), but we're certain dipping Kate's Rosemary Roasted Garlic Bread into this soup would be heavenly.
Aimee Shugarman of
likes all things sweet, as you can probably guess. Writing about homemade candy came naturally, and we're oh so thankful she's our
.