A large portion of gratitude is in order this Thanksgiving, not only for the bounty on our tables, but also for the social connections that nourish us and help us thrive - connections to family, to friends and neighbors, and to all the forms of community in our lives. These connections are so embedded in who we are that we often don't think about them.
Sadly, for millions of older Americans those social connections have withered away. A staggering 20 percent of adults who are 50 and older feel the pangs of loneliness.
This isolation doesn't happen overnight. A variety of factors can set in motion a spiral of detachment: disability, language barriers, caregiving responsibilities, lack of transportation, loss of a job, death of a spouse.
And the consequences are dire, with very real effects on health. One study shows that for older adults, social isolation is the health equivalent of smoking 15 cigarettes a day.
Whatever the cause, you and I can help. Don't underestimate the role each of us can play through individual acts of kindness to ease the burdens of isolation and help older adults build new social connections that will actually be good for their health.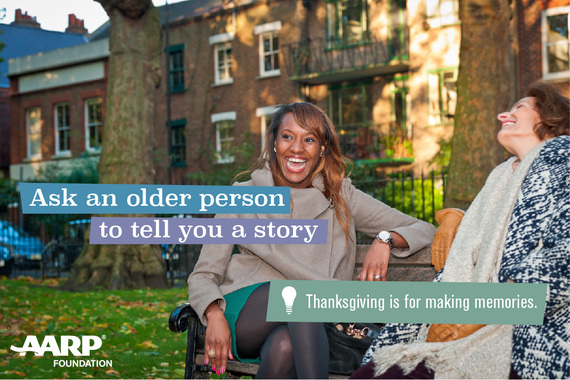 1. Check on your neighbors, especially ones you have not seen or heard from in a long time.
2. Look for opportunities, in a respectful way, to ask about the person's health, even if this requires a little probing. Then really listen to the response.
3. Offer rides to the doctor, to a community center, to a house of worship, to the supermarket.
4. Do a little homework, and then offer informed suggestions about how your older neighbor can access services they need. Help them with the process. (Check out https://aarp.org/aarp-foundation/find-help/ for some ideas.)
5. Invite an older neighbor to share your table. Thanksgiving is a great time to do this, but find other opportunities as well. It need not be a special occasion.
6. Help your neighbor learn how to use a smartphone, tablet or laptop to stay connected -- or have your children help out. Technology can be a great way to break down isolation while also bringing generations together. (Check out our Mentor Up program for ideas.)
7. Reach out to family caregivers, and offer them a chance to get out and do something for themselves. These unsung heroes who do so much every day to support their loved ones and keep them connected can become isolated themselves. A couple of hours of help can really make a difference for them. (AARP has extensive information on caregiving support at www.aarp.org.)
By its very nature, isolation is an issue that can easily escape our attention. But we can do better than that. We must do better.
Anne Frank once wrote, "How wonderful it is that nobody need wait a single moment before starting to improve the world."
Let's begin this Thanksgiving. As we enjoy food and football and the company and conversation of family and friends, keep in mind those who are lonely and alone. We can find time in our busy lives to make a difference in theirs.
Lisa Marsh Ryerson is president of AARP Foundation, which focuses on addressing the needs of low-income older adults by creating and advancing solutions for the challenges they face: the need for functional and affordable housing, adequate and nutritious food, steady income, and strong and sustaining social bonds.
Calling all HuffPost superfans!
Sign up for membership to become a founding member and help shape HuffPost's next chapter