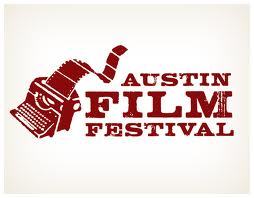 Why the Austin Film Festival Matters
It's the season of big events here in Austin, Texas, bringing hundreds of thousands of people into town from across the globe. Some of those events--ACLFest and Formula One--are a a bit overwhelming. But there's one--the Austin Film Festival, which begins October 13rd--that I anticipate all year long.
I don't go to the Austin Film Festival because I want to shop a script or make connections with producers and directors, although people certainly do both of those things here.
And I don't go to the Austin Film Festival because I want to hobnob with stars, although Matthew McConaughey, Ethan Hawke, Julie Delpy, James Franco, Keanu Reeves, and Jack Black are only a few of the folks who have attended over the years.
I don't even go for the films, although Donnie Darko and 12 Years a Slave are just two of the Festival films that have rocked my world.
No, I go to the Austin Film Festival--and have been going for over fifteen years now--because I am a writer, and because I want to talk to other writers about how and why we tell stories.
I go because I teach writing, and I love the opportunity to talk structure, editing, and the writing life with people who've figured it out.
And I go because it's one of the few writing events I know of that prides itself on inviting only people who want to give back, to help other writers out. It's one of the few gatherings of this many made writers where there's a genuine spirit of community. I like to say that the Festival enforces a "no asshole" rule, and I do think it's true. People that are too full of themselves, who are mean to others, or who behave badly don't tend to get invited back. No matter how important they are.
Now, during the years I've been involved with the Festival, I've been a panelist, interviewer, and moderator who has talked writing and filmmaking with the people behind The Walking Dead, The Empire Strikes Back, Lost, Wedding Crashers, Game of Thrones, and dozens of other films and television shows.
I've been to parties and barbecues. I've worked behind the scenes as a consultant, I've driven my son to work as a Festival intern and volunteer, and I've judged contests. In the process, I've gathered plenty of wisdom about how to make the most of the Festival when you come to Austin, and I want to share some of it with you here.
About 150 different panels, interviews, and other offerings populate the schedule for the conference, and you need to spend some time reviewing them to see what they're covering and who's going to be involved with them. If you're writing a scifi dystopia, you certainly may want to sit in on a panel about creating alternate worlds or plotting science fiction. The Festival features some of the greatest genre writers in the world talking about the kinds of stories that made them famous, and you could hear the solution to that problem that's been keeping you up at night.
But that could also happen at panels on more general topics, which often feature some of the Festival's great educators and most inspirational speakers. When James Hart talks about story structure, you ought to be in the audience. When Angela Chang talks about writing about characters in crisis, you should be taking notes. Whatever Shane Black is talking about, it's ultimately going to be about why you should persevere as a writer--and he'll offer his own career as proof.
If you did well in the screenwriting competition and you're entitled to attend any special sessions, absolutely take advantage of them. The panels often feel like master classes, and are limited to a relative handful of people. You may also have access to roundtable discussions where every year you can ask questions of writers from projects like House, MD, Breaking Bad, Beverly Hills Cop, Men in Black, Chicago Fire, and Guardians of the Galaxy, among others.
Do consider attending films--especially when filmmakers are in attendance. This fall, producer James L. Brooks (As Good as It Gets, The Simpsons, Terms of Endearment), and writer/director Kelly Fremon Craig will be in to talk about The Edge of Seventeen. Writer/director Ben Younger will be in attendance and participate in a post-screening discussion of Bleed for This. The Festival is an unprecedented opportunity to watch and study films with the people who made them.
Be Social--But Not Obnoxiously So
The bar of the Driskill Hotel is the beating heart of the Festival. Here you'll find established screenwriters, directors, agents, and producers holding forth--often with writers and filmmakers in earlier stages of their careers listening. People will be here until late, so do drop by.
The Festival also schedules official gatherings from before the weekend writer's conference starts until the film showings conclude ten days later. Depending on the kind of badge you're holding, some may not be open to you. But assuming that you can attend, check out the WGA West Late Night Welcome Party, the BBQ supper, the Heart of Film party, and the Hair of the Dog brunch at Ranch 616, one of my favorite Austin restaurants.
At all of these events--and the other parties and receptions spread throughout the weekend--do feel free to introduce yourself to people. You may have the chance to sit at the feet of an Oscar-winning writer--or share beers with an agent looking for her next great client. But in all cases, be respectful. If people want to know the plot of your screenplay, they will ask you. And please, don't monopolize. Chances are, people are standing in line behind you for the same opportunity to sit at someone's feet, or to talk to an agent.
Have your pitch polished and ready. Have business cards ready to hand out. Be ready to talk about your work if you have work worthy of talking about.
But remember the "no-asshole" rule. It applies to everyone. Don't pester, don't hound, and don't plead.
And don't forget to make friends with your fellow conference-goers. Not only will they be people you can hang with at the conference, but they are also your peers. You may discover a new writing partner, a potential first reader, or a lifelong friend as you continue to pursue your craft. This is a great social time as well.
One of the reasons panelists return year after year is the unique vibe of Austin, a city that takes movies, storytelling, food, music, and the good life seriously. Take in some music--not on Sixth Street, please! But do see if Jon Dee Graham, James McMurtry, Bob Schneider, Walt Wilkins, Terri Hendrix, or Marcia Ball are playing during the weekend. Patronize the Saxon Pub on South Lamar, the Continental Club on South Congress, or the Broken Spoke on South Lamar in lieu of the fratboy atmosphere of Sixth Street. Sixth Street is not for grownups!
Take in at least one movie at the Alamo Drafthouse while you're here. It's nationally famous for a reason--because, as Quentin Tarentino says, it is the best freaking place in the world to watch a movie. Food and drink at your seat. A no texting, no talking policy that is for real. The Drafthouse is movie-loving for movie lovers. Plus the Drafthouse Village up north is a venue for the festival this year.
Get out in the great outdoors. Swim at Barton Springs--it'll probably still be warm enough. Hike the Barton Creek or Bull Creek trails. Run, walk, bike, or jog along Lady Bird Lake (still known to many locals as Town Lake). Rent a bike and ride. Drive out into the Texas Hill Country and take in Pedernales Falls State Park or Hamilton Pool.
And eat. Not from a chain--although Ruth's Chris steakhouse downtown and the Iron Cactus are both pretty phenomenal--but from some of Austin's famous or should-be-famous restaurants. Asian tapas at Uchiko on North Lamar, small plates at Odd Duck on South Lamar, French food at Chez Nous off Sixth Street on Neches or Justine's on East Cesar Chavez, Torchy's Tacos all over town, and the 616 Ranch just off West Sixth Street will all reward you, and a visit to the food trucks scattered around town are likely to surprise you with the variety of foods available in Austin.
Enjoy yourself. Make friends. Learn things.
And chances are, you'll want to come back again next year.
That would be just fine with us.
REAL LIFE. REAL NEWS. REAL VOICES.
Help us tell more of the stories that matter from voices that too often remain unheard.