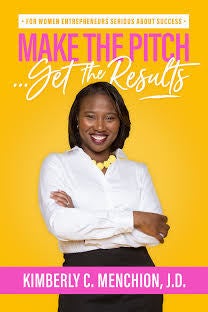 Are you a woman entrepreneur serious about success? Do you pitch your business to companies seeking partnership or sponsorship, but haven't mastered getting the results you desire? If so, Kimberly C. Menchion, J.D. has the answers in her new book and Amazon Best Seller, Make The Pitch...Get The Results: For Women Entrepreneurs Serious About Success.
About The Author
Kimberly is an attorney with 17 years of experience in practice areas ranging from family law to billion dollar business industries. She's owned a law firm and obtained multiyear six figure contracts. She is also an award recipient for innovation in civic endeavors.
Kimberly describes herself as adventurous, focused, and optimistic. She's adventurous because she is always excited by new ideas, exploring cultures, and pushing herself and others beyond limitations. She is focused because she has always been goal oriented since she was a little girl. When Kimberly have a goal, she hone in on it and find the resources to accomplish her goal. Kimberly is optimistic because she always find a way to have faith in good situations and tough situations. She believes there is some good in every situation and person.
Let's Talk About Business Success
I have known Kimberly for quite some time and I have always admired her ambition. That's why after reading her book, I felt empowered to share her story. Women entrepreneurs this book is a MUST READ. Her book takes you on a journey from the foundation of understanding your business to setting your business up for success with pitching to the right people, and of course getting the RESULTS. Her book has even inspired me to seek more partnerships for my business.
After speaking with Kimberly, she believes that if you are serious about pitching your business, you can get the results you desire.
What's your WHY in life?
My motivation is to help individuals and organizations realize their vision. If a person shares their vision for their business or organization with me, I am able to identify strategies and resources needed to bring the vision to life. I enjoy coaching and training in order to help an individual or organization achieve their goals.
What inspired you to write your first book?
My inspiration for my first book was a desire to fulfill a need in the market. I read various articles and listened to podcasts about the rise of women entrepreneurs and learned of some of the challenges they face. My goal is to help them succeed!
This book is a MUST read for...
Make the Pitch…Get the Results is a high impact book designed to help women entrepreneurs who are serious about success to harness the power of persuasion to grow their business through pitching their ideas, products, and services. Readers will discover the secret to pitching so that they can break down the barriers to securing funding, and obtain contracts, strategic partners, and spotlight opportunities.
What are the nuts and bolts of a pitch?
Pitching is simply a speech that attempts to persuade others to do or buy something. First, you need to open the lines of communication by making the initial contact in order to land that meeting during which you'll deliver the pitch. In the digital age, you have so many options to reach the decision maker, such as email, LinkedIn, Facebook, and Twitter. You should always consider more time-honored methods like phone calls, networking, and conferences.
Think of your initial pitch as a trailer to a movie. The movie may be 2 hours long but the trailer is usually 30 seconds to 2 minutes long. The formula for your initial contact is to state how you are connected to them or if there is no connection, convey your knowledge of their business or what they value. Next, introduce yourself by sharing something of relevance. Then, communicate how you can add value to them. One of the most important pointers is when you are communicating the value that you make sure to include how your business, products, or services can fulfill their needs not yours. Finally, suggest next steps regarding how to move forward with learning more about what you have to offer. Suggest that you meet in person or have a telephone conversation to discuss it further.
When it's time to deliver your pitch you want to make sure that:
1) You are aware of your total message.
2) Leverage the "It Factor"—the ability to influence others.
3) Mix in illustrations and documentation for added credibility.
4) Round it out with being sure to add the secret ingredient—leverage-building questions.
How hard is it for women entrepreneurs to reach the results they desire?
One of the biggest challenges to growing a business is access to capital. According to recent reports, women also struggle with confidence and having the right strategies to pitch their business is critical to success. That's where I come in. My goal is to help women to overcome the challenges of funding, lack of confidence, and to acquire the strategies needed to succeed.
What advice will you give someone who wants to write a book? 
I would advise a first time author to choose a subject that they know a lot about and that has marketability, if it's a non-fiction book. Begin by doing a brain dump on the subject, establish writing goals for each week, and join a author's group. One of the most critical components of my success was joining a group of authors who are at various stages of writing and publishing. An author's group gives you valuable information and support.
Follow Kimberly on Facebook @MakethePitch. Visit her website to learn more. Order your book today on Amazon.
Calling all HuffPost superfans!
Sign up for membership to become a founding member and help shape HuffPost's next chapter
This post was published on the now-closed HuffPost Contributor platform. Contributors control their own work and posted freely to our site. If you need to flag this entry as abusive,
send us an email
.