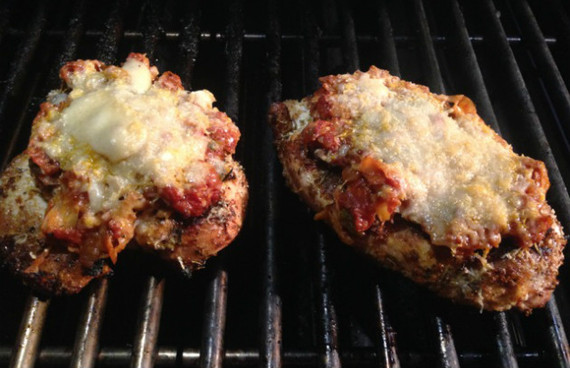 I'm going to take a break from telling you about exotic dishes from my travels around Planet Barbecue, or icons of barbecue, with the attendant disputes: charcoal versus wood; dry rub versus wet; mustard versus vinegar sauce, etc.
Instead I'll tell you what I, Steven Raichlen, am grilling now--at home, for my family, without a special trip to the market. The kind of food my wife and I prepare when I'm not "working"--that is developing recipes or preparing food for a photo shoot. What Raichlen cooks, make that grills, on a normal weeknight--pretty much using ingredients found in his fridge.
First up, a barbecue riff on classic chicken parmigiana. My wife had picked up some chicken breasts--organic from Bell & Evans. Yeah, I know I usually espouse dark meat, but sometimes you just want the mild, clean, lean taste of a chicken breast. We also had some killer tomato sauce--left over from a previous pasta dinner. (You'll find the recipe in my book Man Made Meals: The Essential Cookbook for Guys--Workman Publishing.) We had breadcrumbs (homemade of course), because we always have breadcrumbs in the freezer. And a hunk of Parmigiano-Reggiano cheese, because we always keep that on hand, too.
Now I like traditional chicken parmigiana as much as the next guy, but what I don't like is all the fat associated with deep-frying the chicken. But what if you could cook it on the grill? First, you'd add fire and smoke flavors while eliminating the excess fat. Second, you'd avoid the mess associated with deep fat frying. Finally, you'd get to hang out by the grill--my favorite spot on the premises anyway.
SIGN UP for Steven Raichlen's UP IN SMOKE newsletter to learn more about barbecue!
Steven Raichlen is the author of the Barbecue! Bible cookbook series and the host of Primal Grill on PBS. His web site is BarbecueBible.com.