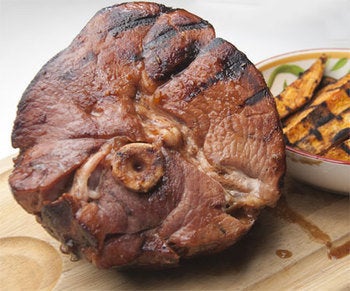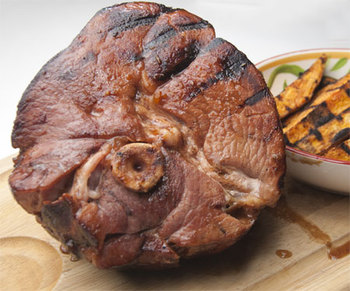 The world of hams is confusing, and that's an understatement, but it is worth getting a handle on things because a little knowledge will make your ham dinners much much better.
Hams are cut from the top of the rear legs of hogs, from the knee to the hip, including the big meaty rump muscles, and they can be divided into three broad categories: Fresh hams, dry cured hams, and wet cured hams. Alas, when you buy a ham, it most often is labeled something else, like Boiled Ham, Canned Ham, Ibérico Ham, Picnic Ham, Prosciutto, Smithfield Ham, Smoked Ham, Spiral Cut Ham, and Virginia Ham to name a few. If your head is starting to spin, my article, The Zen of Ham, explains almost all the different types of ham, and it is worth a read if you ever hope to become a master hamster.
By far the most popular hams in the U.S. are wet-cured hams, hams that have been cured by soaking in a brine, or that have been injected with a salt solution, and then pre-cooked. The brine usually has salt, sugar and spice and everything nice, and the cooking often includes smoking. This was a method developed for preserving large hunks of meat like hog rumps long before refrigeration was invented.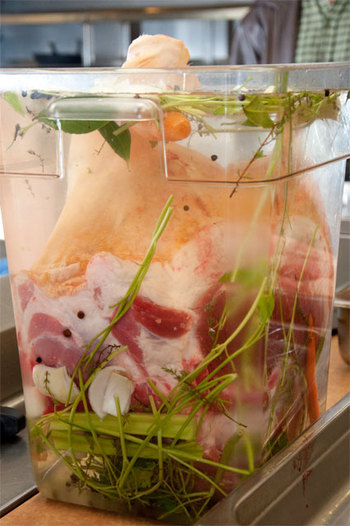 At right is a ham in brine at Vie Restaurant, a Michelin star winner in Western Springs, IL, one of my all-time faves, and one of the few restaurants that makes most of its own bacon, hams, sausages and other charcuterie from scratch. Alas, many commercial wet-cured hams are made in a hurry by simply injecting the brine along with a lot of preservatives.
Wet-cured hams are pinkish purple in color, often have a sweet glaze baked on, and are frequently put on a lathe where a blade can spiral cut them while they are turned. This makes carving them at your Easter table a snap. They usually come in a plastic shrinkwrap, and if it says "cooked" on the package, you can eat it cold right out of the bag. But cured hams are better served warm with a sweet glaze to counterbalance the saltiness from the brine that was injected into it.
Since wet cured hams are precooked, in theory all you need to do is warm yours throughout, avoid high heat, and avoid cooking too long to keep it from drying. Standard cooking technique on the package and in all the cookbooks says to heat it at 325°F until it reaches 140°F. But that is a recipe for dry meat. If you take a little care you can really amp yours up to 11 on the grill (although the same method works fine indoors). Here's how.
The problem with most wet-cured hams is that they are dry when you cook them according to the instructions on the package, and the smoke flavor is barely noticeable. So we'll cook ours a lot lower and slower to keep the moisture in, add just a little fresh smoke, wrap it in foil to further moisturize, sizzle on a glaze, and make a thin sauce that will penetrate the meat and add back moisture.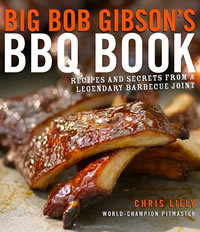 You can use the glaze that is packed in with the ham, but I chuck it and use a recipe from the great pitmaster, Chris Lilly, executive chef at Big Bob Gibson's in Decatur, AL, and author of Big Bob Gibson's BBQ Book: Recipes and Secrets from a Legendary Barbecue Joint. It is a balanced blend of sweet and savory with apricot preserves, honey, brown sugar, mustard, Worcestershire, soy sauce, as well as herbs and spices. There's a link to the recipe below.
Remember to save the bone for split pea soup, and if you play it right, there will be leftovers and that means sandwiches with South Carolina Mustard Sauce, fritatta, Hoppin John beans, eggs Benedict, Hawaiian pizza, ham salad...
Makes. 8 servings
Preparation time. 10 minutes
Cooking time. 10 to 12 minutes per pound at 225°F if you use the foil wrap
Serve with. Grilled asparagus and grilled sweet potato steak fries
Wine. A slightly sweet rosé is traditional, and with good reason. A hint of sweetness pairs with the glaze an balances the saltiness. Among my other faves are rieslings in the 1 or 2% sweetness range from the Finger Lakes, Pacific Northwest, or German and Austrian Kabinetts.
Method
1) You can do this step well in advance. Make 1 cup of Chris Lilly's Spicy Apricot Glaze. Make the sauce by putting the chicken broth in a pan and whisk in 4 tablespoons of the glaze over medium heat until it is dissolved. Put the remaining glaze and the baste in the fridge.
2) Prepare your grill for 2-zone cooking and preheat it to about 225°F on the indirect side. If the skin has not been removed, remove it, and trim off almost all the fat leaving no more than a thin layer. If it came with a prepackaged glaze, throw it out. If there is a glaze already on the meat, rinse it off. Chris' glaze is better. If it is spiral-sliced, let some water get into the sliced areas to help reduce moisture loss.
4) Tear off about 5' of aluminum foil, if you have double strength, that's better. Fold it in half to make it about 2 1/2' in length. Take the ham off the grill, place the flat, cut end on the foil making sure you don't puncture the foil, pour 1/2 cup of the water over the meat and seal the meat and water in the foil making it look like a giant candy kiss. Crimp the seams tight. We don't want any steam escaping and water leaking. This technique helps it cook faster by generating a little steam, which penetrates faster than dry heat, and keeps the meat moist. Place the package back on the indirect side at about 225°F. If you have a leave-in meat thermometer, insert it now through the foil into the fat end, so the tip is about 1" away from the bone. Watch the oven temp and try to keep it around 225°F.
5) When the meat temp hits about 130°F, open the foil, paint on the glaze, leave the foil open to catch drips, close the grill, and roast for about 10 minutes until the glaze gets thick. While the glaze is setting, get the sauce out and warm it on the hot side of the grill or the side burner or indoors.
6) After about 10 minutes, open the grill, dip your basting brush in the pools of glaze on the foil and paint the meat again. Add more glaze if you wish. Now remove the foil, and pour any drippings into the sauce pan. Leave the lid open, remove the thermometer and move the ham over to the hot side. Stand right there and watch so the glaze does not burn. Don't walk away even to get a beer. Let the glaze sizzle, but not blacken. You are just trying to caramelize the sugars and develop more flavor. After about 3 or 4 minutes, roll it a bit and keep rolling it until all sides have sizzled except the bare meat side. Leave it bare. By now the temp should have risen to 140°F. Go ahead and check if you want, but trust me, it's there.
7) Taste the sauce. If you want it sweeter, add more glaze, but it shouldn't need more sugar. Pour the sauce into a gravy boat, and move the ham to a cutting board, bare side down. Carve it by slicing in from the sides towards the bone in the center of the top. Then slice down along the bone to release the slices. Serve, and spoon a little sauce over the meat.
All text and photos are Copyright (c) 2013 By Meathead, and all rights are reserved. For more of Meathead's writing, photos, recipes, and barbecue tips & technique, please visit his website AmazingRibs.com and subscribe to his email newsletter, Smoke Signals.