Hackathons, tech shops, makerspaces: These terms are increasingly prevalent in today's vernacular, and for good reason. They represent a burgeoning global movement with people of all ages developing, designing, and often marketing their creations. In the age of the maker, anyone can be an inventor. Their potential impact on the world is enormous. Innovations and discoveries are no longer produced exclusively by scientists in white lab coats or research and development departments of major corporations. Thanks to affordable technologies and online environments, individual makers can launch small companies to manufacture and market their goods. This shift in industry is influencing the way we learn, shop, sell, and interact. Here are four ways this movement is changing our world.
Jobs and economic growth.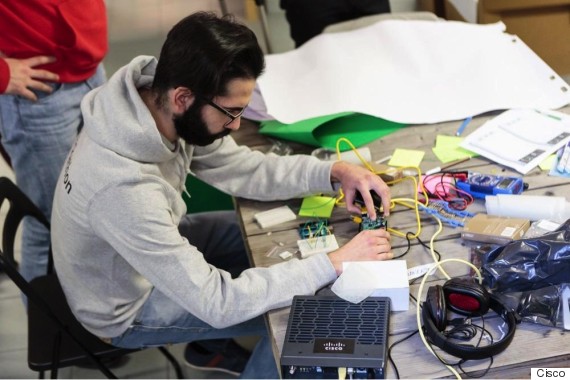 Makers are more than tinkers and hobbyists. They are small business owners and job creators. According to Atmel, a company that designs and manufactures semiconductors and microcontrollers, makers inject $29 billion into the economy every year and more than $116 million has been raised for over 1,400 technology-related projects on Kickstarter, most of them hardware gadgets. The 3D printing business, an underpinning of the maker movement, is booming, with revenue expected to reach $4 billion by 2025, according to The Grommet. Makerspaces - gathering places with 3D printers, laser cutters, and sophisticated machine tools - enable entrepreneurs and inventors to build prototypes cheaply and make their visions reality. TechShop is a for-profit makerspace with 8 locations in the United States. The company employs full-time staff and is expanding into new markets, including Europe.
Education transformation.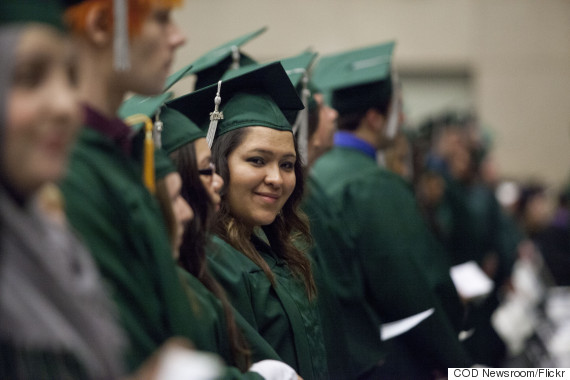 In its simplest form, making is learning by doing. From elementary schools to universities, educational institutions are embracing making as a practice to foster critical thinking skills and creativity, and engage students in learning. Albemarle County Public Schools in Virginia created makerspaces in some of its schools and developed curriculum that incorporates making. Virginia Superintendent of the Year Pam Moran wrote in a blog on MakerEd that making creates opportunities to "stretch analytical, creative, and integrative thinking." In October 2013, Abilene Christian University in Texas opened an 8,000 sq. foot Maker Lab to "expand the borders of student learning, and to break down boundaries to student creativity and engagement with the world," according to a blog by John B. Weaver, Dean of Library Services and Educational Technology. Many organizations support integration of the maker movement into education. Maker Media, organizers of Maker Faire, offers a free Makerspace Playbook for anyone hoping to start one in a school or community.
Innovative collaboration.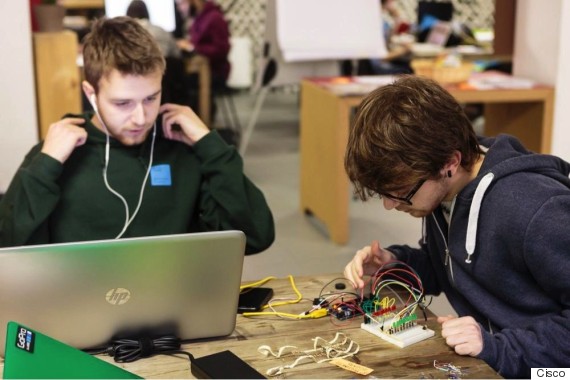 Makers are sharers. They publish their designs online so others can learn from them. Today you can go to makezine.com and find out how to make a hat that translates your brainwaves into colored light, a coffee cup spy cam, or a smartphone microscope. Making is often associated with the do-it-yourself (DIY) mindset, but it also fosters a do-it-with-others (DIWO) approach. The growing proliferation of makerspaces, maker faires, and fabrication labs increases these opportunities. As Walter Isaacson wrote in The Innovators, his book about the digital revolution, "Innovation is usually a group effort ... creativity comes from drawing on many sources." Makers contribute much to the global growth of the Internet of Things - networked objects that transfer data without requiring human interaction. Established companies are taking notice of how maker culture is spurring innovation, and harnessing it themselves. GE created its own makerspace and Ford partnered with TechShop to spur automobile innovations. At Cisco, we are exposing students in our Cisco Networking Academy program to more hands-on making opportunities. For example, in Milan, Italy, 26 Networking Academy students spent three days designing, prototyping, and marketing electronic devices that could improve education. They developed professional business plans and created working prototypes using laptops, cell phones, and other connected technologies.
Global problem solving.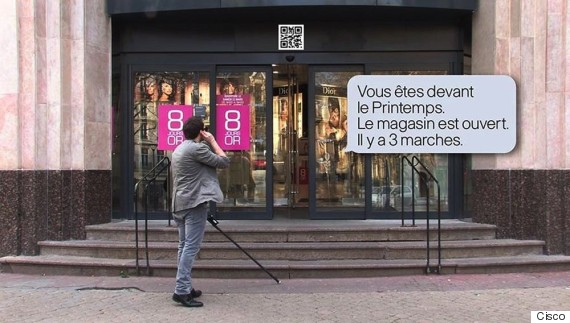 Many makers realize their designs can improve quality of life for people and protect the environment. At Cisco, we're encouraging students to use their technology skills and creativity to become global problem solvers. Le Defi Cisco is a competition in France that encourages university students and young entrepreneurs to harness the connections between people, process, data, and things to solve a social or environmental challenge. In 2014, the winning team of Cisco Networking Academy students designed a connected walking stick which uses proximity captors, GPS, and urban tagging systems to convey information to visually impaired users through vibration and audio, making navigating city streets safer. The inventors expect to offer their product commercially in 2016. This year's winning team of Networking Academy students designed and produced Connect'O, a smart faucet that saves water through a mobile application that detects leaks and measures daily consumption.
In a world of makers, anyone can be an entrepreneur, inventor, and innovator. I'm confident that their collective creativity will have a profound and positive impact on people and our planet.
As a presenting sponsor of MakerCon, Cisco is committed to empowering makers with the skills needed to thrive, innovate, and become the digital revolution's global problem solvers. MakerCon kicked off Maker Week in the San Francisco Bay Area, which concludes with the tenth annual Maker Faire.
CORRECTION: This post previously misstated makers' yearly contribution to the economy. It is reported to be $29 billion, not $29 million.