MakeSchool wants to replace traditional Computer Science (CS) education. MakeSchool is an education startup that currently offers online tutorials, a summer academy and a gap year program that helps students learn practical programming skills, and get them on their way to building cool products and working at a tech startup.
MakeSchool, which was originally named MakeGamesWithUs, was born after Ashu Desai and Jeremy Rossmann decided that they needed to fix the educational gap in CS education. A lot of their developer and programmer friends felt like they weren't really learning practical things from their CS degrees. At the same time, they also saw a skills gap between what students were learning and what companies wanted.
Back in 2012, after spending one year in UCLA and MIT respectively, high school buddies Desai and Rossman decided to take 6 months off to explore building mobile applications, and pursue their startup idea. They got into the prestigious startup accelerator YCombinator, and have worked on MakeSchool full time ever since.
They started out by going back to their high school and teaching students how to build iPhone applications. The first summer, they had 30 students, then the next summer they had 60 students then last summer, they had 120 students across San Francisco, Palo Alto and New York City.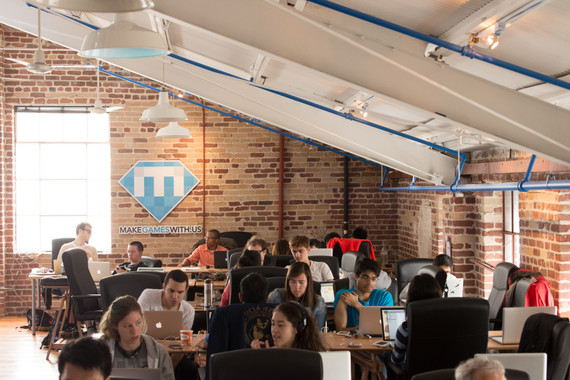 This is what a MakeSchool classroom looks like (photo taken from the tiltBlog)

On the decision to dropout of college

Desai emphasized how, "We only made the decision to drop out once we got into YC. YC acted as this credential that gave us access to this Silicon Valley network. We had mentors, and to some degree a structured program on how to build a startup. Most people wouldn't have this guidance and community."
He added, "Our MakeSchool program gives you something similar to YC. We give you a structured program where you not only get to learn, but you also get to network with some of the brightest kids. College is not necessarily the best place to learn things. I highly encourage everyone to take a gap year where you can explore, learn new skills and get closer to your goals."
"Set concrete milestones for yourself. If you're building an app, you'll want to set a milestone like, in 3 months, I'll have X amount of users, in 6 months I want to have Y number of users. And if you don't hit these metrics, then maybe it's not the right idea to drop out and pursue your idea full time."
On the experience of being part of YCombinator

"The big thing about YC is that it provides this mentorship. Since we haven't done a startup before, there was so much to learn, and YC gave us this fast track. We had all these successful speakers telling us about their experience when things weren't working and when they felt like dying. It really gives you confidence in a sense that you're not the only one going through these challenges as a startup."
Desai also highlighted the importance of the mentor network, and how it was the first time he got to sit in a room where the vast majority of the people were older and a lot smarter than him.
He said, "It's the greatest feeling ever. I'm here where I can just absorb knowledge and learn from them. It makes us think about how we could make our alumni network at MakeSchool reflect something similar and create a community similar to that of YC."
On the biggest challenges of being an entrepreneur

Asked what the biggest challenge in being an entrepreneur is, Desai replied, "You're always constantly worried about like whether or not you're focusing on the right thing, whether or not you're doing enough for your startup. You're basically constantly on a state of worry, and even when you're doing well in your startup, you're always thinking hey could I be doing better."
"That constant state of worry, and just having to think about what you're working on 100% of the time, in your dreams, in your sleep. There's also this whole aspect that you don't get to see your family and friends as much as you want, and it takes a toll on you."
He added, "There will be some challenges you will face in running your company, but greater than that are the internal challenges like managing your psychology, managing your stress levels, being able to make time for your personal life especially when things aren't going well. It suddenly becomes taxing you're not able to give enough time to your family or your startup."
On the greatest advice he has received

"Make something people want, which is the YC philosophy. It's actually very simple, if you build something people really like then you will grow and all your other problems as a startup will disappear. Even the most successful companies have so many problems but because they build something everyone really wants, nobody really cares about these problems."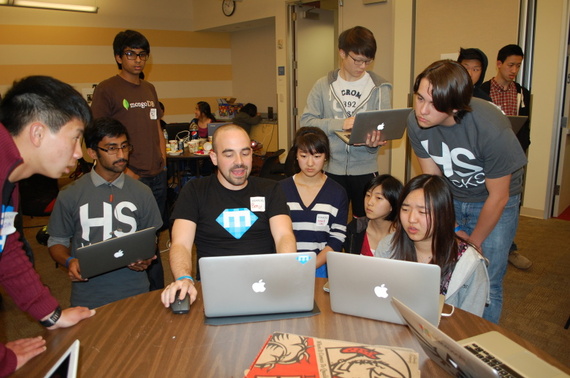 MakeSchool teachers teaching high school kids (Photo taken from VentureBeat)

On the impact of MakeSchool

"What's really cool about what we're doing here in MakeSchool is that you have these 13 year olds who are able to realize that "hey I can actually build all these awesome stuff" and once that change happens in their lives, they spend every weekend going to hackathons and continue to build more and more cool apps. This sets them off on a different path."
One success story of MakeSchool that Desai mentioned is Katie Siegel who now runs HackMIT. Desai also talked about Sophie who after doing MakeSchool went to India to build apps for health workers in rural areas.
He added, "For me even if we fail as a company, just watching these students have this truly life changing experience where you have this average nerdy kid in high school, who suddenly builds an app, and now wants to become the next big startup founder." Desai emphasized how, "It's really about equipping students with this idea that they can build things."
Desai wants to see how much they can grow MakeSchool in the upcoming years. He hopes to be able to keep making an impact in as many places as possible, and hopefully be able to turn MakeSchool into one of the biggest higher education institutions out there.
"Instead of going to UCLA, UPenn, Stanford or MIT, come to MakeSchool instead, and we'll teach you everything you need to know in a shorter two year block where you will also get experience working for some of the best tech companies."
David Ongchoco is a freshman at the University of Pennsylvania majoring in LIFE. An aspiring entrepreneur, David has been working on different side projects like the Global Youth Journal during his free time, while also blogging about all the inspiring people he's been meeting in his first semester of college.
Visit his personal blog: davidongchoco.com to find out more about what he's been up to. If you want to talk more about entrepreneurship, startups, education or any random topic, feel free to hit David up at david.ongchoco@gmail.com.
Calling all HuffPost superfans!
Sign up for membership to become a founding member and help shape HuffPost's next chapter