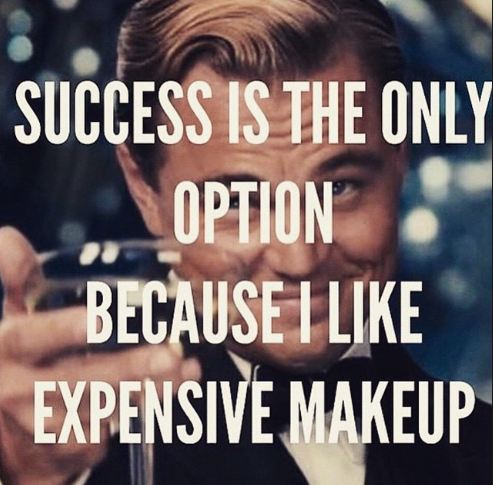 College is a time to learn all about money management. There's books to buy, pizza to eat, beer to drink and at some point you have to learn which of those three to save your money on. For me, the installment of an ULTA beauty store less than a mile from campus was my weakness. Groceries, gas, cable and electric bills could be pushed off for a week in exchange for an ULTA makeup haul. If I looked good, no one could tell that a cold shower took place before class because the heat wasn't paid.
Okay, maybe I'm exaggerating a little. However, when it comes to looking your best on a college budget, these are the products I think are worth the splurge or worth saving your money on for pizza.
Foundation: Go to ULTA, Sephora, whatever beauty counter or store you fancy and ask someone at the store to color match your skin to a foundation. Come to the store prepared to answer what type of skin you have: dry, oily, normal. Next, know the kind of coverage you're looking for: light, medium, heavy. If you have normal, clear skin try getting something on the lighter side. Although if you are someone who has uneven skin tones and blemishes try going for a full coverage foundation to create an all over airbrushed look.
Having moisturized, glowing, clear skin is a huge confidence boost. Especially before an 8:00 A.M. class. Goodbye dark circles! Hello coffee!
I recommend, Bareminerals- BareSkin for light coverage , It Cosmetics- CC Cream for medium coverage and Tarte's Amazonian Clay for full coverage.
Brows: Did someone say on fleek? They must have been talking about your eyebrows. To me having groomed eyebrows puts forth the idea that you have it all together, even if you don't. Like there are different types of foundations, there are different levels of brow beauty too. For a natural look go with a tinted brush on gel. The tinted gel and brush combo combs back stray hairs and gives your brows a fuller look. Next, the brow pencil. For someone who may want to alter the shape of their brows and fill them in more choose a pencil. Lastly, brow pomade. This requires an angled brush and and some concentration but the end result is flawless brows. Using an angled brush allows you to create long smooth lines. The pomade is more pigmented than a pencil which gives you a darker and more bold brow look.
I recommend, anything from the new Benefit brow collection- it has pencils, gels, everything. For a bold look check out Anastasia Beverly Hills- Dipbrow Pomade. (Check out the brow stencils too!)
Beauty Blender: I know you're probably thinking why is a sponge listed in the splurge section but it's true, buying a cheap blender results in a dry, blotchy application. Spend the $10 instead of $3 and get a beauty blender that will expand in water. After getting the sponge wet and it expands, squeeze excess water out and use to blend foundation. The expanded sponge not only moves the foundation around your face more smoothly but also leaves a dewy and fresh finish.
Blush: Maybe I'm just born with it, but over the years I have splurged on high end blush and still go back to my trusty drugstore Maybelline FIT Me blush. The range of colors is small, but they have a color to suit any skin tone and it lasts forever!
Mascara: This is another product where I have spent between $45 and $50 on. Some mascaras I really liked but when it comes to being frugal, drugstore Covergirl and Maybelline do the job just like those $50 mascaras. However, if you don't already have one, pick up an eyelash curler while your at the store. Curl lashes, then apply mascara.

Lips: When rushing to do my makeup before class, i don't have time to fuss with lipstick. Besides that, by the time I finished my coffee, my lipstick would be gone and all that was left was the gross residue on the rim of my cup. ICK! To bring a five-minute face together I love using lip stains. The stain lasts all day and is subtle enough to give my lips some natural color and could be applied again if more color is desired. I recommend Revlon's lip stains.
Combine all those products and you have a simple, five minute, before class beauty routine!