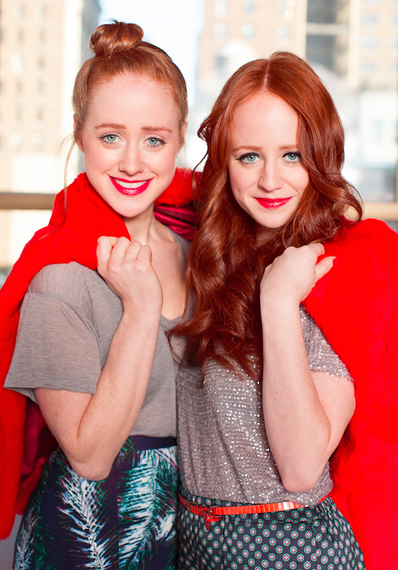 If you're a natural redhead, it is safe to say you've had difficulties finding the right makeup. You've probably tried over ten different foundations, discovered mascara was the best thing invented (ever!) and could still use 'redhead friendly' product recommendations. Unfortunately, the big brands do not target redheads (which is why we launched HowtobeaRedhead.com), but there are many products on the market fit for fair, sensitive skin and complementary to red hair. The trick is finding which is best.
To start you New Year off with success, here are the top makeup recommendations* for the 'lady gingers' of the world:

Before makeup is applied, always wash skin and prep with a light lotion or face oil. We've learned that oils can really transform skin, especially if it's super sensitive and dry. We absolutely love Me and the Girls' Moon Beauty Serum.
Next, apply a primer. It was difficult to find one that didn't cause our skin to break out. But, we love Urban Decay Eyeshadow 'Primer Potion'. It comes in a little tube, but lasts for a very long time. It's very light and keeps our shadows on all day. We also use it to "fill in" other areas that need help.
For those natural days, a little eyeshadow goes a long way. Add a little of LORAC's 'Sand' eyeshadow. Add a few more layers at night for an enhanced look.
Due to a redhead's fair skin, it's best to stick with powders because it's more natural looking. Find one that doesn't make your skin look gray or too dark because you still want to those freckles to stand out. We love Korres Mineral Foundation in Fair/Light.
Although redheads look stunning with their unique hair and skin, it's safe to say that most wished (at one point in their lives) they could tan. We've tried many bronzers on the market, and they usually make our fair skin look a bit un-natural. We actually use a powder in 'Medium' for our bronzer! It gives definition to our cheeks and gives us a natural glow. We love Tarte's 'Powderful Amazonian Clay Pressed Mineral Powder' in Medium. Apply underneath the cheekbones and on the temples.
Last, but not least, we love breaking the redhead makeup stereotypes. Redheads can rock a red lip! Our favorite is Dior ''Rouge 743 Zinnia Red.' If you want a more natural look, choose a simple lip balm like Hawaiian Tropic Tropical Lip Care with SPF 45. We are big fans of products with sunscreen because it keeps us protected while looking beautiful.
If you aren't a redhead and you're reading this, do you wish you were one now? We sure hope so! Redheads are awesome.
*All recommended products were tested, approved and deemed 'redhead friendly.'
Picture Credit: © How to be a Redhead, Kara Kochalko Photography.