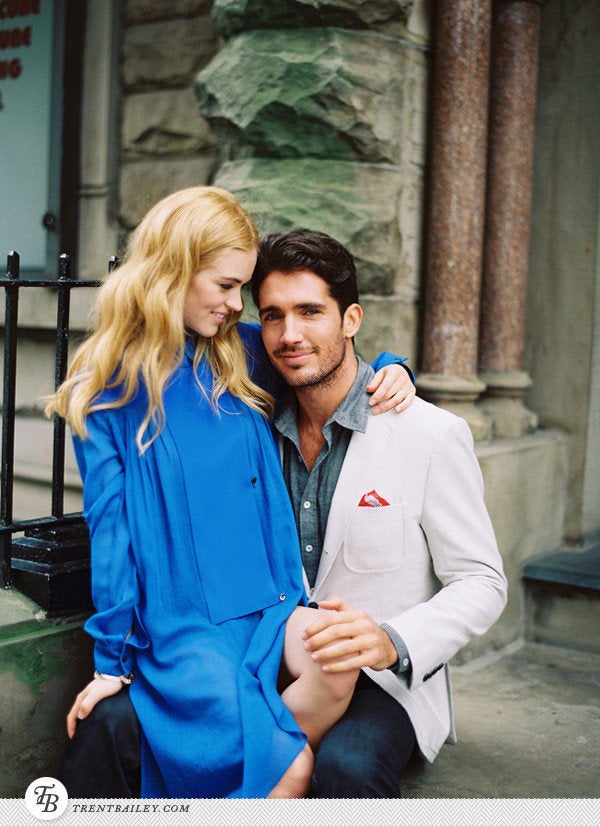 Scheduling an engagement shoot is a perfect way for couples to get acquainted with their photographer before the big day. Another benefit of this shoot is the insight it provides into hair and makeup and how it translates on film. At Face Time Beauty, we see over 200 brides a year walk down the aisle and narrowing it down to that one, perfect look is certainly time consuming. A trial with your "glam squad" is a great way to start the process, but actually seeing it all from behind the camera is the ultimate experiment. A good photographer offers an important perspective and a seasoned beauty team will open communication with the photographer during the shoot/wedding to make sure nothing is overlooked. You can then check off likes and dislikes (e.g. "I loved the blush, but I look washed out with a pale pink lip.") and really see yourself from another point of view.
I constantly preach that a modern bride should consider an underdone elegance that exudes youth, grace, and femininity. Nothing proves my point more then these photos from a recent shoot we did with Trent and Dara from Trent Bailey Photography. Jackie Weppner of Merci New York hand-picked an outfit that made the couple "pop" on the New York City streets. The hat from Preston and Olivia, was a great way to introduce a little down-to-earth whimsy without adding the usual glitz that so often accompanies a bride. The genius styling sense behind the shoot makes you wonder if this is just a really stylish woman who simply wakes up and throws a look like this together all of the time, or did professionals, in fact, use their magic? The bride's outfit was not buttoned up and perfectly hemmed, and her hair didn't look like it had one ounce of product. Her makeup was soft and defined her features nicely but there wasn't a sense of "preciseness", just a billowed sense of flow and ease. I strongly feel that soft, demure makeup is the perfect way to show a sense of style, and it's so much easier then drawing perfect lines!
After viewing these pictures herself, a bride can see what she looks like on film and what attracts her about the overall aesthetic. In reality, women can wear and look great in many "faces" and hair styles, but it's the bride's comfort and confidence that are important when she walks down the aisle. Once she sees the pictures and a true reflection of herself, she can make an educated decision on what to keep and what to change. This bride could easily jazz it up with a fun bright pink lip, or she may want to really pop her eye and give them a double set of lashes (Kim Kardashian has certainly popularized oversized lashes). She may decide that she wants her hair up instead of down or she may just want to keep everything exactly the same. The point, ladies, is that makeup and hair for your wedding day is a process and more often then not, it takes many points of view to get it right. Your photographer can really help guide you in the right direction and your engagement photos give you a true advantage. Your makeup artist and hair stylist may lean towards a more natural look but you may find that you really want to step up the drama! It is much easier to decide on "your style" when you, your photographer, makeup artist and hairstylist can all be on the same page (or picture). Remember: your wedding lasts a day; the photos last forever.